After analysing the market on Thursday June 28th 2018, we said…
'Here's what we noticed that was good and not so good.
The good
S&P 600's (current market leading index) fall occurred in below average volume.
S&P 600 still trading above its 50-day moving average.
NASDAQ Composite still trading above its 50-day moving average.
NASDAQ 100 still trading above its 50-day moving average.
The US general market has a lot of support at these current levels which means it is probably due a bounce.'
We continued with…
'The not so good
Four down days in the last five sessions for the NASDAQ Composite.
NASDAQ Composite reversed, failed to find support at 7500, falling 1.54% in heavy volume.
NASDAQ Composite's 4.3% gains made over the sixteen day 'breakout period' have been erased in just five trading days.
NASDAQ 100 currently trading below its June 1st breakout level of 7008.
SMH (chip sector ETF) underperformed again, fell below its 200-day moving average and still appears to be one of the sectors leading the market lower.'
We concluded the update with our latest thoughts…
'The NASDAQ Composite's 4.3% gains made over the sixteen-day breakout period have been erased in just five trading days. This is a classic example of a change in character. The last five days of activity reminds us of the abnormally weak behaviour we witnessed February 2nd-9th (Point H) and March 13th-April 2nd (Point I). In both these periods, the NASDAQ distinctively changed character. With dropping 4.3% in just five days, we are now back trading at a point where there should be a lot of institutional support. That means we may soon see a bounce off these current levels.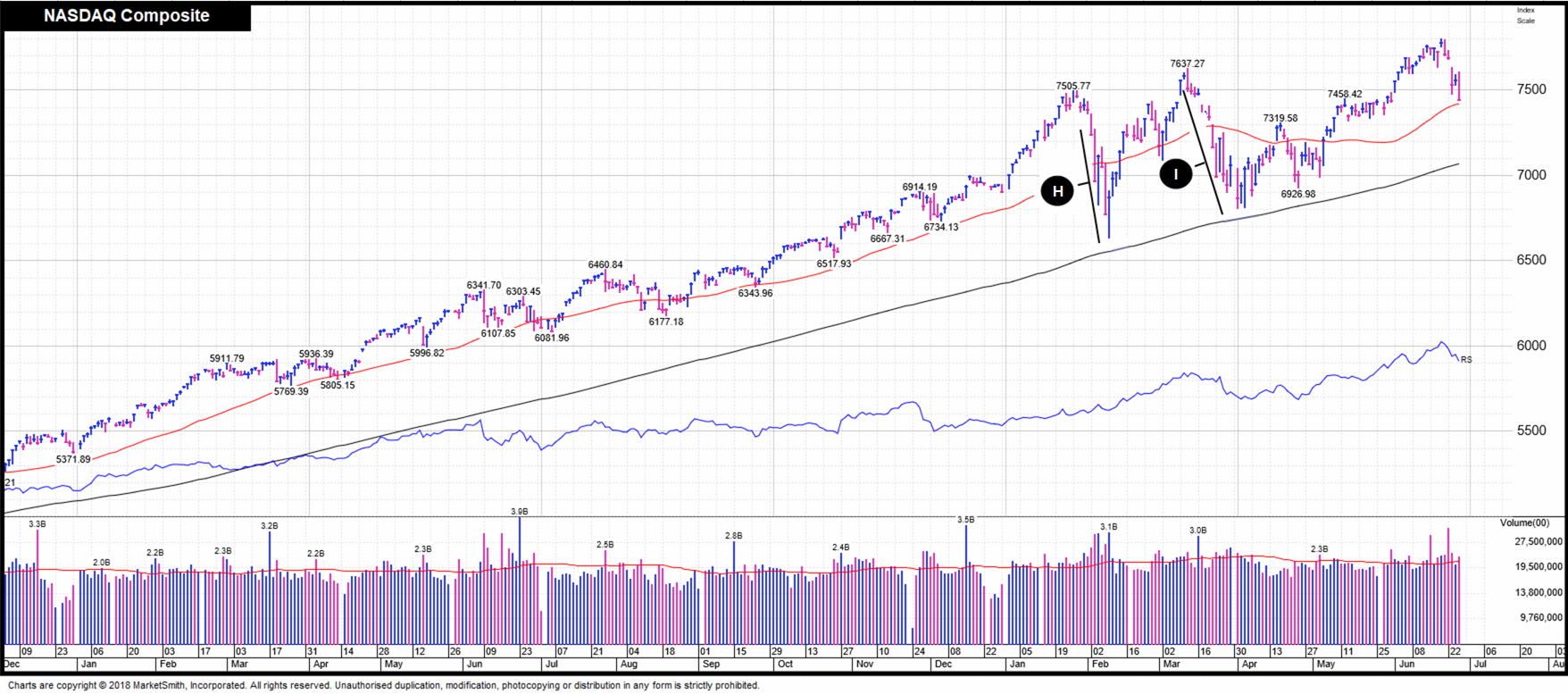 The last five days market behaviour adds weight to the story that China, Europe and the US chip sector have been – and still are – leading the market lower.
What also now fuels this narrative is some noticeable cracks recently appearing in some of the markets best stocks. We are extremely pleased and proud of the fact that we never got sucked back into what now appears to be a phony 16-day breakout rally. And for now, we still like our 'medium risk', 48.8% equity / 51.2% cash portfolio1, however we have not ruled out the possibility of raising more cash should the market environment dictate that it would be wise to do so'.
1 Reading taken June 16th 2018.
--------------------------------------------------------------------------------------------------------------------------------------------------------------
Some of the information contained in this blog has been taken from The Big Picture, to download a sample copy please just click here.
As always, if you have any questions or thoughts on the points covered in this post, please leave a comment below or connect with us @ISACO_ on Twitter.
A specialist in ISA and SIPP Investment
ISACO are a specialist in ISA and SIPP investment and together with our clients have an estimated £75 million actively invested2. Our flagship service is called 'Shadow Investment.' 'Shadow Investment' is a unique service which gives you the opportunity to look over our shoulder and buy the same actively managed funds that we personally own, effectively piggybacking on our expertise.
Put our money where our mouth is
The key difference with our service is that we put our money where our mouth is. And as an ISACO premium client, you'll have the opportunity to mirror our 'market–beating3' investment portfolio throughout the year. This gives you the potential for achieving almost identical returns to the ones we make. Past performance is not a guide to future performance.
Shadow Investment benefits:
Low cost (typically 1% per year)
Saves you time
Offers the potential for superior 'tax-free' growth (8% annual aims).
The Shadow Investment Service has been created to save you the hassle of having to become an investment expert and allows you to keep full control of your investment account. It takes the hard work out of investing and helps to remove the uncertainty of knowing what investment funds to buy, when to buy, if to hold and when to sell.
Get in touch
If you have over £250,000 actively invested, click here to arrange a free financial review (valued at £495) with Paul Sutherland, ISACO's Managing Director.
2 Internal estimation taken January 1st 2015 of total ISA and pension assets owned by the ISACO Investment Team and ISACO premium clients.
3 January 1st 1998 - December 31st 2017 ISACO 183.4%, FTSE 100 49.3%.