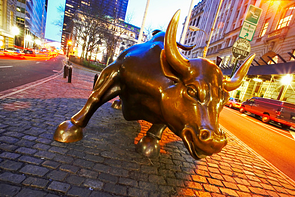 One of the questions we are most often asked by potential investors is a simple one - 'is now a good time to invest?'.
In a recent edition of our monthly premium client newsletter The Big Picture, Stephen Sutherland, our Chief Investment Strategist, wrote:

"My take is and has been for some time now that the market over the next decade will outperform. There are numerous facts and statistics that point to the likelihood of outperformance and the behaviour of the market over the last three years gives me even more reasons to believe a stock market boom may have already begun. My belief is the 'boom period' started back in 2009."
In this post we'll look at some of the reasons Stephen has arrived at this conclusion. We hope you find this useful if you're currently asking the question 'is now a good time to invest?' yourself.
Looking at history
A piece of research that backs up Stephen's long-term outlook is the Barclays Gilt Study of 2009. History shows that the returns enjoyed by investors who can overcome their instinct to seek safe havens in difficult times could be significantly higher in the long-term.

When you look at history, you find that extended periods of poor performance have almost always led to periods of above-average performance. As investment in equities should be viewed as a medium to long-term savings vehicle, the study looked at returns over ten year periods, as illustrated in this table.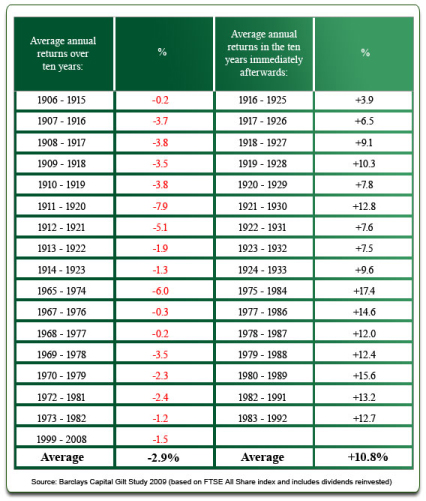 This Barclays study shows that since 1899, there have been 17 lost decades (10 year periods of negative aggregate performance) with an average annual return of -2.9%.

This includes the most recent decade (to the end of 2008) where UK equities suffered average annual returns of -1.5%.

It's important to note that each of the decades immediately following a lost decade has provided positive average annual total returns, with an average of +10.8% per annum for these ensuing good decades.

This data suggests to Stephen that over the next decade, we are likely to see above average performance – however this is not guaranteed.
Has the boom begun?
It might seem hard to believe but the decade of outperformance may have already begun. As Stephen stated in a recent edition of The Big Picture, "My belief is the 'boom period' started back in 2009."
One reason for Stephen saying that a boom may have started is ISACO's recent performance. Our returns of 19.8%* per year over the last three years are in Stephen's eyes 'abnormally' high and act as a huge clue that something good under the surface is happening right now. That's why even though the media are doom and gloom, Stephen is stating the opposite. Stephen is saying that now is a good time to invest if you have a long-term investment horizon.
*31st October 2008 - 31st October 2011
ISACO investment performance verified by Independent Executives Ltd

About ISACO
We specialise in providing a premium Investment Guidance Service for ISA and SIPP investors with portfolios in excess of £100,000.

Our mission is to help investors achieve better performance over the long-term, better protection in falling markets and at a better price.
For more information about ISACO and our Investment Guidance Service, please read our free brochure.


1 (Nov 2008-Nov 2011)
Please remember that past performance should not be used as a guide to future performance. The value of investments can go down as well as up and you may not get back the amount you originally invest.