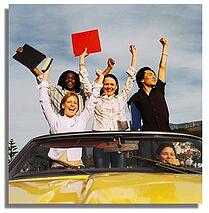 HIRE CAR™ is a screening tool I created to help me quickly find quality investment funds.
Funds are managed and controlled by a professional fund manager. The manager makes investment decisions on what companies to buy and what to sell.
When the market is healthy, my aim is to find the best fund manager using HIRE CAR™ as my guide. Here's a brief introduction to its track record.
The HIRE CAR™ acronym
HIRE CAR™ is an acronym which means each letter in HIRE CAR™ relates to a particular part of the formula, these being:
H Health
I ISA
R Results
E Exceptional Performance
C Count Stars and Chart Pattern
A Anywhere in the World
R Recent Performance
HIRE CAR™ explained
Specifically the HIRE CAR™ formula is made of these key components:
H = Health
I aim to invest in a quality investment fund when the market is healthy. When it's unhealthy I stay in a cash-based fund to protect potential downside losses. The Fidelity ISA Cash Park is one I personally use.

I = ISA
I always use my ISA allowance to invest. The fund I choose must allow me to invest through my ISA. This means all of my gains will be protected from the taxman and I will never have any capital gains to pay on my profits when I move in and out of the market.

R = Results
Performance is the most important element in fund selection and that means I discover who the fund manager is and I look at the fund manager's long-term performance results. I check to see if the manager has been managing the fund over the previous bull market period. I look for the date the current fund manger started managing the fund because it's important to ensure the current fund manager is the manager who has scored the impressive results.
E = Exceptional Performance
Ideally, I want to see the fund manager outperforming the Nasdaq Composite in bull market periods. To achieve this objective I look at how the Nasdaq performed in previous bull market periods.
Nasdaq Composite performance in bull markets

2003

2004

2005

2006

2007

2009

2010

50%

8.6%

1.4%

9.5%

9.8%

43.9%

16.9

I generally ignore how the manager performed in the down years (the bear market years) but if they beat the market in those years too, it's a bonus.
Nasdaq Composites performance in bear markets

2000

2001

2002

2008

2011

-39.3%

-21.1%

-31.5%

-40.5%

-5.6%
C = Count & Chart
Quality investment funds normally have four or five Morningstar stars. If a fund has three stars or fewer, I only give it a stamp of approval if the fund manager's performance is exceptional. With the fund's chart, I look for bullish chart patterns such as cup-with-handles, flat bases, saucers-with-handles and double bottoms. It is best to purchase funds as they break out of a sound base.
A = Anywhere in the World
The investment fund can invest anywhere in the world but I prefer if the country the fund invests has a strong and stable economy. Japanese, Chinese, UK and most European funds are always worth exploring as long as the fund manager's performance is exceptional. I normally avoid funds that invest in unstable economies.

When I scan for funds, I always look for ones outperforming the Nasdaq Composite. I like to invest in a fund that is diversified but if I find a fund that has a specialty in say one or two sectors, I ensure they are sectors likely to lead in bull markets such as internet, semiconductors, medical, telecom, retail, computer, metals and energy.
R = Recent Performance
When the market is healthy, and it's clearly in an upwards trend, one of the things I scan for is how funds are performing in the short-term. This short-term period action could be the previous day, week, month and possibly even the previous quarter. This is just as important as looking at the fund manager's longer term performance.
About ISACO
We specialise in providing a premium Investment Guidance Service for ISA and SIPP investors with portfolios in excess of £100,000.
Our mission is to help investors achieve better performance over the long-term, better protection in falling markets and at a better price.
For more information about ISACO and our Investment Guidance Service, please read our free brochure.
Please remember, past performance is not a guide to future returns and the value of investments can go down as well as up and you may not get back the amount you originally invest. Eligibility to invest in an ISA will depend on your individual circumstances and all tax rules may change. If you are unsure of the suitability of an investment, please speak to an adviser.