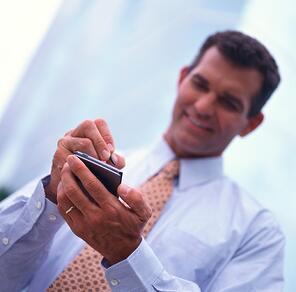 We are sometimes asked why our annual investment target is 12-15% growth. In short, we set this goal because of our track record of outperforming the stock market. This means we can have a higher investment target than traditional financial advisers.
Traditional financial advisers are not generally full time stock market experts, which is why 80%-90% underperform the market. This underperformance by advisers can have serious consequences for investors, as it's likely to mean not arriving at their intended goals on time.
The background to our investment target
Our investment target is set by Stephen Sutherland, our Chief Investment Strategist. His market beating performance since 1997 has helped him be recognised as one of the UK's leading growth fund investors.
From December 31st 1997 to December 31st 2011, Stephen made a cumulative gain of 56.4% versus the FTSE 100's 8.2%.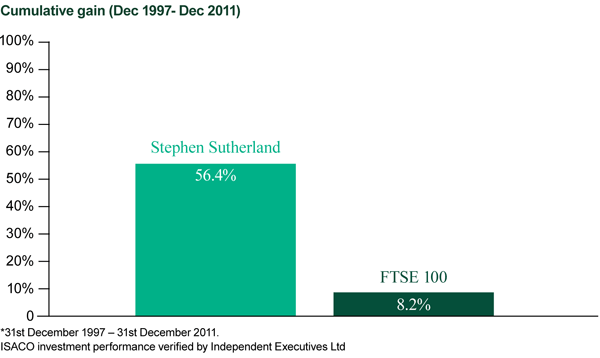 As you can see from the chart below, in the last 3 years* he's also made an average gain of 17% versus the FTSE 100's 7.9%.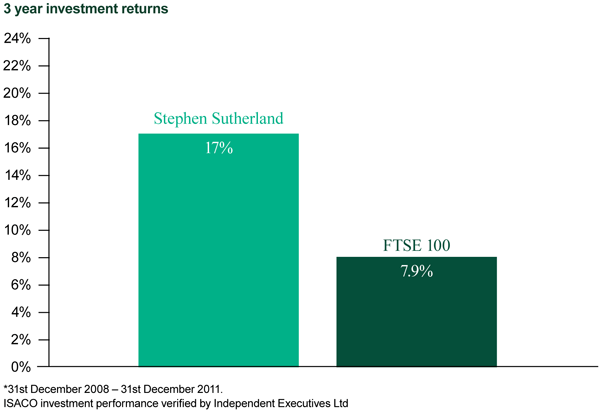 Stephen's investment outlook over the next five to ten years is extremely optimistic. He believes this could result in annual growth as much as 17.5%. With this in mind, he believes that an investment target of 12% annual growth is fair, realistic and achievable.
What our investment target means for clients
At ISACO, our clients 'Shadow Invest' Stephen, so they invest in exactly the same funds as him. By simply copying Stephen's trading activity in this way, they can achieve the same investment returns.
This creates a clear incentive for Stephen to perform consistently well. As well as his reputation, his own money is on the line too. Having his personal capital invested, our families and an estimated £30 million of client capital 'shadowing' him, provides tremendous motivation for Stephen to perform well and achieve his investment target.
Our clients control their own investment accounts, giving them the freedom to invest as little or as much money as they like. When Stephen makes a trade, our clients know. Once they discover he's taking action, our clients have the opportunity to mirror his trade in their own investment account.
Taking a long-term view when setting an investment target
One piece of research that Stephen pays a lot of attention too when considering our investment target is the Barclays Gilt Study of 2009.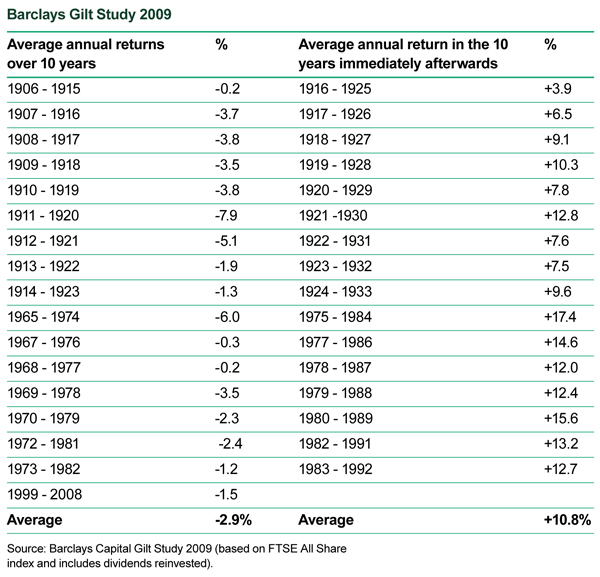 History shows that the returns enjoyed by investors who can overcome their instinct to seek safe havens in difficult times can be significantly higher in the long-term.
That's because when you look at investment history, you'll find that extended periods of poor performance have almost always led to periods of above-average performance. For more on this subject please read our recent post, which considers the question 'is now a good time to invest?'.
About ISACO
We specialise in providing a premium Investment Guidance Service for ISA and SIPP investors with portfolios in excess of £100,000.
Our mission is to help investors achieve better performance over the long-term, better protection in falling markets and at a better price.
For more information about ISACO and our Investment Guidance Service, please read our free brochure.

If you have any questions or thoughts on the points covered in this post, please leave a comment below or connect with us @ISACO_ on Twitter.
1 Period taken January 2009-January 2012

Please remember, the value of investments can go down as well as up and you may not get back the amount you originally invest.