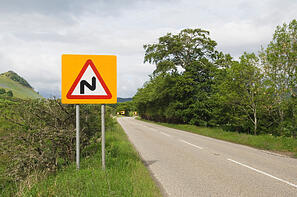 The majority of people looking for investment advice in the UK rely on a financial adviser.
Unfortunately, many of them don't appreciate some of the flaws still evident in the investment industry. In this post, we'll look at four of the biggest investment problems that consumers can still face.
Bad practice
Sadly, bad practice still exists in the investment advice industry. This can range from professional incompetence, including ignorance of the body of science of markets, to sharp or shady practice, all leading to real investment problems for consumers.
Poor performance
Performance is everything. When you achieve strong performance, you arrive at your investment goals on time, but without it you won't. Traditional advisers generally aim for 7% annual growth on behalf of their clients, as this is roughly the rate of return of the stock market over the last century.

However, the statistics show that 80-90% of advisers consistently underperform the market, with potentially serious consequences for their clients. Why? In our opinion, it's because most advisers are not full time professional investors, who study and understand the markets. As most advisers underperform the market, it means the majority will achieve less than a 7% annual return.
Conflicting agendas
One of the main investment problems that people face is that too many advisers have conflicting or hidden agendas, leading them to act in their own interests instead of the best interests of their clients.
Many advisers are effectively 'commissioned salespeople', which can also often lead to a fundemental conflict of interest. Some advisers may recommend products to their clients that pay them the most, while others 'over trade' on client accounts (known as 'churning). This boosts the adviser's bank balance but eats into their client's returns, often resulting in them significantly underperforming the market.
If your adviser promotes in-house products, they may have a hidden agenda too. Be wary of any companies that sell financial products that carry their own name. Why should you care? They are encouraged to sell their employer's investment products, sometimes with higher commissions. In other cases, they are restricted from selling outside offerings, even if they are the best choice for meeting their client's needs. This can be a real investment problem, after all can an adviser in this position really act in your best interests?

You have the right to know if your financial adviser is motivated to act in your best interests. Seek a firm that bans in-house financial products so that you can be confident that their recommendations are completely free of these investment problems.

Also, look for a firm that's not owned by an investment fund, insurance company, bank or money management company. Insist on finding a candidate that only deals in investments and financial products that are managed by outside firms.
Excessive costs
A study by consumer champion Which?1 revealed another set of investment problems, in that independent financial advisers (IFA's) are charging widely different fees for the same type of work for clients. According to their study there can be up to ten times difference in fees charged for the same type of work.

At a time when returns on investments are low due to the underwhelming performance of the stock market, investors need to pay even more attention to the value-for-money of IFA's. Financial advisers should be much more transparent in their pricing, providing details of all their charges upfront. At present it's very difficult for customers to know how much they're going to be charged and what is reasonable. IFAs should clearly display their fees online and in our opinion the regulator should step in to resolve investment problems like these.

New regulations due to be introduced in 2012 called the Retail Distribution Review (RDR) should help remove some of the investment problems facing consumers. We believe that this is good news for investors. In particular, RDR will make paying for financial advice fairer and clearer. For example, these new regulations will ban advisers from receiving commission for new investment advice and should ensure best advice for consumers, rather than advisers pointing them in the direction of a service or product that pays the highest commission.
About ISACO
We specialise in providing a premium Investment Guidance Service for ISA and SIPP investors with portfolios in excess of £100,000.
Our mission is to help investors achieve better performance over the long-term, better protection in falling markets and at a better price.
For more information about ISACO and our Investment Guidance Service, please read our free brochure.

If you have any questions or thoughts on the points covered in this post, please leave a comment below or connect with us @ISACO_ on Twitter.


1Which? Finds huge variations in IFA fees (published 14th January 2012)