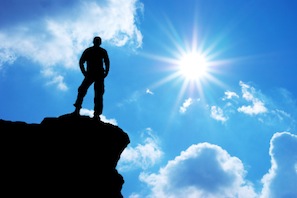 Some people don't believe it's possible to become an ISA millionaire, but in fact the UK does have many millionaires who have accumulated their fortune by investing in ISAs.
I have studied what makes an ISA millionaire in great detail over the last five years and I've come to the conclusion that the majority share key 10 traits. I'll look at each of these in more detail in three blog posts over the next week:
Traits of an ISA millionaire #1 - They set a target
An ISA millionaire begins his or her journey by setting a clear and compelling financial objective. To accumulate a million pound portfolio, they make a firm decision, either consciously or subconsciously, that one day they will have an ISA account valued at £1million or above. They then set a deadline for their goal. Once they've decided on their target they make a commitment to reach it. Their commitment to achieving their objective is a 'never go back' decision.
Traits of an ISA millionaire #2 - They are DIY investors
A ISA millionaire may have seeked help from a financial adviser initially, but unfortunately statistics show that 80-90% of advisers underperform the market. This is a major reason why ISA millionaires are likely to have become a 'do-it-yourself investors' who make their own investment decisions.
One reason advisers fail to do well is because the majority are not successful full time professional investors and don't study or understand the science of the markets. An ISA millionaire will also be very aware that many advisers have hidden agendas and can act in their own interests, instead of the best interests of their clients.
They also know that some advisers overtrade on client accounts – known as 'churning.' This boosts the adviser's bank balance, but eats into clients' returns often resulting in them significantly underperforming the market. Moreover, as most advisers underperform the market, then the majority will achieve less than a 7% annual return for their clients. As the risk of finding a good adviser is high, ISA millionaires tend to make most of their investment decisions themselves.
Traits of an ISA millionaire #3 - They like to be in driver's seat
ISA millionaires like to control their own investment account. This means they avoid investment services such as discretionary management. Discretionary management is an investment advisory relationship where authority is given to an adviser to make portfolio decisions based on an investment strategy devised by the advisor and the investor. ISA millionaires like to make their own investment and asset allocation decisions, with the freedom to choose from a wide range of investments.
An ISA millionaire will also realise that there are some unscrupulous advisers out there, who mainly promote in-house products. This is why reason they tend to avoid any companies that sell financial products that carry their own name. They stay away from them because advisers for these firms are encouraged to sell their employer's investment products, which sometimes carry higher commissions. In other cases, these businesses are restricted from selling outside offerings, even if those offerings are the best choice for meeting the client's needs. The ISA millionaire thinks, 'can an advisor in this position really act in my best interests?'
When seeking help in making decisions, an ISA millionaire will tend to look for firms not owned by an investment fund, insurance company, bank or money management company. They insist on finding a company that only deals in investments and financial products that are managed by outside firms.
Traits of an ISA millionaire #4: They partner up with expert resources
Knowledge is power. An ISA millionaire will tend to build long-term relationships with trusted expert resources. They look for FSA regulated businesses who value togetherness, integrity and expertise. They aim to partner up with firms who have great track records, offer expert investment guidance and an intensely personalised service.
I hope you've found this look at the traits of ISA millionaires useful and thought provoking. In my next post, we'll look at three more traits that could also help put you on the road to long-term ISA investing success.
Useful links:
The 10 traits of an ISA millionaire Part 2
The 10 traits of an ISA millionaire Part 3
About ISACO
We specialise in providing a premium Investment Guidance Service for ISA and SIPP investors with portfolios in excess of £100,000.
Our mission is to help investors achieve better performance over the long-term, better protection in falling markets and at a better price.
For more information about ISACO and our Investment Guidance Service, please read our free brochure.

If you have any questions or thoughts on the points covered in this post, please leave a comment below or connect with us @ISACO_ on Twitter.