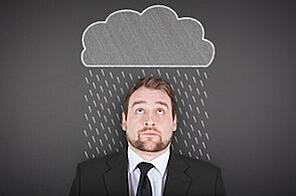 This is definitely a difficult time to invest. It's easy to be put off by the markets sudden rises and falls – you will need to keep a clear head when many people are losing theirs. It's also worth remembering that there can be opportunities when it looks like a bad time to invest.
For all the worry felt by some that the world is facing unprecedented economic challenges from which it will never recover, history tells us differently. True, there are new issues including the shifting power from West to East, and the huge impact of the Internet on globalisation.
But the challenges faced by markets today are no different than the Great Depression of the 1930s or the crisis years of the 1970s. Just as in those decades, the crises facing developed world markets include Government indebtedness, high unemployment and economic stagnation. But the 1930s and 1970s, both seen as a bad time to invest, were followed by successive decades of massive growth, a return to strong levels of employment – and for investors, robust investment returns (as you can see from the chart below).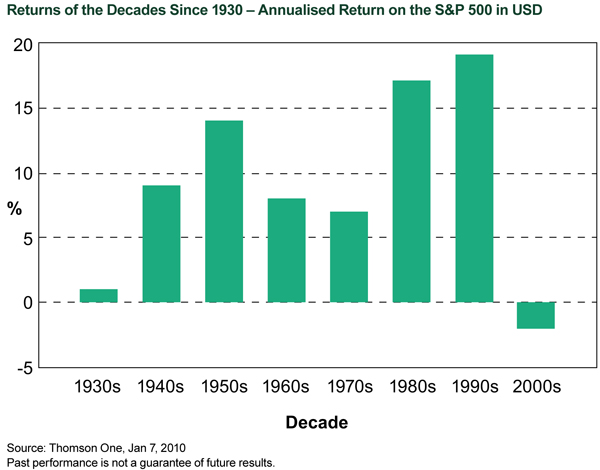 If history has any lesson to teach us about lost investment decades, it is that there is a cyclical nature to global economic markets. Abandoning the market may have been an understandable response in the early 40s or 80s, as it may still have been seen as a bad time to invest, but what a mistake it would have been!
A lost decade
Stock markets have suffered two sharp falls in the past ten years and in many cases remain below their previous peak – some have even called this a 'lost decade'.
The last time the markets went through such an extended period of underperformance was in the 1960s and 1970s. By the start of the 1980s, many investors were shell-shocked by their experience and convinced that things could only get worse. However, someone who looked beyond the difficult conditions and bought when prices were low would have then enjoyed one of the best periods of extended outperformance in the market's history. This performance suggests that the best time to invest can be when it feels most difficult to do so.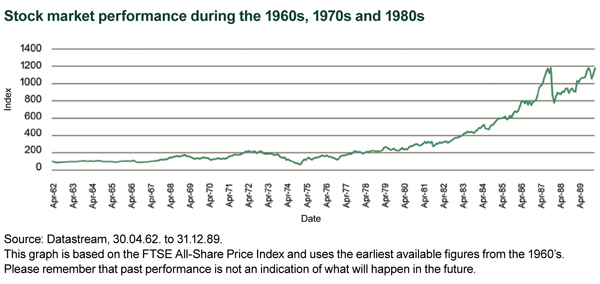 Please remember that past performance is not an indication of what will happen in the future.
Why is the long-term so important?
One of the important things for any investor to remember is that you shouldn't be worried by short-term fluctuations. It's easier said than done, of course, but the point is that when you are investing for the long-term, you should have plenty of time to ride out market uncertainty.
Instead, you should focus on the bigger picture. In the case of the UK stock market, as represented by the FTSE All-Share Index, this is an average annual return of 7.2% over the last 49 years (to 30/11/11). Don't forget, this period includes Black Monday, Black Wednesday, the dotcom bubble, the Russian financial crisis, the Asian financial crisis and the oil crisis – so there were definitely some downs as well as ups. Please remember, past performance is not a guide to future returns
Bouncing back: The resilience of the markets
Standard & Poor's 500 Composite Index has experienced its share of 'shock events,' but for many decades the market has demonstrated an ability to overcome adversity.
The market's resilience has been particularly evident in its climb from the March 2009 low. Rarely does a year go by without a crisis of some sort and in 2011 the market had to deal with several shocking and surprising events, including the unrest in the Middle East and North Africa, and the earthquake and tsunami in Japan that has resulted in staggering loss of life and a crisis at a nuclear power plant.
A look at about 50 years of the S&P 500's history shows that there's been no shortage of traumatic events. But decade after decade, the market has demonstrated its ability to climb a 'wall of worry.' Even since the market's low in March 2009, the S&P has demonstrated its strength in the face of issues ranging from the 'flash crash' to high unemployment.
Many of these events have been traumatic and costly. The market, however, has not only survived, but thrived. For more than a century, the U.S. market has endured wars, recessions, assassinations, scandals and natural disasters, and each time it has come back. Through it all, the market has demonstrated a remarkable strength and resiliency in the face of challenges.
Periods of strength after weakness
Another piece of research that proves useful is the Barclays Gilt Study of 2009.
As you will soon see, history shows the returns enjoyed by investors who can overcome their instinct to seek safe havens in a perceived bad time to invest could be significantly higher in the long-term.
When you look at history, you find that extended periods of poor performance have almost always led to periods of above-average performance. As investment in equities should be viewed as a medium to long-term savings vehicle, the study looked at returns over ten year periods, as illustrated in this table.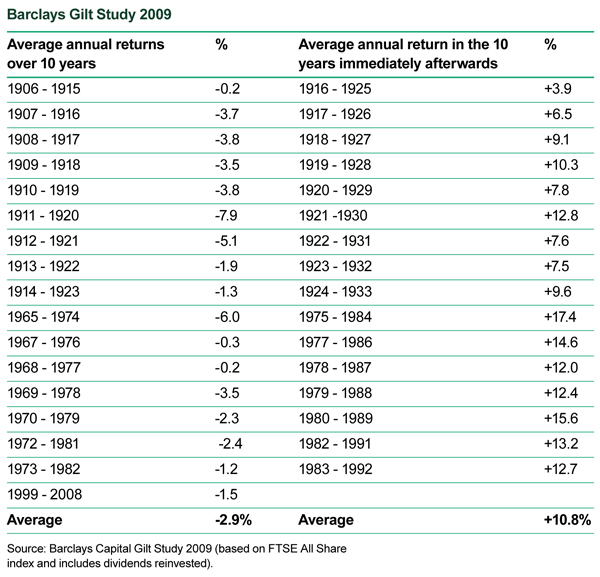 The Barclays study shows that, since 1899, there have been 17 lost decades (10 year periods of negative aggregate performance) with an average annual return of -2.9%. All of these could have been seen as a bad time to invest. This includes the most recent decade (to the end of 2008) where UK equities suffered average annual returns of -1.5%.

However, notice how each of the decades immediately following a lost decade has provided positive average annual total returns, with an average of +10.8% per annum for these ensuing good decades.

This data suggests that over the next decade we are likely to see above average returns. However this is not guaranteed.
Key points to take away
We can learn lessons from history.

Periods of no growth are often followed by periods of strong outperformance.

Markets are more resilient than most people think.
As always, if you have any questions or thoughts on the points I've covered, please leave a comment below or connect with us @ISACO_ on Twitter.
Please note past performance should not be used as a guide to future performance, which is not guaranteed. Investing in Funds should be considered a long-term investment. The value of the investment can go down as well as up and there is no guarantee that you will get back the amount you originally invested.
About ISACO
ISACO was established in 2001 by brothers Stephen and Paul Sutherland and is the first financially regulated firm to offer adventurous ISA and SIPP investors a unique personal investment service that shares on a daily basis our star-performing investor's thoughts, personal insights and investment decisions.
Clients enjoy being informed throughout the year what 'best of breed' funds our premier investor currently owns, when he's buying and when he's moving into the safe harbour of cash – helping clients enjoy more control, manage their portfolio more effectively and benefit from the potential of outstanding long-term returns.
For more information about ISACO and our Investment Guidance Service, please read our free brochure.