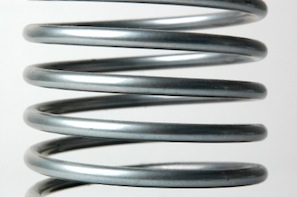 There's no doubt that the current climate is a difficult one for investors. But how resilient is the stock market and will it recover? In this post we'll look at the history of the market for an answer.
The US's Standard & Poor's 500 Composite Index has experienced its share of 'shock events, but for many decades the market has demonstrated an ability to overcome adversity.
For example, the market's resilience has been particularly evident in its climb from the March 2009 low. Rarely does a year go by without a crisis of some sort and in 2011 the market had to deal with several shocking and surprising events, including the unrest in the Middle East and North Africa, and the earthquake and tsunami in Japan that has resulted in staggering loss of life and a crisis at a nuclear power plant.
A look at about 50 years of the S&P 500's history shows that there has been no shortage of traumatic events. But decade after decade, the market has demonstrated its ability to climb a 'wall of worry.' Even since the markets low in March 2009, the S&P has demonstrated its strength in the face of issues ranging from the 'flash crash' to high unemployment.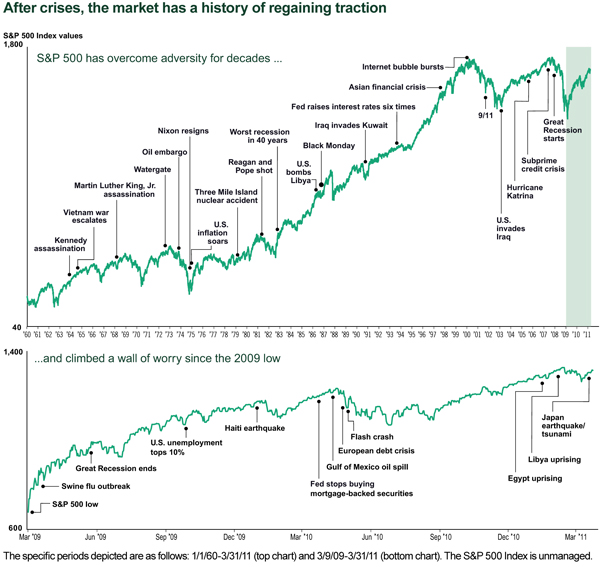 Many of the events depicted on this chart have been traumatic and costly. The market, however, has not only survived, but thrived. For more than a century, the U.S. market has endured wars, recessions, assassinations, scandals and natural disasters and each time it has come back. Through it all, the market has demonstrated a remarkable strength and resilience in the face of challenges.
What does this mean for investors?
The lesson here appears to be to try and look beyond difficult conditions and buy when prices are low. Adopting such a strategy in the past would have resulted in you enjoying some of the best periods of extended outperformance in the market's history. As long as you have a long-term investment outlook in excess of at least five years, now could be seen as a golden opportunity.
As always, if you have any questions or thoughts on the points I've covered, please leave a comment below or connect with us @ISACO_ on Twitter.
Please note past performance should not be used as a guide to future performance, which is not guaranteed. Investing in Funds should be considered a long-term investment. The value of the investment can go down as well as up and there is no guarantee that you will get back the amount you originally invested.
About ISACO
ISACO was established in 2001 by brothers Stephen and Paul Sutherland and is the first financially regulated firm to offer adventurous ISA and SIPP investors a unique personal investment service that shares on a daily basis our star-performing investor's thoughts, personal insights and investment decisions.
Clients enjoy being informed throughout the year what 'best of breed' funds our premier investor currently owns, when he's buying and when he's moving into the safe harbour of cash – helping clients enjoy more control, manage their portfolio more effectively and benefit from the potential of outstanding long-term returns.
For more information about ISACO and our Investment Guidance Service, please read our free brochure.