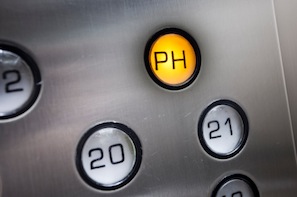 In my last post I looked at the resilience of the stock market and its ability to not only survive turmoil, including recessions, wars and natural disasters, but thrive in the ensuing years.
In this post, we'll look at the strong investment returns delivered by the stock market in the decades immediately following periods of poor investment performance.
Strong investment returns after periods of poor performance
A look back at the modern history of the S&P 500 reveals a common pattern similar to UK equities.
The chart below depicts returns for 10-year periods that fall into the top quartile and the bottom quartile since December 31 1927. A look at the 10-year periods can be instructive, given that the market recently recorded its worst decade, registering an average annual decline of 1.4 per cent for the 10 years ended December 31 2008. The 10-year period ended December 31 1958 had the highest average annual return of 20 per cent.
The data for the worst 10-year periods shows that the market has demonstrated the ability to recover and advance after extended periods of decline. For example, after a decade that fell into the bottom quartile, the subsequent decade provided strong investment returns that were not only higher and positive, but often higher than the 10.7 per cent average return for all rolling 10-year periods since 1927.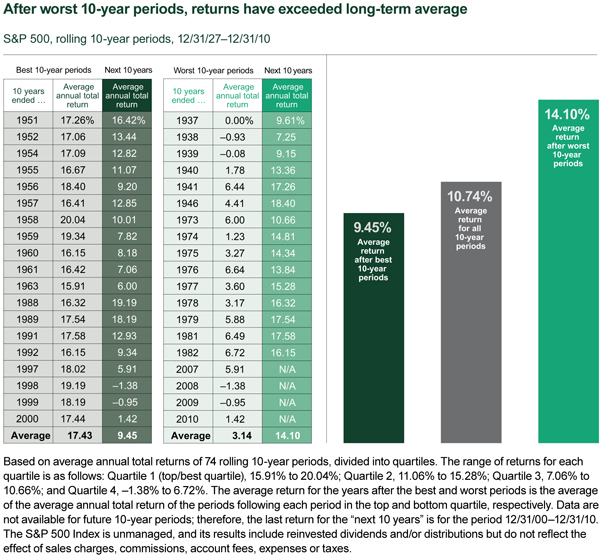 What does this mean for investors?
The conclusion we can draw from this data is clear. Over time, the market has demonstrated its strength in the face of adversity and long-term investors have been rewarded with strong investment returns. Past returns aren't predictive of future results, but history suggests that equity investing may still hold an opportunity for long-term investors.
As always, if you have any questions or thoughts on the points I've covered, please leave a comment below or connect with us @ISACO_ on Twitter.
Please note past performance should not be used as a guide to future performance, which is not guaranteed. Investing in Funds should be considered a long-term investment. The value of the investment can go down as well as up and there is no guarantee that you will get back the amount you originally invested.
About ISACO
ISACO was established in 2001 by brothers Stephen and Paul Sutherland and is the first financially regulated firm to offer adventurous ISA and SIPP investors a unique personal investment service that shares on a daily basis our star-performing investor's thoughts, personal insights and investment decisions.
Clients enjoy being informed throughout the year what 'best of breed' funds our premier investor currently owns, when he's buying and when he's moving into the safe harbour of cash – helping clients enjoy more control, manage their portfolio more effectively and benefit from the potential of outstanding long-term returns.
For more information about ISACO and our Investment Guidance Service, please read our free brochure.