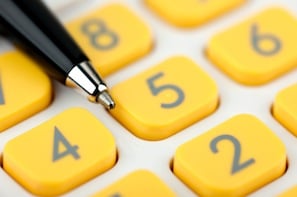 Recently we looked at how investors can begin to assess their tolerance of investment risk. In this post we'll examine five key factors you would need to consider in more detail.
1. Your investment time frame
An often seen cliché is what we'll refer to as 'age-based' investment risk tolerance. It is conventional wisdom that a younger investor has a long-term time horizon and can take more risk. Following this logic, an elderly individual would have low investment risk tolerance. While this may be true in general, there are certainly a number of other considerations that come into play. First, we need to consider the investment. Also, when will the capital be needed? If the time horizon is relatively short, risk tolerance should shift to be more conservative.

For long-term investments, there is room for more aggressive investing. Be careful, however, about blindly following conventional wisdom. For example, don't think that just because you are 65 you must shift everything to conservative investments, such as gilts and low risk bonds. While this may be appropriate for some, it may not be appropriate for all. With today's growing life expectancies and advancing medical science, the 65-year-old investor may still have a 20-year (or more) time horizon.
2. Your risk capital
Risk capital is money available to invest or trade that will not affect your lifestyle if lost. It should be defined as liquid capital, or capital that can easily be converted into cash. Available risk capital and your current net worth should be important considerations when determining investment risk tolerance. Net worth is simply your assets minus your liabilities. Therefore, an investor with a high net worth can assume more risk. The smaller the percentage of your overall net worth the investment or trade makes up, the more aggressive the risk tolerance can be.
3. Your investment experience
When it comes to determining your risk tolerance, your level of investing experience must also be considered. Are you new to investing? Have you been investing for some time? It is prudent to begin new ventures with some degree of caution, and investing is no different. Aim to get some experience under your belt before committing too much capital. Always remember the old cliché and strive for preservation of capital.
4. Your investment objectives
Your investment objectives must also be considered when calculating how much risk can be assumed. If you are saving for your retirement, how much risk do you really want to take with those funds?
5. The actual investment you're considering
Different investments carry different levels of risk. All investments involve a degree of risk and returns can never be guaranteed so it is important to choose investments that suit your circumstances. Below is a table that illustrates a range of investment types and their associated risks.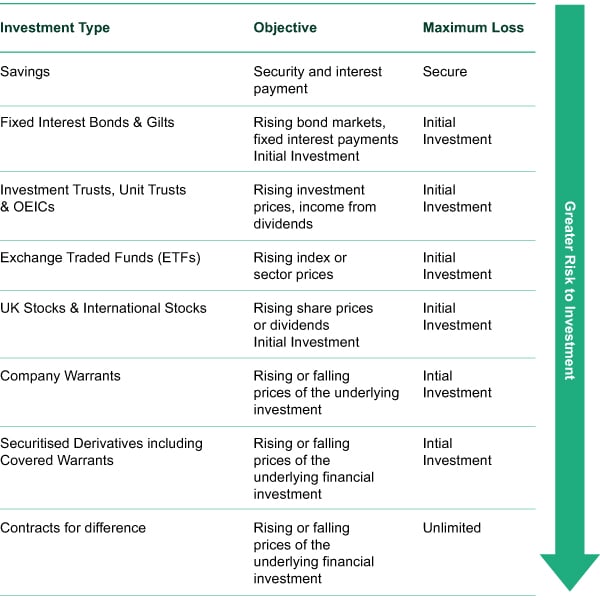 CFDs and Financial Spread Betting may not be suitable for all investors; therefore you should understand the risks involved and seek independent advice if necessary. If the price of a CFD or Financial Spread Betting trade moves against you, you could face unlimited losses and the need to make additional payments. You could lose all the money you have invested and you may have to pay more at a later date.
Warrants are not suitable for everyone. You should not deal in warrants unless you understand their nature and the extent of your exposure to risk. You should be satisfied that they are suitable for you in the light of your circumstances and financial position. CFDs, spread betting and warrants are investments ISACO avoids. Instead we specialise in investing in high quality investment funds (or OEICs, which stands for Open Ended Investment Company) and use tax-efficient wraps such as ISAs and SIPPs to boost returns and shelter gains from the tax man.
In conclusion
When considering your investment risk tolerance, some simple rules to consider are:
The greater return you want, the more risk you'll usually have to accept.


The higher return you want from your investments, the greater the chance of losing some or all of your initial investment (your capital) in the short-term.


If you're saving over the short-term it's wise not to take much capital risk. So what you are investing for and when you'll need access to your money will have a big impact on what types of investments are right for you.


If you are investing for the long-term you can afford to take more risk.
Investing in share-based assets has proved to be the best way of achieving growth that outstrips inflation. There is a risk attached but when you invest over the long-term, you gain time to recover your losses after the inevitable and never ending market correction periods.
As always, if you have any questions or thoughts on the points I've covered, please leave a comment below or connect with us @ISACO_ on Twitter.
Please note past performance should not be used as a guide to future performance, which is not guaranteed. Investing in Funds should be considered a long-term investment. The value of the investment can go down as well as up and there is no guarantee that you will get back the amount you originally invested.
About ISACO
ISACO was established in 2001 by brothers Stephen and Paul Sutherland and is the first financially regulated firm to offer adventurous ISA and SIPP investors a unique personal investment service that shares on a daily basis our star-performing investor's thoughts, personal insights and investment decisions.
Clients enjoy being informed throughout the year what 'best of breed' funds our premier investor currently owns, when he's buying and when he's moving into the safe harbour of cash – helping clients enjoy more control, manage their portfolio more effectively and benefit from the potential of outstanding long-term returns.
For more information about ISACO and our Investment Guidance Service, please read our free brochure.