In this post we'll explore the key differences between ISACO and an adviser in more detail. As a reminder, when we look at a performance and fee comparison of ISACO versus an adviser, we'll be using a comparison over a ten year time span and in our example we will be using an individual with a £250,000 portfolio.
In our last post we concluded by looking at 6 criteria that are important to most of our clients, namely:
Total cost of client fees
Cost of client fees per year
Profit made for the client over 10 years
Cumulative gain made over 10 years
Annual percentage gain after fees
Annual cash flow generated
In this post we'll explore the key differences between ISACO and an adviser in more detail.
10 year comparison ISACO versus an adviser
As you can see from the chart below, the difference in ISACO's fees when compared to a traditional adviser could result in a client experiencing savings of £18,394, a 29.4% reduction, over 10 years.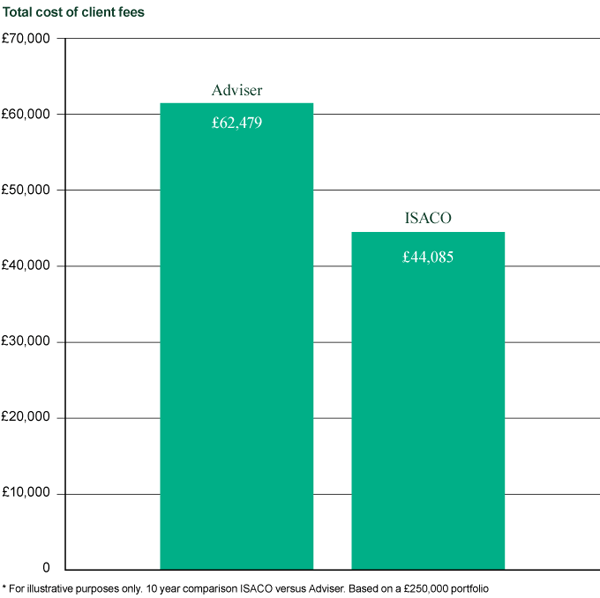 This is due to the difference in ISACO's client fees per year versus a traditional adviser, which could result in annual savings of £2,943.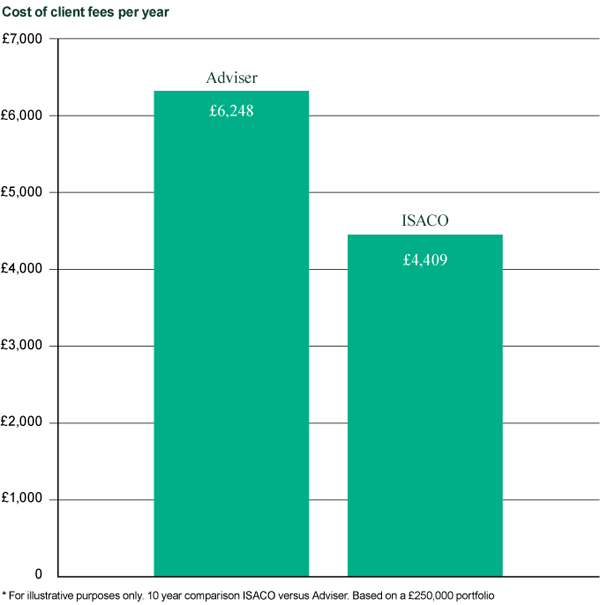 As you can see from the chart below, this difference in charges combined with our higher performance targets could see an extra profit of £291,900 realised for this client, an increase of 192.3%.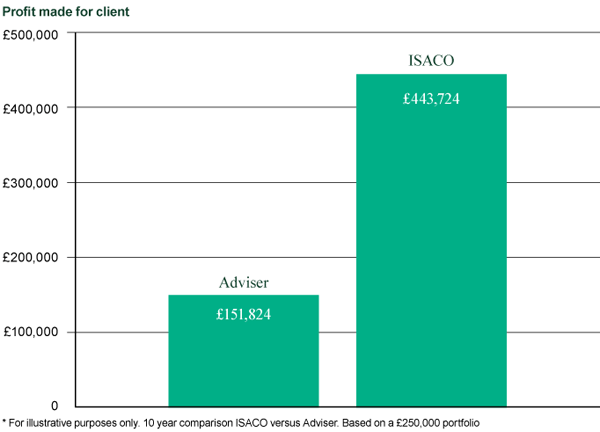 When you compare the difference between ISACO's cumulative gain realised for the client versus a traditional adviser's, you see an increase of 116.8%.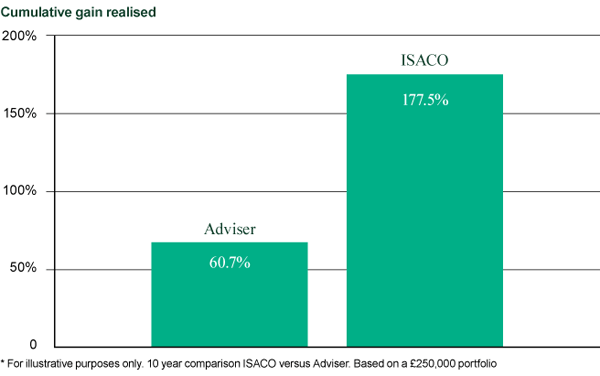 As you can clearly see on this next chart, the difference between ISACO's annual gains after fees, versus a traditional adviser is 5.8%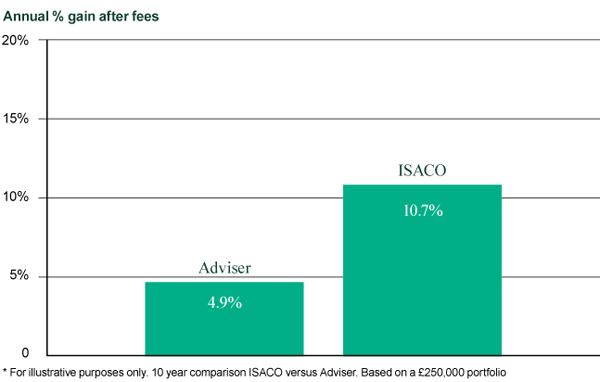 What's more, the difference between the cash flow ISACO could help a client generate versus a traditional adviser is £14,595, an increase of 73%.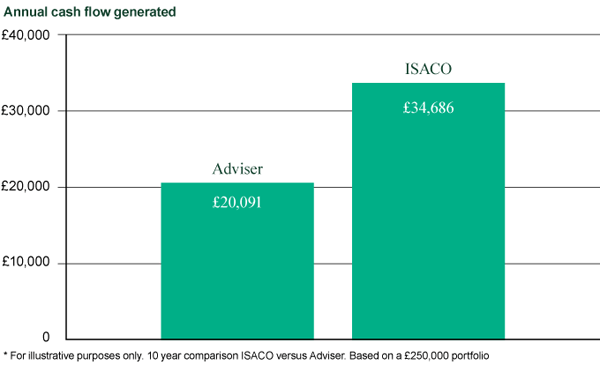 What can we learn from this?
The most important lesson to learn is that fees can only be justified when your adviser is helping you achieve a reasonable level of return and preferably helping you to outperform the market.

If you believe you have the talent required to achieve the double digit performance you require to achieve your goals, and are willing to put in the necessary time and energy, you probably don't need an adviser and that means you could save yourself tens of thousands of pounds in fees.
However if you don't have the time, talent, energy or inclination to do it yourself, and like the idea of getting help from an expert resource, your first job is to ensure that the investment guidance fees you pay are justified. If you do opt for getting help, choose wisely and make sure you ask lots of questions relating to past performance and future return expectations. Also find out if they will have their own money invested in the investments they guide you into. If they don't, ask why.
As always, if you have any questions or thoughts on the points I've covered, please leave a comment below or connect with us @ISACO_ on Twitter.
Please note past performance should not be used as a guide to future performance, which is not guaranteed. Investing in Funds should be considered a long-term investment. The value of the investment can go down as well as up and there is no guarantee that you will get back the amount you originally invested.
About ISACO
ISACO was established in 2001 by brothers Stephen and Paul Sutherland. Our personal investment service allows you to buy the same funds as our star-performing investor. You find out where he invests, keep full control of your account, enjoy a close relationship with a trusted expert, and benefit from the potential for attractive long-term returns.
For more information about ISACO and our personal investment service, please read our free brochure.