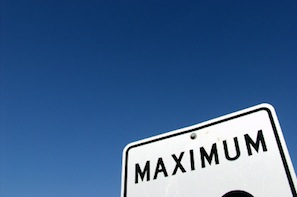 Most investors with a life expectancy of 20 years or more are likely to need at least some ISA growth. Without risk, you can't get growth. And without growth, your portfolio can be ravaged overtime by withdrawals and inflation. To help your portfolio survive the long haul, it's likely that you'll need to hold some portion of your ISA portfolio in stocks most of the time. You can do that by buying quality growth funds and holding them over the long-term.
If you had a long time to invest, and most likely you do, the odds are in your favour when investing with equities using investment funds. The longer your time horizon, the better the odds equities historically treated you better than cash or bonds – and by a wide margin.
Capital market returns for the United Kingdom
The chart below shows that over the last 111 years, the real value of equities with income reinvested, grew by a factor of 317.4 as compared to 4.6 for bonds and 3.1 for bills.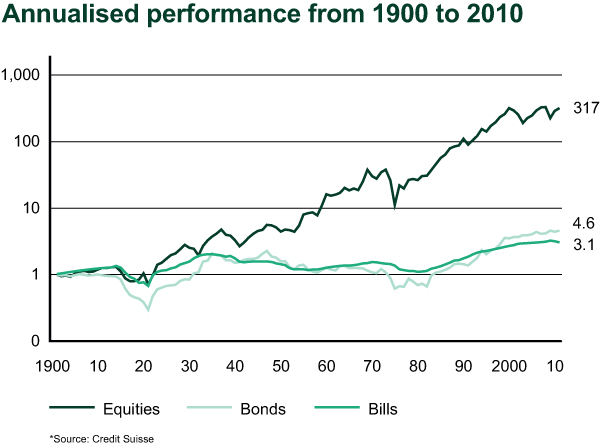 When seeking long-term growth and higher returns for your ISA, your main objective should be to 'beat' the market.
What exactly does 'beat' the market mean?
There are many names and phrases to describe beating the market such as outperforming the market, beating the indexes and staying ahead of the indices. But even though people say the term beating the market in different ways, they all mean the same thing which is 'doing better' than a particular benchmark. Where people's opinions do differ is in the area of what benchmark they are measuring their performance against. In other words, which market, index, or indices are they trying to beat?

For example here at ISACO, our aim is to help our clients beat the Nasdaq Composite. The Nasdaq Composite is the main US technology index and arguably one of the strongest market indexes in the world. Over the long term, the Nasdaq has made an average yearly gain of 18.3%*.
*Source: Yahoo/Finance.: Period taken January 1st 1975 to December 31st 1999.

With the Nasdaq being a powerful index, it means it's a difficult task to beat it. Look at this chart illustration displaying how the Nasdaq Composite has performed versus the FTSE 100. As you can see, since 1984 the FTSE 100 made just over 400%. However, the Nasdaq is the clear winner after making close to a 1000% gain over the very same period.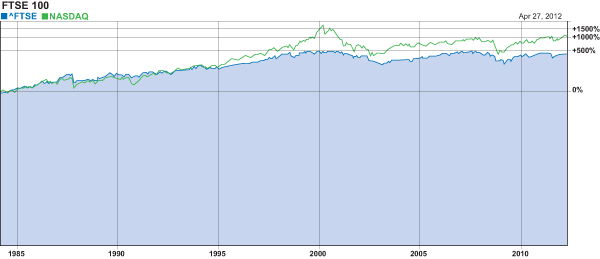 Data supplied by Yahoo! Finance.
Aiming to beat the Nasdaq would therefore be a much tougher goal than trying to beat the FTSE 100 but, as many of our clients agree, it is a worthy goal for adventurous long-term investors who seek outstanding returns.
Outperforming the Nasdaq Composite over the long-term is extremely difficult to achieve. However beating the Nasdaq Composite should always be your number one objective when seeking impressive returns. Beating the market helps you to achieve higher returns allowing you to arrive at your financial goals faster.
Aiming for outstanding ISA growth
If you seek impressive ISA growth, then your investment returns are everything. When you achieve strong annual returns, it increases the chances you'll arrive at your goals on time. The first question you need to ask is how are you going to achieve the returns you need to enable you to arrive at your financial objectives on time? Your choices are: do it yourself or get expert help.
As always, if you have any questions or thoughts on the points I've covered, please leave a comment below or connect with us @ISACO_ on Twitter.
Please note past performance should not be used as a guide to future performance, which is not guaranteed. Investing in Funds should be considered a long-term investment. The value of the investment can go down as well as up and there is no guarantee that you will get back the amount you originally invested.
Find out where an expert invests
Are you an ISA or SIPP investor with over £100,000 actively invested? Are you looking for better returns but are unsure which funds to invest in? ISACO Wealth, our personal investment service, allows you to buy the same funds as a star-performing investor. You find out where he invests, keep full control of your account, enjoy a close relationship with a trusted expert, and benefit from the potential for attractive long-term returns.
To find out where an expert invests >>