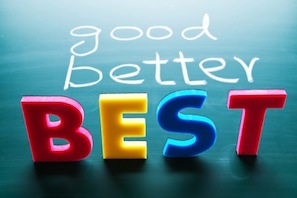 Last week we looked at why many investors seek better returns from their ISA and SIPP portfolios and how investment guidance could be the answer.
As a reminder the first three points on our 'What to look for when seeking investment guidance' checklist were:
Look for investment expertise
Find out where an expert invests
Retain full control of your ISA and SIPP portfolio
In this post, we'll examine the final three points on our checklist.
What to look for when seeking investment guidance
4) Daily guidance from an investment expert
If you are going to partner up with an investment expert, make sure their service offers daily communication. Why? As well as wanting to know if the expert has made any changes to their portfolio, such as switching out of one of their funds into a different one, having a good understanding of the markets trend and direction on a daily basis is essential if your quest is outperformance. For example in an upwards trending market, the market is classed healthy but in a downwards trending markets, it's classed unhealthy. This is an important concept to grasp because in rising markets when the market is healthy, 75% of securities such as stocks and investment funds will rise. However in falling markets when the market is unhealthy, 75% of securities will fall.
This means when a downtrend has been triggered, your aim should be to get more defensive and possibly move your portfolio into a cash park to preserve your profits. This is why partnering up with an expert who can talk to you every day and help you to get 'in sync' with the market's trend and direction is going to be useful to you, especially if your aim is attractive returns over the long-term. When you invest against the market's trend, it's like trying to swim against a strong current; virtually impossible to make any headway.
This daily communication needs to be written and published by the investment expert themselves, giving you confidence that the information you're receiving has come directly from the mind of a successful investor. When it comes from a trusted source, you are much more likely to respect the analysis, assign more value to it and act on it if you feel the need. When you get the right service, the result will be daily snippets of investment guidance wisdom passed on to you, helping you slowly build a vast storehouse of valuable stock market lessons and investment insights.

The daily feed of information needs to be clear, concise, jargon free and written in plain English – easy to understand and simple to digest. Ideally the expert will give you their day by day take of what's going on in the market via email probably in the form of a daily market update. These reports can act as a thermometer, giving you a feel for the market's current health, trend and direction. These daily reports should also inform you what funds the expert holds in their portfolio and whether they are thinking about making any switches. You also want the expert's interpretation of the market's reaction to the latest news and events and what it means to you as an investor. What's more you'll want these daily reports to provide you with reassurance during times of increased volatility and difficult market conditions.
5) Monthly newsletter written and published by an expert

As well as requesting daily market updates, you also should insist on being informed on a monthly basis of the expert's longer term view of the market. We like to call this 'The big picture'. Once again, this monthly report should be written and published by the investment expert. When the information is high grade, it can often deepen your understanding of investing helping you to have better thoughts resulting in better investment decisions. High grade market intelligence can help you to think like a professional investor. Your monthly report or newsletter should feature clear detailed charts, investor lessons and key insights. Ideally they should include the expert's investment long-term outlook and their take on where we are right now in the investment cycle. For example, are we in a bull market or are we in a bear market? If we are in a bull market, where are we in the cycle? Are we at the beginning, the middle or the end? How long is the current trend likely to last? Is this a healthy correction, or is this correction likely to be more severe? How has the market been behaving recently? Is it acting normal or abnormal? Is the market healthy, strong and vibrant? Or is the market weak and unhealthy? Is this the time to be fully invested or should I be thinking more defensively and moving onto the sidelines? Answers to questions such as these can be invaluable when planning your long-term investment strategy especially when they come from the mind of a seasoned investor, who has experienced many different market cycles and environments. A monthly 'big picture' look at the market can also help when you discover what events over the last four weeks have caught your investment expert's attention and whether there are any potential threats or opportunities on the horizon that you need to be aware of.
6) A personal relationship
If you partner up with a firm rather than an individual, the firm should give you your own dedicated client account manager to act as a personal reference point for investment guidance. This means they'll be able to answer any questions you have throughout the year. It goes without saying that it should be a person you like, trust and respect. The firm should have an aim to forge strong, long-term relationships with their clients, preferably for life. You also want unrestricted access to the firm's managing director/CEO. Having unrestricted access to the firm's top executive is something many companies simply cannot offer. However it is something you should ask for if you want the peace of mind of knowing that you'll be able to pick up the phone at any time and talk to the firms MD should you every have any issue that you are unable to resolve with your client manager. As part of the service, you should receive the firm's Managing Director's private telephone line, their home line and their personal email address. You also should insist upon unrestricted access to the firm's investment expert. Insist on receiving the firm's investing expert's private line and personal email address. This is important because there are always going to be times when you have questions that are technical in nature, ones that your client manager or the firm's Managing Director might not be able to answer. There are also going to be incidents when you seek reassurance, especially in times of heightened market volatility. An investment expert who can offer a level of calmness and clarity in challenging market conditions can often prove to be a priceless resource.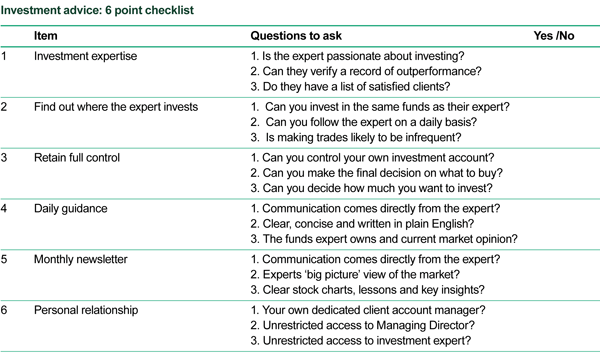 Let me close this blog by mentioning an important point. ISACO are regulated by the Financial Services Authority and our firm reference number is 525147. Our permission requirements state that we are 'not allowed to give personal recommendations' which means we are limited to advice that does not consist of tailored recommendations to individuals and does not amount to a 'personal recommendation' as defined in the FSA handbook. This means the personal investment service we offer does not constitute a personal recommendation nor is it a tailored recommendation.
Our personal investment service gives you the opportunity to buy the same funds as our star-performing investor. You find out where he invests, keep full control of your account, enjoy a close relationship with a trusted expert, and benefit from the potential for attractive long-term returns. The service is designed for private investors who seek ISA and SIPP guidance from experts, but ultimately want to manage their own investment accounts. Should you have any doubts as to the suitability of an investment for your circumstances, we suggest you speak to a financial adviser.
If you would like to know how our service aims to deliver on the six points in this blog's checklist, get in touch directly with me because I'd love to hear from you. If you'd be interested in finding out which funds our star-performing investor is invested in with his personal ISA portfolio, click here. Our service is ideally suited for ISA and SIPP investors with over £100,000 actively invested.
As always, if you have any questions or thoughts on the points I've covered, please leave a comment below or connect with us @ISACO_ on Twitter.
Please note past performance should not be used as a guide to future performance, which is not guaranteed. Investing in Funds should be considered a long-term investment. The value of the investment can go down as well as up and there is no guarantee that you will get back the amount you originally invested.
Find out where an expert invests
Are you an ISA or SIPP investor with over £100,000 actively invested? Are you looking for better returns but are unsure which funds to invest in? ISACO Wealth, our personal investment service, allows you to buy the same funds as a star-performing investor. You find out where he invests, keep full control of your account, enjoy a close relationship with a trusted expert, and benefit from the potential for attractive long-term returns.
To find out where an expert invests >>