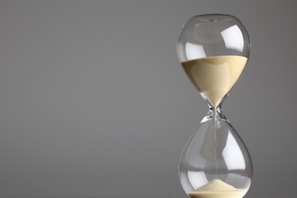 In this blog post, I'd like to demonstrate the importance of 'timing' your entry and exit when it comes to fund selection for your ISA and SIPP portfolio. In his bestselling book, How to Make Money in Stocks, William O'Neil said: "Don't let anyone tell you that you can't time the market."
According to O'Neil, the erroneous belief that no one can time the market evolved more than 30 years ago when most funds that tried it were not successful. This is because they had to buy and sell at exactly the right time but, due to their asset size problems, it took weeks to raise cash and re-enter or get back invested into the market. Therefore, the top management at these funds imposed rules on their fund managers that required them to remain fully invested (95% to 100% of assets).*
*How to Make Money in Stocks - William J. O'Neil Third edition - Page 49.

An expert at fund selection
I have to admit that I'm not an expert at fund selection and I'm not a market timer, however at ISACO we do have an investment expert who has performed well in both of these areas. My brother Stephen Sutherland is both a private investor and ISACO's Chief Investment Strategist. He is also the author of 'Liquid Millionaire'. Stephen is a commentator on business television and radio, personal finance newspapers and magazines and other market commentator mediums.

Stephen aims to buy 'best of breed' growth funds that exhibit superior sustainable growth potential and hold them for as long as they demonstrate outperformance. He classes himself as an adventurous investor with an extremely long-term investment outlook and he has been successfully investing in Stocks & Shares ISAs since 1997. Since 1998 he has added the full year's ISA allowance each and every year. During this time, outperforming the market* has helped him amass a six-figure portfolio. Some would say his performance over the latest three years** has been impressive. From 2009 to 2011, he made an average yearly return of 17% compared to the FTSE 100's 7.9%, making a total return over the three years of 60.5%. Investing with Stephen using a theoretical £100,000 initial investment would have grown into £160,500 versus investing in a FTSE 100 tracker fund and returning £125,600 over the same period.
*Source: Yahoo Finance: Cumulative return (Dec 31st 1997 - Dec 31st 2010) Stephen Sutherland 93.3%, Nasdaq Composite 68.9%, FTSE 100 14.6%
** Source: Yahoo Finance: Average annual return (Dec 31st 2008 - Dec 31st 2011) Stephen Sutherland 17%, FTSE 100 7.9%
ISACO investment performance verified by Independent Executives Ltd
Legg Mason Japan Equity A Acc: 43.1% in 12 months
Our personal investment service allows you to buy the same funds as Stephen. This means clients of ours over the years have known where he invests, kept full control of their accounts, enjoyed a close relationship with a trusted expert, and had the chance to benefit from the potential of attractive long-term returns.
Over the years Stephen has traded many funds that our team, our parents, our clients and I have also invested in and today I'm going to show you too. Both examples demonstrate a level of skill that you will rarely find in your adviser. As you will see, his expertise is clear when it comes to fund selection, by that I mean knowing what funds to buy, when to buy them and when to exit. Of course he doesn't get his timing right all the time, however his long-term track record speaks for itself.
We are going to start by looking at a fund called the Legg Mason Japan Equity A. This fund was bought back in 2005, however the reasons I'm showing it to you are to highlight the dangers of 'buy and hold', while underlining why we believe you have to be active when it comes to fund selection for your ISA and SIPP portfolio.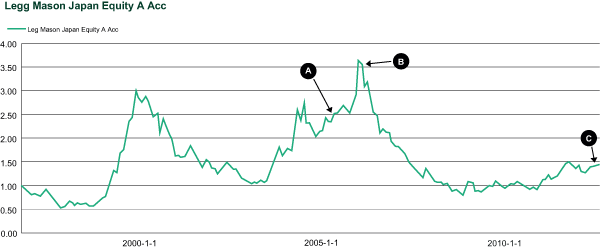 Stephen bought this fund at a price of 2.32 on 11th January 2005 (Point A), just before it broke out of a bullish cup-with-handle formation pattern. Soon after purchase, this fund really took off, eventually hitting a peak at 3.53. Stephen recognized this behavior as 'climax topping' and soon after hitting its high, he wisely decided to exit and came out of this investment at a price of 3.32 (Point B) on January 5th 2006. This helped us and the clients shadowing him to net a tidy 43.1% gain in twelve months.
As you can see from the chart, just after getting out, the fund fell like a stone dropping 71.4% over the next three years and even though it's been trying to recover from this low, when this screenshot was taken on 22nd July 2012, it was trading at a price of 143 (Point C), 56.9% below where we exited. That means it would have to make a 133% move just to get back to where we got out! How long is that going to take?
Fidelity Funds – China Focus Fund A – GBP: 64.9% in 31 months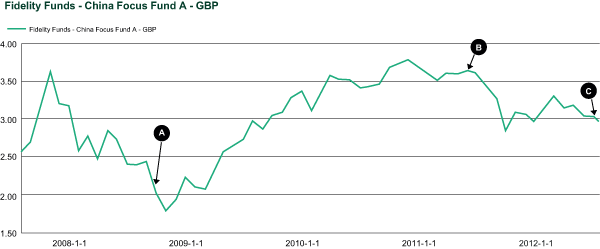 Stephen bought this fund more recently. On 16th Dec 2008 (Point A), Stephen and our clients entered the fund at 2.14. This fund was eventually sold on July 27th 2011 at a price of 3.53 (Point B) after Stephen noticing that the fund was acting out of character – helping us bag a 64.9% gain over a 31 month period. Stephen was right about getting out of this one too. When this screenshot was taken on 22nd July, it was currently trading at 2.98 (Point C), 15.6% below our sell point.
If you would like to know how to aim to time the market better and include 'best of breed' growth funds that exhibit superior sustainable growth potential in your fund selection, or are interested in knowing the funds in Stephen's ISA portfolio, please get in touch by calling me on our freephone number 0800 170 7750 or emailing me direct at Paul@isaco.co.uk and I'll be happy to help.
As always, if you have any questions or thoughts on the points I've covered, please leave a comment below or connect with us @ISACO_ on Twitter.
Please note past performance should not be used as a guide to future performance, which is not guaranteed. Investing in Funds should be considered a long-term investment. The value of the investment can go down as well as up and there is no guarantee that you will get back the amount you originally invested.
Find out where an expert invests
Are you an ISA or SIPP investor with over £100,000 actively invested? Are you looking for better returns but are unsure which funds to invest in? ISACO Wealth, our personal investment service, allows you to buy the same funds as a star-performing investor. You find out where he invests, keep full control of your account, enjoy a close relationship with a trusted expert, and benefit from the potential for attractive long-term returns.
To find out where an expert invests >>