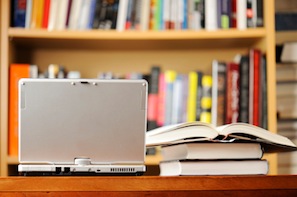 So far during this series we've looked at some outstanding books for investors, including leading stock market investing and investment psychology books. Last week we reviewed five books that could help you increase your income, and this week we'll cover the rest of my top ten.
As always, I've also provided a link to each book on Amazon should you wish to purchase it. If you do decide to buy, I will not be compensated in any way. Enjoy!
5 more books for increasing your income
6. Become a Recognised Authority in Your Field in 60 Days or Less! [Paperback] – Robert Bly
Robert W. Bly became a self-made millionaire without selling, marketing, or going to prospect meetings-ever. He achieved this by positioning himself as a recognised authority in a small niche field: direct mail copywriting. He is the author of 50 books, many of which are on marketing, direct mail, writing and communication, and has taught marketing and writing at New York University. Inside you learn 'what is a guru?' and strategies that aim to show you how to join the guru elite. It shows you how to increase people's perception of your financial value and position yourself as the recognised authority in your field.

7. Brand Yourself: How to Create an Identity for a Brilliant Career [Paperback] – David Andrusia
Branding, the authors state, is "the hottest, most talked about phenomenon in the business world today". Inside you'll learn how to brand yourself effectively by forging an identity that will help you make a great impression and become a star in the career of your dreams. Marketing experts David Andrusia and Rick Haskins have consulted on brands for such diverse companies as Disney, Swatch Watch USA and Revlon. Inside they show you step-by-step how to develop, refine and communicate your own unique brand. You learn things such as how to pinpoint your skills, your passions, and the 'selling' parts of your personality and how to create a Personal Branding Statement (P.B.S.)
8. Goals!: How to Get Everything You Want - Faster Than You Ever Thought Possible [Paperback – Brian Tracy
As you've gathered by now, Brian Tracy is one of my favourite authors and this is yet another one of his many great books. Based on more than 20 years of experience and 40 years of research, this book presents a strategy for creating and meeting goals that has been used by more than 1 million people already in its first edition. Inside Tracy explores the seven key elements of goal setting and the 12 steps necessary to set and accomplish goals of any size. Using his trademark simple language and real-life examples, Tracy shows how to do the crucial work of determining one's strengths, values and true goals. He explains further how to build the self-esteem and confidence necessary for achievement; how to overpower problems or obstacles; how to overcome difficulties; how to respond to challenges and how to continue moving forward no matter what happens.
9. Getting Rich Your Own Way: Achieve All Your Financial Goals Faster Than You Ever Thought Possible [Hardcover] – Brian Tracy
"Even in tough times like these, getting rich doesn't have to be a dream – you can make it a reality with hard work and practical advice", Tracy tells us. In 'Getting Rich Your Own Way', Brian offers a road map to financial success. In this positive, prescriptive guide, he shares principles and strategies that could lead you to success – the same principles and strategies that thousands of people learn in his seminars every year. Concise and comprehensive, this book won't teach you how to get rich quick. Instead, it will teach you real world principles that could play a part in helping you to achieve your financial goals.
Inside you'll find real stories of successful people who started out with nothing and ended up achieving their objectives. You'll learn how to accumulate and protect your wealth over the long–term, how to market and sell and how to start your own business. You'll also learn how to develop the winning attitude and work habits that unite all successful people in every field or profession.
10. Earl Nightingale's Greatest Discovery (Pma Book Series) [Hardcover] – Earl Nightingale
Earl Nightingale founded the personal development industry with the writing and recording of an essay entitled, 'The Strangest Secret', earning a Gold Record for the first recording of its kind. Nightingale formed the NIGHTINGALE-CONANT CORP of Chicago, Il. Nightingale enjoyed a lifetime career in radio and was an internationally acclaimed speaker. Nightingale has an astounding mind and this book is full of the inspiration and wisdom. Hopefully it will have as much impact on you as it did on me. The arguments Earl Nightingale proves wrong are some of today's most common held beliefs about wealth, determination, and spirit.
Next week, we'll look at my favourite personal development books, all of which are well worth adding to your reading list. As always, if you have any questions or thoughts on the books I've covered, please leave a comment below or connect with us @ISACO_ on Twitter.
Please note past performance should not be used as a guide to future performance, which is not guaranteed. Investing in Funds should be considered a long-term investment. The value of the investment can go down as well as up and there is no guarantee that you will get back the amount you originally invested.
Find out where an expert invests
Are you an ISA or SIPP investor with over £100,000 actively invested? Are you looking for better returns but are unsure which funds to invest in? ISACO Wealth, our personal investment service, allows you to buy the same funds as a star-performing investor. You find out where he invests, keep full control of your account, enjoy a close relationship with a trusted expert, and benefit from the potential for attractive long-term returns.
To find out where an expert invests >>