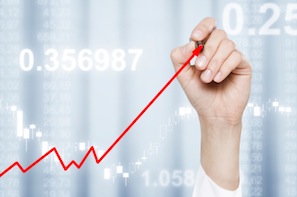 In our post on Tuesday, we discussed the outlook for the market in October. Today we'll look more closely at the recent performance of the four funds I currently hold in my portfolio.
In the last 8 weeks they have been going from strength to strength, delivering a 10.8% return for our clients.
We'll call these funds Fund A, Fund B, Fund C and Fund D (if you'd like to know more about these funds, please click here).
Lets start by taking a look at Fund A. This fund really has been pulling out all the stops lately. In fact, if we look at the chart over the last three months it has powered up an impressive 14.79%.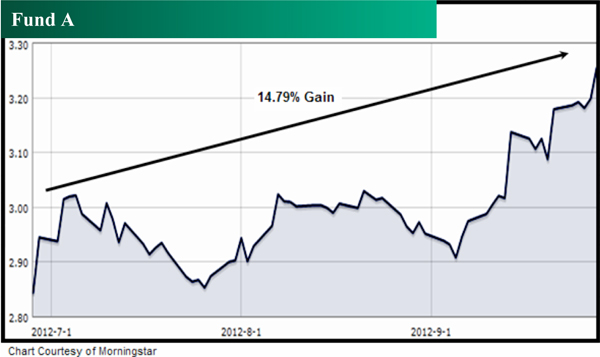 The next fund is Fund B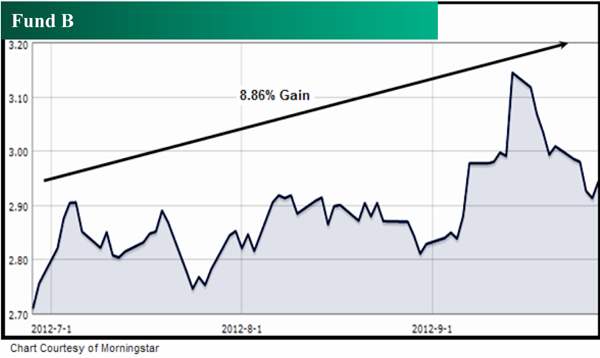 Even though it has not been as strong as Fund A, I'm extremely pleased with its recent performance. If we look at its performance over the last three months it has still managed a healthy gain of 8.86%.

Next we move onto two funds I added to my portfolio on 24th July this year, Fund C and Fund D.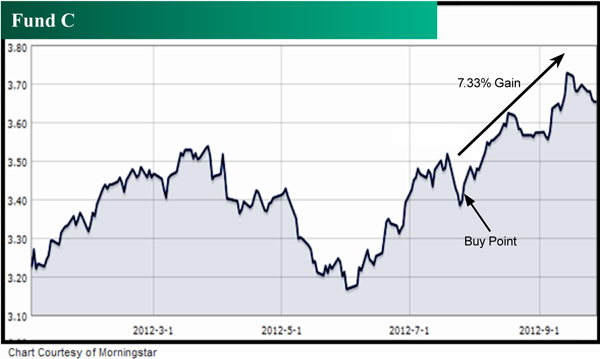 Fund C was bought at 3.41 on the 24th July, just before it broke out. Since then it's shot up 7.33% and is now trading at 3.66. That's a fantastic gain and so far I am extremely impressed by its action since purchasing it. Finally we move onto Fund D.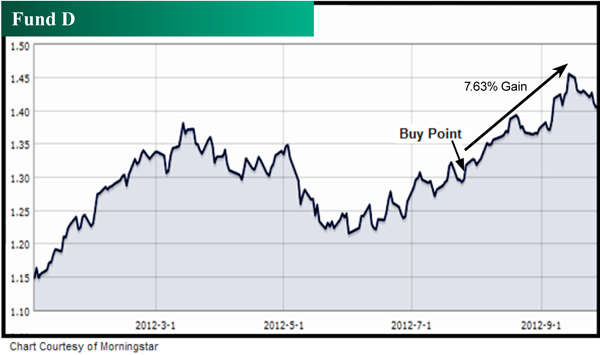 This fund was also bought on the 24th July just before it broke out and, like Fund C, has done extremely well. It was bought at a price of 1.31 and since then has gained a healthy 7.63% and is now trading at 1.41. Due to this I am happy with its behaviour so far.
There is no guarantee that the four funds I own will continue to perform well, however strong performing funds tend to get stronger and weak funds tend to get weaker. These impressive short term returns that I've highlighted demonstrate how strong the investments I choose can be and how quickly they can move once the market clicks into gear. With the market acting well, I expect all my funds to continue to perform well over the remainder of this year and beyond. The future is looking bright.
To find out more, please just click here to download your free copy of October's The Big Picture.
As always, if you have any questions or thoughts on the points I've covered, please leave a comment below or connect with us @ISACO_ on Twitter.
Please note past performance should not be used as a guide to future performance, which is not guaranteed. Investing in Funds should be considered a long-term investment. The value of the investment can go down as well as up and there is no guarantee that you will get back the amount you originally invested.
Find out where an expert invests
Are you an ISA or SIPP investor with over £100,000 actively invested? Are you looking for better returns but are unsure which funds to invest in? ISACO Wealth, our personal investment service, allows you to buy the same funds as a star-performing investor. You find out where he invests, keep full control of your account, enjoy a close relationship with a trusted expert, and benefit from the potential for attractive long-term returns.
To find out where an expert invests >>
To start your 14 day free trial >>