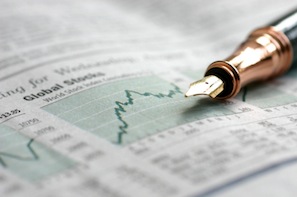 ISACO have developed a method to help investors like you aim for market beating returns. You might ask why market beating returns are so important? The answer is simple, they help you to arrive at your financial goals faster. When you achieve poor returns, it takes you longer to achieve your objectives and this could result in having to downgrade your lifestyle – something many of us find completely unpalatable.
Over the last 3 years, the method we've developed has helped our clients achieve 17% annual returns versus the FSTE 100's 7.9% annual returns.*
*31st December 2008 - 31st December 2011
ISACO investment performance verified by Independent Executives Ltd

How have you performed over the last three years?
If you don't know how your ISA or SIPP has performed, then aim to find out. Quite simply, if you don't measure, you can't manage. Can you see how this method of ours has easily beaten the FTSE 100 by a large margin? The chart below shows a direct comparison of ISACO versus a FTSE 100 tracker fund. The bar chart illustrates how a theoretical £100,000 would have grown over this three year period*. As you can see, ISACO grew the £100,000 into £160,500 versus the FTSE 100's £125,600.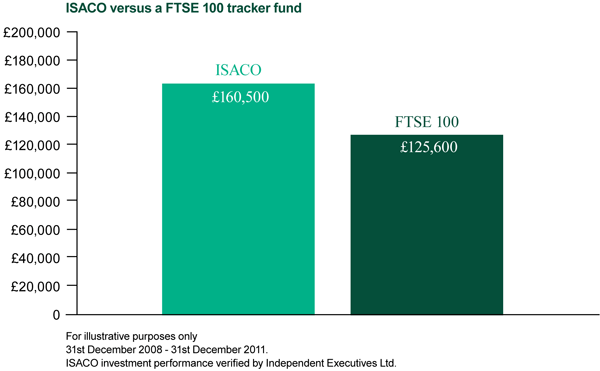 First of all, let me say that these types of market beating returns are not typical. Our aim is 12-15% per year, but as you've just seen the last three years have been pretty good for our clients. Would you be interested in knowing what this method is? Our method flips the traditional investment advice process on its head. Instead of getting advice from an IFA, you receive 'guidance' from a professional investor. Everybody deep down knows that an IFA is not a full time professional investor. Why? Because most of them have not put in the thousands of hours necessary to master the three arts required for investment success. The three disciplines are 1) reading market direction, 2) picking the best funds and 3) buying them at the right time.
Here's a good question for you. Instead of getting advice on what funds to buy from an IFA, why not seek out a seasoned investor with a history of market beating returns and get guidance from them instead? In other words, instead of getting your guidance from an IFA who does not understand the science of the markets, why not follow a professional investor who does? When you discover that we already have close to 400 savvy investors with large portfolios using this innovative method of following an expert with a solid track record, it helps you to realise that this method of ours works. It's not perfect, but it does work.
A method that has taken over 10 years to perfect
The method we've developed has taken over 10 years to perfect and it makes your job as an investor simple, easy and you retain full control at all times. Would you like to know why it was developed in the first place? Over the last decade and after speaking to thousands of ISA and SIPP investors, we've learned that individuals are frustrated with their investment returns and want 'specialised' help selecting the best funds to buy. They've also told us how difficult it is to not only find the best funds, but also to know 'when' to buy them and 'when' to exit out of them. They shared with us the frustrations they felt over incompetent IFAs. They also told us that they were extremely busy people and lacked the time and desire to master the market themselves. They told us that their lives would be so much simpler and easier if in some way they could find out what a 'professional investor' with a track record is doing with their money so that they could do the same.


It was simple really - they wanted to follow in the footsteps of success. They wanted to 'piggy back' an investor with an impressive CV and remarkable, market beating returns. In response to these requests for help, better guidance and better returns, ISACO created ISACO Wealth, a personal investment service that gives you all the benefits of a fund supermarket, such as having all your investments in one place, a huge choice of funds and low cost dealing, but also lets you find out where an expert with a large portfolio invests his own money allowing you to 'mirror' his trading activity.
Whatever funds he buys, you have the opportunity to buy the same funds he's buying on exactly the same day. It's that simple! But it's not for everybody. It's been designed for ISA and/or SIPP investors with over £100,000 actively invested. Here's what you get with ISACO Wealth:
The service allows you to buy the same funds as my brother Stephen, a star-performing investor

You keep full control of your account

You enjoy a close relationship

with a professional investor



The potential for attractive long-term returns
ISACO's secret weapon
May I ask you another question? Would receiving your investment guidance from an investor who has historically 'beaten' the stock market appeal? Using a talented investor with a great track record has proved to be ISACO's secret weapon. Did you know that investors with a history of beating the market are rare? Yes, outperforming the stock market is extremely difficult to achieve. However, beating the market should always be your number one objective when seeking impressive long-term returns. Would you be interested in receiving a daily market update which includes the funds an expert personally owns, allowing you the luxury of replicating his fund choices in your own investment account? Would that sort of daily service work for you?
Is keeping full control of your own portfolio important to you? Our clients love the freedom of being able to control their own accounts and invest as little or as much money as they like. How it works is pretty simple really – when the investor makes a trade in his account, you find out about it. Once you discover he's taking action, you have the opportunity to mirror his trade in your own account. The investment expert shares with you in a very concise way what he's invested in and what his current take is on the market. In times of market uncertainty and increased volatility, daily expert communication helps provide you with reassurance, insights and clear guidance.
A close relationship with a professional investor
In difficult times, would that be useful to you? In other words, having somebody by your side each and every day, interpreting for you the news, events and the market's behaviour and telling you what's really going on. By having a close relationship with a professional investor, you start to think like he thinks. Would that be beneficial? Our clients seem to think so because over time you expand your investment knowledge and create the tough emotional tolerance needed to succeed in the global financial markets over the long-term.
Is your goal to invest in high quality investment funds? If yes, you are on the right track because doing so allows a wider diversification to your portfolio, whilst at the same time helping to lower risk. Do you like infrequent trading? We hope so because we do and normally our clients make only one or two trades in a typical year, which means costs are minimised and returns and maximised. In essence, ISACO helps you create wealth and we do it together, side by side. By partnering with us, as we move through time, your knowledge of investing in the capital markets will increase and could result in you becoming a highly sophisticated investor – with a stock market education that could be passed down to future generations – something that forms part of your legacy.
As always, if you have any questions or thoughts on the points I've covered, please leave a comment below or connect with us @ISACO_ on Twitter.
Please note past performance should not be used as a guide to future performance, which is not guaranteed. Investing in Funds should be considered a long-term investment. The value of the investment can go down as well as up and there is no guarantee that you will get back the amount you originally invested.
About ISACO
ISACO Wealth is a premium investment guidance based on what we are personally doing with our own money. Because we aim high, our service offers the potential for outstanding long-term returns combined with a warm, responsive and highly personal service.
To find out where an expert invests >>
To download the ISACO Wealth brochure >>
To start your 14 day free trial of ISACO Wealth >>
To discover 'A Golden Opportunity' >>