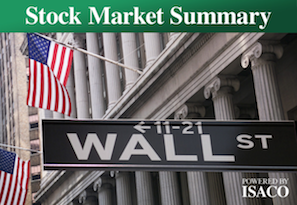 Yesterday's market action was neutral.
The Nasdaq Composite fell 0.88% in above average trade indicating institutional selling (Point A).
It may have been a day of professional selling, however it was constructive to see the US technology index find support at its 200 day moving average (Point B).
It was also good to see the S&P 600 finding support at its 200 day moving average (Point C).
Leading stocks action was negative.
My opinion remains the same - the recent 5 week correction (Point D) will turn out to be a temporary dip. It would not surprise me if the market found a bottom yesterday when it bullishly rebounded off its 200 day moving average.
However, if the market does fall further, there is comfort in knowing it has a thick band of support starting at its 200 day moving average which runs all the way down to 2942 (Point E).
Please note past performance should not be used as a guide to future performance, which is not guaranteed. Investing in Funds should be considered a long-term investment. The value of the investment can go down as well as up and there is no guarantee that you will get back the amount you originally invested.
Find out where an expert invests
Are you an ISA or SIPP investor with over £100,000 actively invested? Are you looking for better returns but are unsure which funds to invest in? ISACO Wealth, our personal investment service, allows you to buy the same funds as a star-performing investor. You find out where he invests, keep full control of your account, enjoy a close relationship with a trusted expert, and benefit from the potential for attractive long-term returns.
>" href="http://web.isaco.co.uk/view-my-portfolio/" target=_self>To find out where an expert invests >>
>" href="http://web.isaco.co.uk/investment-guidance-service-b" target=_self>To download our brochure >>
> " href="http://web.isaco.co.uk/14-day-free-trial" target=_self>To start your 14 day free trial >>