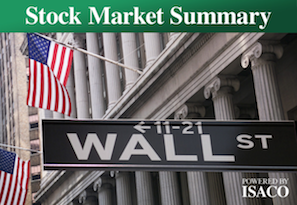 Yesterday's market action was negative.
The market appears to have a split personality. After acting out of character on Friday, acting well on Monday and Tuesday, Wednesday it flipped over again and acted extremely bearish. The US technology index dropped 2.48% on far above average volume (Point A). Above average trade on a day the market moves lower indicates institutional selling.
Leading stocks action was positive. A greater number gained in above average volume compared to those that dropped in above average volume. When this happens on a market 'down' day, its known as a bullish divergence.
Technically, the market looks as though it's in trouble. When indexes fall through their 200 day moving averages in heavy volume (Point B), it sends a red flag. However, yesterday may have been a one day shakeout - a knee jerk reaction to the recent election results.
What surprised me the most was the curious divergence of how leading stocks acted versus the general market. When markets get in real trouble, the majority of leaders fall like stones and I'm yet to see that happen. Plus the market has lots of support at these current levels (Point C) and that's why it's too early to turn bearish on the market. I'd like to see what happens today. Ideally the market will rebound with gusto. Let's see. My short-term stance has switched back to neutral.
Please note past performance should not be used as a guide to future performance, which is not guaranteed. Investing in Funds should be considered a long-term investment. The value of the investment can go down as well as up and there is no guarantee that you will get back the amount you originally invested.
Find out where an expert invests
Are you an ISA or SIPP investor with over £100,000 actively invested? Are you looking for better returns but are unsure which funds to invest in? ISACO Wealth, our personal investment service, allows you to buy the same funds as a star-performing investor. You find out where he invests, keep full control of your account, enjoy a close relationship with a trusted expert, and benefit from the potential for attractive long-term returns.
>" href="http://web.isaco.co.uk/view-my-portfolio/" target=_self>To find out where an expert invests >>
>" href="http://web.isaco.co.uk/investment-guidance-service-b" target=_self>To download our brochure >>
> " href="http://web.isaco.co.uk/14-day-free-trial" target=_self>To start your 14 day free trial >>