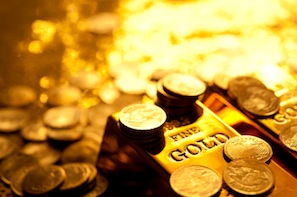 In this series of posts, I'm taking you through a golden ISA and SIPP investment opportunity. Quite simply, the evidence suggests that the next 5-10 years could see the market outperform and I'm going to explain how you could benefit. For more on this investment opportunity, please just download our latest report, A Golden Opportunity.
Last time we looked at the importance of buying into investment funds when the market is healthy and in an uptrend. In particular, I closed by introducing the timing system taught to me William J. O'Neil, the US investing legend. In this post, I'll tell you more about this method.
Not missed the start of a single bull market
Using this method of timing the market, in the last 50 years, Bill has not missed the start of a single bull market. That's pretty impressive isn't it? It's so impressive that I would like to say it again for emphasis:
Bill O'Neil, using this method of timing the market has not missed the start of a single bull market over the last 50 years.
It's no coincidence that this same timing method is the one that has helped me to beat the market over the long-term.
In the spring of 2008, Bill said that the timing method wasn't his. He said that the method was based on how the market works. What Bill also mentioned is the way the market works is the same way it has worked throughout its entire history. And I agree. This is a very good point to highlight.
An investment method based on facts, not opinions
The timing method that Bill O'Neil and I use is based on facts. These are facts that have come from the entire 125 year history of the stock market and they are not opinions. That is probably why it tends to work so well. This same timing method also helped my clients and I to make a 17 per cent average return over the last three years versus the FTSE 100's 7.9 per cent. It also helped me and my clients get out at the end of the 2003-2007 bull market. As they say, timing is everything.
Personally, I think it is a great way to accurately time the market. But I have to warn you that it's not foolproof. When I read the trend of the market using this method, I get it right about 80-90 per cent of the time. My clients follow in my footsteps and have the opportunity to invest in exactly the same funds that I'm investing in. This means, if they follow my lead, they achieve the same returns as me.

Clients like the fact that my brother Paul and I put our money where our mouth is. It puts them at ease knowing my track record and following exactly what Paul and I are doing with our ISA and pension investing. I think it gives them peace of mind knowing that Paul and I both have significantly sized tax-free accounts and that I have been investing in ISAs since 1997. They understand that the decisions Paul and I make about when to get into the market, what to get into and when to get out, are not taken lightly.

And unlike hedge funds, we don't take a penny of any of the profits our clients make. This means if you became a client, you get to keep everything you make. Plus we are totally impartial. Unlike financial advisers, stock brokers and banks, we do not receive any commission from the investment funds that we personally invest in. That's also something our clients see as a benefit.
75 per cent of the stock market's movement comes from institutional investors
Do you know the following fact?
75 per cent of the stock market's movement comes from institutional investors.
Yes it's true, the big professional investors have the largest influence on the market's future direction. Institutional investors can be fund managers, banks, building societies or insurance companies. If these 800 pound gorilla investors are buying, you can jump on their coattails. Similarly, if they are selling, you can quickly switch out onto the sidelines.
Here's how it works.
Picture the market as a big tree. Let's imagine the professional investors being woodcutters. If the professionals are selling heavily, then you can see them selling their stocks by looking at charts. When they sell, it's like they're taking a cut out of a tree and, of course, this makes the tree or market weaker.

If they take too many swipes at the tree in a short space of time, what is going to happen?

That's right, the tree will fall over. So when the tree or market gets weak because of excessive selling or cutting, it sends you a red flag to say get out of the market. On the other hand, when the professional investors are buying heavily and in a short period of time, this makes the market healthy and extremely strong – and this is the time when you do want to be invested.
Did you know that the Nasdaq Composite, the US technology index , has averaged 18.3 per cent over the last 25 years?

Did you also know that over the last 14 years, as you can see from this chart, it has virtually moved sideways?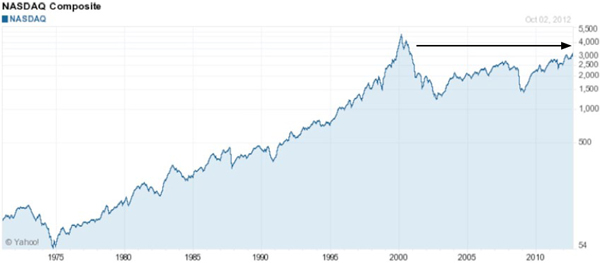 Let me repeat that once again for emphasis. Over the last 14 years, the Nasdaq has been underperforming its long-term trend and therefore could be due a move.

Could there be a possible stock market boom on the horizon?

Is it any wonder my clients and I are so excited right now?

It is also good to remind you at this point how strong the Nasdaq can be over a ten-year period. Did you know that from 1990 to 2000 the Nasdaq went up on average 24.5 per cent each year? Yes, that's a fact and the great news is that because it has done it before, it can do it again.
Did you know that the Nasdaq Composite is one of the world's leading market indexes?

It is and, because it's a world leader, that's one of the reasons why we try to beat it each and every year. In other words, it's very tough to beat. What we like about it is that it provides us with a challenge.
An investment method capable of beating the Nasdaq
The Nasdaq is therefore a great benchmark. It's much more difficult to beat than the S&P 500, which is an index that most professional fund managers try to beat, although most unfortunately fail. However, here's the good bit. What we now know is that the method my clients and I use is capable of beating the Nasdaq Composite.*
*Source: Yahoo Finance: Cumulative return (31st December 1997 – 31st December 2010) Stephen Sutherland 93.3%, Nasdaq Composite 68.9%, FTSE 100 14.6%. ISACO investment performance verified by Independent Executives Ltd

I'd like to now demonstrate the importance of 'timing' your entry and exit when it comes to fund selection. In his bestselling book, 'How to Make Money in Stocks', William O'Neil said: "Don't let anyone tell you that you can't time the market".
Legg Mason Japan Equity A Acc: 34.4 per cent in 6 months
We are going to start by looking at a fund called the Legg Mason Japan Equity A. This fund was bought back in 2005, however the reasons I'm showing it to you are to highlight the dangers of 'buy and hold', while underlining why we believe you have to be active when it comes to fund selection for your ISA and SIPP portfolio.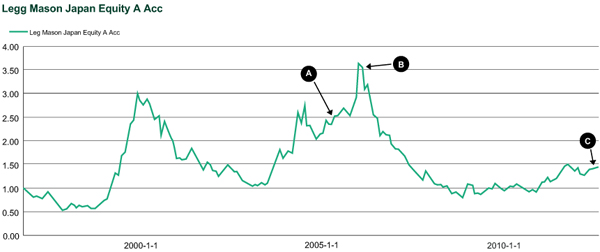 Can you see that we bought this fund on 17th June 2005 (Point A), just after it broke out of a bullish cup-with-handle formation pattern?
Yes, soon after purchase, this fund really took off, eventually hitting a peak at 3.53. we were fortunate to recognise this behavior as 'climax topping' and soon after hitting its high, we decided to exit and come out of this investment at a price of 3.32 (Point B) on January 5th 2006. This helped us, and the clients that shadow us, to net a tidy 34.4 per cent gain in just six months.
Can you see from the chart that just after getting out the fund fell like a stone, dropping 71.4 per cent over the next three years?

Even though it has been trying to recover from this low, when this screenshot was taken on 22nd July 2012, it was trading at a price of 143 (Point C), 56.9 per cent below where we exited.

That means it would have to make a 133 per cent move just to get back to where we got out! How long is that going to take?
Fidelity Funds – China Focus Fund A – GBP: 64.9 per cent in 31 months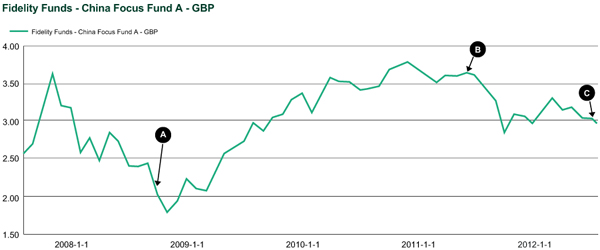 We bought this fund more recently. On 16th Dec 2008 (Point A), we entered this fund at 2.14 and was eventually sold on July 27th 2011 at a price of 3.53 (Point B) after we noticed that it was acting out of character – helping us bag a tidy 64.9 per cent gain over a 31 month period. When this screenshot was taken on 22nd July, it was currently trading at 2.98 (Point C), 15.6 per cent below our sell point, which means we may have exited this one at a favourable time too.
Please note that these kinds of funds must only be purchased in the right market environments. They can also drop very quickly so getting your timing right is crucial.
In our next post, we'll look at how this method could help investors capitalise on the investment opportunity that the next 5-10 years could offer. To learn more, please just download our latest report, A Golden Opportunity.
About ISACO
ISACO is a specialist in ISA and SIPP Investment and the pioneer of 'Shadow Investment', a simple way to grow your ISA and SIPP. Together with our clients, we have £57 million actively invested in ISAs and pensions.*

Our personal investment service allows you to look over our shoulder and buy into exactly the same funds as we are buying. These are investment funds that we personally own and so you can be assured that they are good quality. We are proud to say that by 'shadowing' us, our clients have made an annual return of 17% per year over the last three years** versus the FTSE 100's 7.9%.

We currently have close to 400 carefully selected clients. Most of them have over £100,000 actively invested and the majority are DIY investors such as business owners, self-employed professionals and corporate executives. We also have clients from the financial services sector such as IFAs, wealth managers and fund managers. ISACO Ltd is authorised and regulated by the Financial Services Authority (FSA). Our firm reference number is 525147.
*15th November 2012: Internal estimation of total ISA and pension assets owned by ISACO Investment Team and ISACO premium clients.
**(31st December 2008 - 31st December 2011)
ISACO investment performance verified by Independent Executives Ltd.
Look over our shoulder and shadow our ISA and pension investing >>
To download the ISACO Wealth brochure >>
To start your 14 day free trial of ISACO Wealth >>
To discover 'A Golden Opportunity' >>