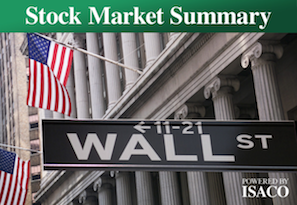 Yesterday's market action was positive.
Yesterday we mentioned that the market's recent seven day rest could soon be over. We may have hit the market with that comments because the Nasdaq on Tuesday gained 1.18% on above average volume (Point A).
Up days on greater than average volume indicate...
About ISACO
ISACO is a specialist in ISA and SIPP Investment and the pioneer of 'Shadow Investment', a simple way to grow your ISA and SIPP. Together with our clients, we have £57 million actively invested in ISAs and pensions.*
Our personal investment service allows you to look over our shoulder and buy into exactly the same funds as we are buying. These are investment funds that we personally own and so you can be assured that they are good quality. We are proud to say that by 'shadowing' us, our clients have made an annual return of 17% per year over the last three years** versus the FTSE 100's 7.9%.
We currently have close to 400 carefully selected clients. Most of them have over £100,000 actively invested and the majority are DIY investors such as business owners, self-employed professionals and corporate executives. We also have clients from the financial services sector such as IFAs, wealth managers and fund managers. ISACO Ltd is authorised and regulated by the Financial Services Authority (FSA). Our firm reference number is 525147.
*15th November 2012: Internal estimation of total ISA and pension assets owned by ISACO Investment Team and ISACO premium clients.
**31st Dec 2008 - 31st Dec 2011
ISACO investment performance verified by Independent Executives Ltd

>" href="http://web.isaco.co.uk/view-my-portfolio-c/" target=_self>Look over our shoulder and shadow our trading activity >>
>" href="http://web.isaco.co.uk/isaco-wealth-b" target=_self>To download the ISACO Wealth brochure >>
> " href="http://web.isaco.co.uk/14-day-free-trial/" target=_self>To start your 14 day free trial of ISACO Wealth >>
> " href="http://web.isaco.co.uk/a-golden-opportunity/" target=_self>To discover 'A Golden Opportunity' >>