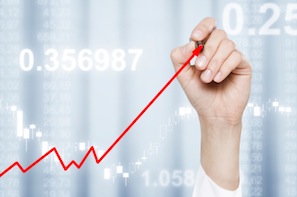 In our post last Saturday, we discussed the outlook for the market in December. Today we'll look more closely at the recent performance of the funds we currently have in my portfolio.
Fighting the correction, a sign of health
This latest 'mini-correction' began on 21st September when the Nasdaq topped out at 3197. On Friday 30th November, the Nasdaq closed at 3010, which means its dropped 5.8% over the last 9 weeks. However, over this same period, our portfolio has seen a gain of 2.3%. This means over the present correction period, we are proud to say we've outperformed the Nasdaq by 8.1%. That's what you call a bullish divergence. It also tells me that we should be staying fully invested in the funds that we currently own because the stocks they own are 'beating' the market.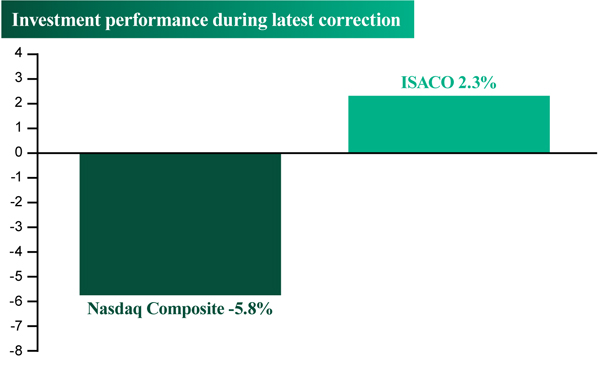 Evidence of how we beat the market by 8.1%
Next we'll look at why our portfolio has been rising while the market has been falling, by taking a closer look at the two funds we purchased in July this year.
As a reminder, we bought this fund on 24th July this year at a price of 131. On Saturday 1stDecember, it was trading at 149. That's a 13.7% gain over the last 18 weeks, easily beating the Nasdaq's 5.1%. The stocks this fund owns have been outperforming the market and, when leading stocks outperform the market, this normally means that the market is about to make a northerly move.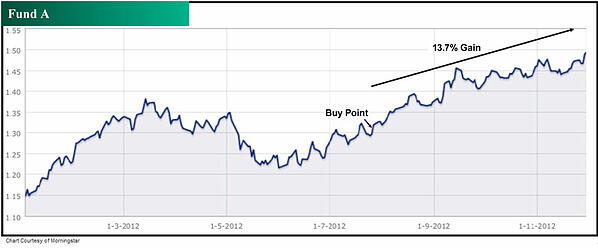 The second fund we recently bought, again on 24th July this year, was purchased at a price of 341. It is currently trading at 383. That means so far we've made a 12.3% return over the last 18 weeks. Just like Fund A, this one has also been outperforming the Nasdaq since we purchased it.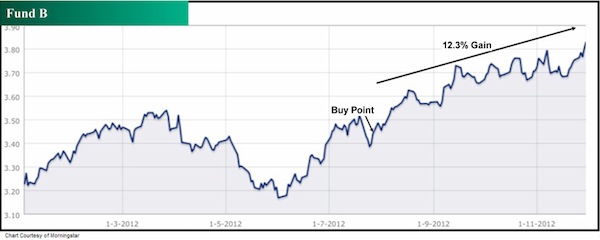 Strong performing funds tend to get stronger
There is no guarantee that these two funds will continue to perform well, however as I've been saying since I bought them, strong performing funds tend to get stronger and weak funds tend to get weaker. A 12.3% and 13.7% return on each fund in three and a half months, especially with the Nasdaq correcting 12.1% recently, demonstrates how strong the investments we choose can be and how quickly they can move once they have upside momentum. This is why we expect both of these funds, as well as the two others we own, to perform well over the remainder of this year and beyond.
Fund C close to a breakout
Take a look at the 12 month chart of another fund we own. This one has carved out a classic cup-with-handle base pattern (Point J) and it looks like it may be making a breakout move. The breakout would be at around the 3.40 price level (Point K).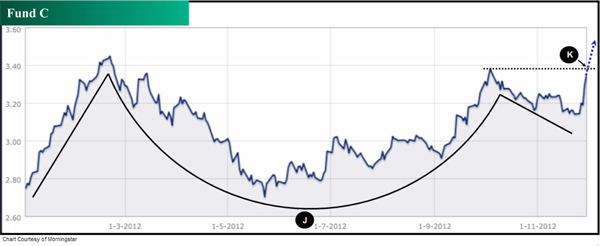 For your free copy of December's The Big Picture, please just click here.
As always, if you have any questions or thoughts on the points I've covered in this post, please leave a comment below or connect with us @ISACO_ on Twitter.
About ISACO
ISACO is a specialist in ISA and SIPP Investment and the pioneer of 'Shadow Investment', a simple way to grow your ISA and SIPP. Together with our clients, we have £57 million actively invested in ISAs and pensions***.

Our personal investment service allows you to look over our shoulder and buy into exactly the same funds as we are buying. These are investment funds that we personally own and so you can be assured that they are good quality. We are proud to say that by 'shadowing' us, our clients have made an annual return of 17% per year over the last three years** versus the FTSE 100's 7.9%.

We currently have close to 400 carefully selected clients. Most of them have over £100,000 actively invested and the majority are DIY investors such as business owners, self-employed professionals and corporate executives. We also have clients from the financial services sector such as IFAs, wealth managers and fund managers. ISACO Ltd is authorised and regulated by the Financial Services Authority (FSA). Our firm reference number is 525147.
*Cumulative return 31st December 1997 - 31st December 2010. Stephen Sutherland 93.3%, Nasdaq Composite 68.9%, FTSE 100 14.6%.
**31st December 2008 - 31st December 2011.
***15th November 2012: Internal estimation of total ISA and pension assets owned by ISACO Investment Team and ISACO premium clients.
ISACO investment performance verified by Independent Executives Ltd.
To download our free report 'A Golden Opportunity' >>
To download our Shadow Investment brochure >>
To start your 14 day free 'no obligation' trial of Shadow Investment >>