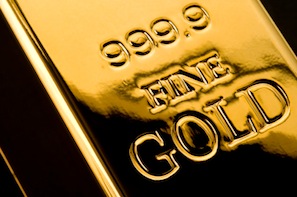 In this series of posts, I'm taking you through a golden ISA and SIPP investment opportunity. Quite simply, the evidence suggests that the next 5-10 years could see the market outperform and we've been looking at how you could benefit. For more on this investment opportunity, please just download our latest report, A Golden Opportunity.
Last time we looked at the importance of having a benchmark and how we use the NASDAQ Composite as ours, an index that has averaged 18.3 per cent over the last 25 years. We also explained how our investment method has allowed us to beat this benchmark.
A golden investment opportunity
Here's a chart similar to the one that I showed you last time. This chart clearly shows the investment opportunity that we've been talking about. Can you see on this chart that the Nasdaq has had a nice 25-year run from 1975 to 2000?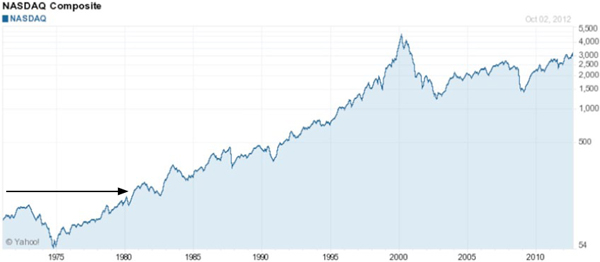 Over that period, it actually grew by an impressive 8750 per cent. As we established earlier, the Nasdaq has underperformed over the last 14 years and when markets move sideways for long periods, sooner or later, they have to resume their upward advances.
Look at the period on the chart highlighting the Nasdaq's price performance from 1970 to 1980.
After that sideways movement, what did it do?
That's right, it had a nice upwards move.

More evidence of a possible up and coming boom
It's worth remembering that there can be opportunities when it looks like a bad time to invest.
Did you know that the challenges faced by markets today are no different than the Great Depression of the 1930s or the crisis years of the 1970s?
Yes it's true and the good news is that even though the 1930s and 1970s were both seen as a bad time to invest, they were followed by successive decades of massive growth and robust investment returns (as you can see from the chart below).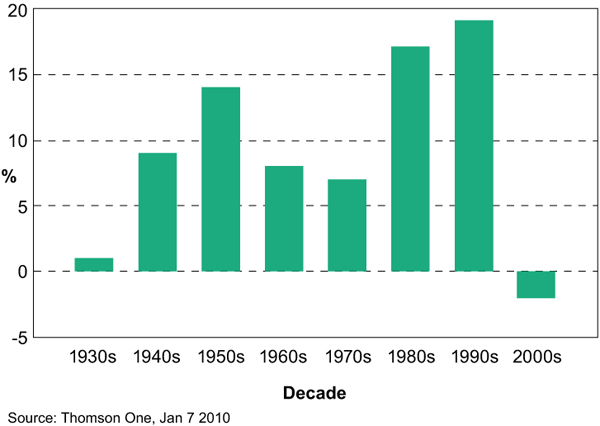 As you can see, abandoning the market may have been an understandable response in the early 40s or 80s, as it may still have been seen as a bad time to invest, but what a mistake it would have been!
A lost decade - strength after weakness
Have you heard of The Barclays Gilt Study? I hope so, because another piece of research that proves useful is the Barclays Gilt Study of 2009.
When you look at history, you find that extended periods of poor performance have almost always led to periods of above average performance.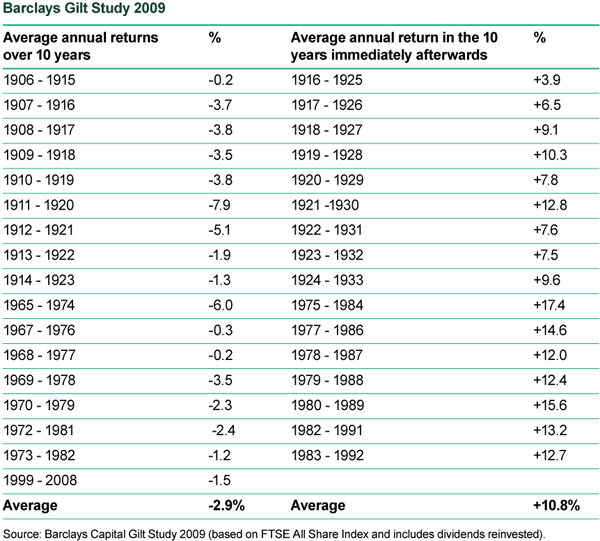 The Barclays study shows that, since 1899, there have been 17 lost decades (10 year periods of negative aggregate performance) with an average annual return of -2.9 per cent. All of these could have been seen as a bad time to invest. This includes the most recent decade (to the end of 2008) where UK equities suffered average annual returns of -1.5 per cent.
However, notice how each of the decades immediately following a lost decade has provided positive average annual total returns, with an average of +10.8 per cent each year for these following good decades.
This data suggests that over the next ten years we are likely to see above average returns. Even though this eventuality is not guaranteed, I'm sure that you'd agree that this presents a compelling investment opportunity for ISA and pension investors
When will the market move?
You see, with the Nasdaq being capable of 24.5 per cent annual returns over a decade, my clients and I are feeling optimistic about it putting in a similar performance, or even better, over the next 10 years.
When will the move start, you may be asking. Well it could have just begun, especially with my clients and I recently returning a 12.5 per cent annual return over the last four years**.
In my eyes, my recent strong investment returns could be a sign! For now, all you need to know is that the market will make its move when it's good and ready, and when it does make its move you want to be there to catch it.
Are you starting to see how this next ten year period could be an opportunity to make some decent tax-free money?
Good. Let me ask you some questions.
Can you see now how it could be possible to return greater than average tax-free returns? In other words, getting into the best performing funds when the market is strong and out onto the sidelines when it's weak?
Can you also see how it could be possible (depending upon your starting point) to make a significant amount of tax-free money over the next 7-10 years, especially if the market does have a strong and powerful move to the upside?

Also, can you agree that the market may indeed have this strong 7-10 year period because the last 12 years have been pretty much flat?
I hope you said yes to all three - if you did, it means that you and I, my friend, are singing from the same hymn sheet.
You now have two options. You could either decide to do it yourself or get help.
12-15 per cent annual returns
At ISACO, we generally aim for 12-15 per cent annual returns and I feel confident we will achieve these aims. This is because we are fortunate to be able to say that we have a strong track record of outperforming the stock market in the past, which enables us to set the future capital growth aims for our clients higher.
I'm going to leave you today with the 5 key steps to my personal investment strategy for maximising growth. Would you like to hear what it is?

My investment strategy for maximising growth - 5 key steps
Each of these steps on its own may help you achieve better returns, however I recommend that you aim to adopt as many of them as possible.
1. Invest at the right time
If you're an active investor, then an important part of your ISA and pension investment strategy will be to get in sync with the stock market. Aim to invest when the stock market is in a confirmed uptrend and to exit the market into a Cash Park when a downtrend has been triggered.
2. Fight for every percentage point
It's possible to boost your growth by using a fund supermarket as part of your investment strategy, such as Fidelity's FundsNetwork™. This will help keep commission and switching costs low. If you don't buy through a fund supermarket platform you can pay as much as 5 per cent in commission fees, which means that your fund would have to go up 5 per cent just to get back even.
3. Invest the maximum ISA allowance every year
Aim to make investing the full annual ISA allowance each and every year a central part of your investment strategy. Add as much as you can to your pension too. Your goal should be to keep adding to your account for the full duration of your plan, irrespective of what the market is doing and invest as soon as a new tax year begins. In an ideal world, you would put in the maximum ISA annual amount for you and your partner each year, which for 2012/13 is £11,280.
4. Make your ISA investment strategy long-term
When investing in growth funds with your ISA and pension, it's important to think long-term such as ten, twenty or even fifty years into the future. Many people unfortunately make the fatal mistake of cashing in their ISA chips early, a decision that could completely undermine their overall investment strategy and cause them deep regret.
It's important to be patient. Try to patiently sit and wait until the time your portfolio has hit your long-term financial goals. When it has, that's the time to start a withdrawal program to help pay for your lifestyle.
5. A sustainable withdrawal program
When reaching a long-term target, which could be anything from £500,000 to £15 million or even more, a smart investor would set up an automatic withdrawal plan to pay for their lifestyle. The key rule is to take out less as a percentage than the rate your account is then growing at. For example, an investor who had been making 8 per cent each year over the long term could withdraw maybe 3 per cent or 4 per cent, ensuring that their main lump sum would continue to grow.
As always, if you have any questions or thoughts on the points I've covered in this post, please leave a comment below or connect with us @ISACO_ on Twitter.
About ISACO
ISACO is a specialist in ISA and SIPP Investment and the pioneer of 'Shadow Investment', a simple way to grow your ISA and SIPP. Together with our clients, we have £57 million actively invested in ISAs and pensions*.

Our personal investment service allows you to look over our shoulder and buy into exactly the same funds as we are buying. These are investment funds that we personally own and so you can be assured that they are good quality. We are proud to say that by 'shadowing' us, our clients have made an annual return of 12.5% per year over the last four years** versus the FTSE 100's 7.4%.

We currently have close to 400 carefully selected clients. Most of them have over £100,000 actively invested and the majority are DIY investors such as business owners, self-employed professionals and corporate executives. We also have clients from the financial services sector such as IFAs, wealth managers and fund managers. ISACO Ltd is authorised and regulated by the Financial Services Authority (FSA). Our firm reference number is 525147.
*15th November 2012: Internal estimation of total ISA and pension assets owned by ISACO Investment Team and ISACO premium clients.
**(31st December 2008 - 31st December 2012).
ISACO investment performance verified by Independent Executives Ltd.
To download our free report 'A Golden Opportunity' >>
To download our Shadow Investment brochure >>
To start your 14 day free 'no obligation' trial of Shadow Investment >>