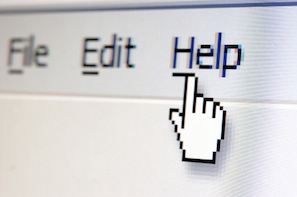 In this series of posts I'm taking you through 7 mistakes that fund investors sometimes make. By avoiding these, you'll give yourself a much better chance of arriving at your financial goals on time.
In our last post we discussed why low investment fees shouldn't be you only priority and why performance is crucial. In this post, we'll look at two more common investment mistakes, which are often closely related.
If you would like to know more, please just download our latest free report, The 7 Biggest Mistakes Fund Investors Make.
Refusing to pay for expert help
If you are certain you have beaten the market over the long-term, you probably don't need any help. The mistake I'm highlighting here is made by those investors who fail to beat the market and yet still refuse to get help from experts that could help them improve their investment returns. I understand why many investors take the stance of refusing to get help. Many do it on the back of the belief that 'all' advisers are incompetent, greedy and untrustworthy. This belief of theirs is usually based on personal experience where they've put their trust in an adviser and sadly they've been let down and often burned. Sometimes this belief is strengthened by discussions with friends and associates who have had similar negative experiences with advisers.
Sometimes their belief grows in size by 'horror stories' they read on the internet, financial newspapers and business magazines. These investors have a point. Many advisors are incompetent, some are greedy and quite a few can't be trusted. However, not all advisors are bad apples. Some are good and worth their weight in gold. Investors also mistakenly think that if you want help getting better returns, you have to go to an IFA.
This is incorrect because you also have the option of getting help from 'professional investors' rather than advisers. Of course you could go down the route of doing it all yourself, but if you value your time over your money, my suggestion would be to look at a combination of doing it yourself twinned with some expert help and guidance from professional investors, especially when it comes to market analysis, fund selection and timing your buys and exits.

In other words, my advice would be to aim to find a solution that gives you market, fund and timing guidance, but at the same time allows you to keep full control of your investment account so that you are making the ultimate decisions on what to buy, when to buy and when to sell. Seek out an individual or firm that has demonstrated expertise in investment performance by having a strong track record and history of outperforming the market.

And it goes without saying that you should make sure you like and trust them. When you get this right you create a win-win. You win because by working together you have a better chance of achieving your goal after their fees have been deducted. That means any help and guidance fees are 'justified.' It's also a win for the professional investor because they have been rewarded for their expertise, not just financially but also emotionally. There is nothing better than the emotional satisfaction that comes with helping another person to achieve financial security.
Buying high, selling low
Investors realise the importance of aiming to 'buy low' and 'sell high'. However, evidence suggests that they struggle to put this concept into practice on their own. The chart below shows historic net investment flows (investment buying minus investment selling by retail clients) into equity funds by UK investors alongside movements of the FTSE 100 Index, between 1992 and 2009. As can be seen, investment flows (buying) increase significantly as markets peak, especially during P1 in 2000 and P3 in 2006/2007, and decrease during market dips, especially during P2, 2002 and P4 in 2008 when we see net outflows (selling) from funds.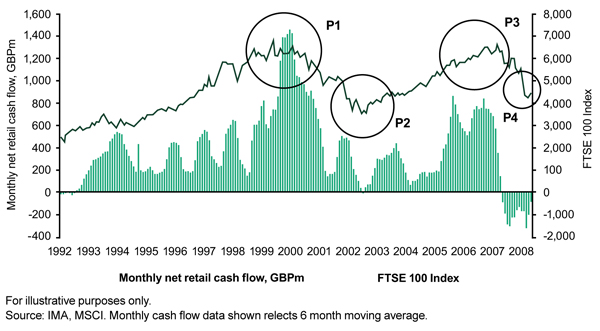 The challenge investors face is when the market is at its bottom, no investors 'feel' like investing. And when the market is at its top, most investors find it hard not to buy, again because of how they 'feel'. Investors go through a range of emotions at different points of a market cycle. Unfortunately, without expert help, all too often this can result in investors entering or exiting the market at precisely the wrong time.

As markets peak, investor sentiment is running high with emotions of excitement, thrill and euphoria, tempting investors to flood into highly priced markets. But as markets dip, sentiment begins to run low and negative emotions of panic, despondency and depression lead investors to exit the market and realise a loss. My suggestion to avoid this happening to you would be to try to not let your emotions get in the way. How do you do that?

At ISACO we like to use rules rather than relying on emotions. Our rules are very contrarian and similar to Warren Buffett's. Warren says that when the crowd is greedy, get fearful, and when the crowd is fearful, get greedy. Another suggestion of ours would be to get some help and guidance from an expert firm – preferably a firm who has a team with their own money invested. If the firm has a solid performance record, listen to what they have to say about what is happening in the markets.

If the help and guidance is daily, that's even better. Ideally you need to be plugged into somebody who clearly has their finger on the pulse of the market. It needs to be somebody who can interpret what is happening and explain back to you what it means to you as an investor. This could be useful to you because if ever you felt like selling and moving into cash, you could find out if they were selling. And if they weren't selling, it might get you to think twice about moving into a Cash Park. It could also help you to avoid making a mistake that you later regret.
As always, if you have any questions or thoughts on the points I've covered in this post, please leave a comment below or connect with us @ISACO_ on Twitter.
About ISACO
ISACO is a specialist in ISA and SIPP Investment and the pioneer of 'Shadow Investment', a simple way to grow your ISA and SIPP. Together with our clients, we have £57 million actively invested in ISAs and pensions*.

Our personal investment service allows you to look over our shoulder and buy into exactly the same funds as we are buying. These are investment funds that we personally own and so you can be assured that they are good quality. We are proud to say that by 'shadowing' us, our clients have made an annual return of 12.5% per year over the last four years** versus the FTSE 100's 7.4%.

We currently have close to 400 carefully selected clients. Most of them have over £100,000 actively invested and the majority are DIY investors such as business owners, self-employed professionals and corporate executives. We also have clients from the financial services sector such as IFAs, wealth managers and fund managers. ISACO Ltd is authorised and regulated by the Financial Services Authority (FSA). Our firm reference number is 525147.
*15th November 2012: Internal estimation of total ISA and pension assets owned by ISACO Investment Team and ISACO premium clients.
**(31st December 2008 - 31st December 2012).
ISACO investment performance verified by Independent Executives Ltd.
To download our free report 'A Golden Opportunity' >>
To download our Shadow Investment brochure >>
To start your 14 day free 'no obligation' trial of Shadow Investment >>