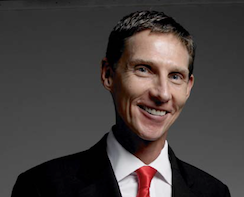 Many people that Paul and I speak to are curious to know more about my background and how we've managed to beat the FTSE 100 over the last 15 years. In this post, I'd like to take you through my story and how my career as a full time investor began.
I was born in 1968 in a small terraced house in Oldham, Lancashire. I was brought up in a very loving, encouraging environment and we were very lucky to have such fantastic parents. I say 'we' were lucky because I have an older sister, Sharon, born in 1966 and a younger brother, Paul, born in 1971. The three us were all brought up to respect and value money and were never spoilt. We were raised with a very strong 'work ethic' which meant if we wanted something, we had to work for it. From the age of about 12 or 13 I worked part time before school started and at weekends. I was never shy of work and always wanted more money so that I could have the finer things in life. I was a paperboy for a while, as well as a golf caddy and a stable boy. From the age of 14 I worked for Dad almost every school holiday as an apprentice painter and decorator.
During my school years – even though I was fairly bright – I hated exams. It will probably come as no surprise to you that I did poorly in the qualification department, leaving at age 16 with just one CSE grade one qualification. In maths I remember getting an 'F'. I said no to college and university and instead went to work for my dad, continuing as an apprentice painter and decorator. My weekly wage was just under £50.
Dad, a self-made man, started out as a painter and decorator and transformed his small business into a successful cleaning and maintenance company that, at its peak, was turning over about £2 million per year. In 1987, when I was 19, Dad started to teach me how his business worked. This was part of his plan to pass the business on to his children. Over the next 10 years I dug in and learned all I could about how to manage a business. In 1998, I was primed and ready to take the reins and I knew that if I wanted to take the family business to the next level, I was going to need some help.
The telephone call that changed the direction of my life
Around that time, I remember receiving a telephone call from a marketing company called Results Corporation. A very nice man called Chris Billington Hughes rang me to say the company he worked for had a proven way to grow small businesses. I remember that I was buzzing from their ideas and I loved their philosophy which was simply: Learn from the experts. Shortly after teaming up with Results, we started to receive monthly newsletters which included book recommendations.
I had not read a book since school, but these book recommendations had really juicy titles – I just had to take a look at them to find out what they were all about. One of their recommendations was a personal development book written by success guru, Tony Robbins. It was called Awaken the Giant Within. I loved it so much that I immediately bought my brother, Paul, a copy. He also read it cover to cover – and loved it just as much as I did.
Success leaves a trail
It was around this point we both discovered a principle called 'modelling'. Put simply, this is when you copy the strategy of an expert and, if you do it correctly, you get the same result as they do. It was also around this time that I awoke to the realisation that in life, there are no action replays. I remember starting to think more clearly about what I wanted from my life, and soon realised that Dad's cleaning and maintenance business was not what I wanted.
I discovered that my true vocation was somehow connected to the stock market, so I started to ask myself questions such as, What would be your dream job? What work would you love to do even if you weren't paid? What job would give you your greatest feeling of importance? The answers to these questions all seemed to centre on becoming a full-time stock market professional which had always been a keen interest, right from an early age.
William O'Neil: a leading stock market authority with 50 years' experience
My plan was simple: to become very good at investing and in order to do that I was going to learn from the best. After attending a four day financial seminar in October 1999, one of the speakers, a professional investor, kept referring to Bill O'Neil. I had never heard of Bill O'Neil at the time but because of the numerous references to him, I knew I would have to look him up after the seminar was over. I was so pleased when I discovered that Bill O'Neil was a leading authority on the stock market with over 50 years' experience. In fact, Bill's past results meant that he would be an absolutely perfect person to model.
I soon discovered that O'Neil was a living stock market legend whose proven 50 year method of investing 'apparently' worked in both good times and bad. Of course, I was a little sceptical at first, but when I delved deeper and learned that with his method, he had not missed the start of a single bull (uptrending) market in the last 50 years*, I was sold. What added to my belief were his trading results; I discovered he made a 2000%+ gain on his portfolio in just 26 months. Wow, I thought. This guy must really know what he's doing.
*24 Essential Lessons for Investment Success – William J. O'Neil

Total immersion
I decided to immerse myself totally in O'Neil's philosophy on investing. I aggressively read all of O'Neil's books, as well as all the books O'Neil had read. I listened intently to all of his audio programmes and eventually subscribed to O'Neil's premium equity research package. I also flew across the Atlantic twice to see Bill in person. I first saw him speak in 2001 in South Beach, Miami and again in New York in 2002. After reading O'Neil's bestselling book How to Make Money in Stocks, I started to paper trade the market which I found to be a good way to learn the ropes without risking any money. As soon as I gained confidence, I set up a trading account with brokerage company Ameritrade, with a starting amount of $31,409 – about £19,000. This was in May 2000.
One of the worst bear markets in the stock market's entire history
Little did I know that I had just started my stock investing apprenticeship at a time when the market had just begun what was going to be known as one of the worst bear (down) markets in the stock market's entire history. Every time I got a confirmation that the trend was up, I started to trade using O'Neil's method as my guide. To ensure I didn't run out of money, I had to adopt good money management principles.
I used very small amounts of capital and always kept tight 7% stop losses on each and every trade. This meant that if a stock I owned dropped 7% below my buy price, I would sell it immediately. By doing this, I knew that I would have to make literally hundreds of bad trades to lose all my starting capital. That gave me the confidence to take my time and create good investment habits. The 'uptrends' that I was trading turned out to be bear market rallies which meant that after a period of between a few weeks and several months, the uptrend became a downtrend.
Beat the market by 40.6%
This meant I was forced out onto the sidelines into the safety of cash. It also meant I sold all the stocks I owned which in turn helped me to raise capital. I did this until all the money in my portfolio was in cash. While waiting on the sidelines, I had to patiently sit tight for another confirmation of an uptrend. A valid confirmation came from various indicators, such as how the main indexes were acting and how leading stocks were behaving.
The study and countless hours slowly started to pay off. Unbelievably, that first year (2000), my account actually saw a gain. Even though I made very little money, I somehow managed to beat the market by 40.6%. This first year's result fuelled me to get even more aggressive with my personal development – plus I increased the amount of hours that I was devoting to the market.
In my next post, I'll take you through the rest of my story, including how I was fortunate to beat the top UK fund manager in 2001 and have gone on to outperform the FTSE 100 by 40.8% since 1997**.
** Yahoo Finance: Cumulative return (Dec 31st 1997 – Dec 31st 2012) Stephen Sutherland 55.4%, FTSE 100 14.6%

As always, if you have any questions or thoughts on the points I've covered in this post, please leave a comment below or connect with us @ISACO_ on Twitter.
About ISACO
ISACO is a specialist in ISA and SIPP Investment and the pioneer of 'Shadow Investment', a simple way to grow your ISA and SIPP. Together with our clients, we have £57 million actively invested in ISAs and pensions***.

Our personal investment service allows you to look over our shoulder and buy into exactly the same funds as we are buying. These are investment funds that we personally own and so you can be assured that they are good quality. We are proud to say that by 'shadowing' us, our clients have made an annual return of 12.5% per year over the last four years**** versus the FTSE 100's 7.4%.

We currently have close to 400 carefully selected clients. Most of them have over £100,000 actively invested and the majority are DIY investors such as business owners, self-employed professionals and corporate executives. We also have clients from the financial services sector such as IFAs, wealth managers and fund managers. ISACO Ltd is authorised and regulated by the Financial Services Authority (FSA). Our firm reference number is 525147.
*** 15th November 2012: Internal estimation of total ISA and pension assets owned by ISACO Investment Team and ISACO premium clients.
**** (31st December 2008 - 31st December 2012).
ISACO investment performance verified by Independent Executives Ltd.
To download our free report 'A Golden Opportunity' >>
To download our Shadow Investment brochure >>
To start your 14 day free 'no obligation' trial of Shadow Investment >>