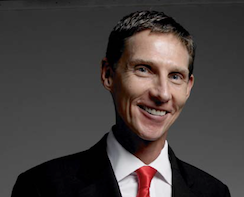 In last week's post I told you more about my background. In this post, I'd like to take you through the rest of my story, including how I have been fortunate to outperform the FTSE 100 by 40.8% since 1997*.
My last post took us up to 2000, a year when I managed to beat the market by 40.6%. In 2001, the second year of what is now known as probably the worst bear market in history, I managed to return 31.74% – beating the Nasdaq, the US technology index, by 52.79%. I was shocked but also proud to learn that my 2001 return beat the top UK fund manager, Ashley Willing, who was managing a fund called Gartmore UK Focus. Incidentally, this was an investment fund that returned 13.72% for the year.
This early success of mine spurred me on even further and helped give my confidence as an investor a serious boost. In October 2002 I recognised that the market had found a bottom, but I did not jump in until I was absolutely certain that the great bear market was over.
Could I borrow a million pounds, please?
Because I had learnt that the big money is normally made in the first two years of a new bull market, I decided to contact our bank manager to ask if he would consider lending me £1 million. The bank manager thought I had lost the plot.
'Do you know that the US and Iraq are in conflict and a war could soon erupt? What if Saddam Hussein uses chemical and biological warfare?' he said. Undeterred due to my conviction that something big was about to happen, I moved to 'Plan B', which was to raise cash by equity releasing money from our home.
Because of my absolute certainty in my abilities, we decided to bet the ranch. This was also based on my concrete belief that we had just entered a brand new bull market. The money I was using to trade with belonged to a joint account that I owned with my brother Paul, and so I had to convince Paul that it would be a sound idea to release close to a quarter of a million pounds from our home. Paul backed me all the way.
'The Three Amigos'
In May 2003, I took the money from the equity release and wired it to our joint trading account. This amounted to $416,472.90. I was right about my prediction that a new bull market had begun. My decision to raise the money and get it into the market started to pay off. Early on in the bull run, I latched onto three beautiful stocks which we later named 'The Three Amigos'. They were three white hot Chinese internet stocks with stock ticker symbols SINA, NTES and SOHU. My method for picking the best stocks was working!
These picks of mine probably turned out to be the three biggest winning stocks of the 2003-2007 bull market. SINA made a gain of 4753% in 27 months, SOHU jumped 8246% in 27 months and NTES surged 13746%, again over a 27 month period. By investing heavily into these stocks and using leverage from Ameritrade and day trading buying power (even more leverage), it helped me to control over $2 million worth of stock. I used sound trading rules and a huge amount of leverage to buy 'The Three Amigos'. I started to buy them when they were in safe price ranges – approximately $15.
$1.28 million – Time to give Mum and Dad a gift
I bought large amounts of stock from each of the three companies, plus I day traded each of them. By July 2003, NTES had jumped to $50.46. SINA had surged to $34.76 and SOHU had bolted to $39.74, helping our portfolio to bank some pretty good gains. On the 10th of July, our account was valued at $1,284,826.94 – approximately £783,000.
On the 10th of July 2003, I was fortunate to make a return of 16.12%, helping us make £107,543 in just one day. My brother and I used part of this gain (£50,000) to buy our Dad his dream car: a Bentley Continental.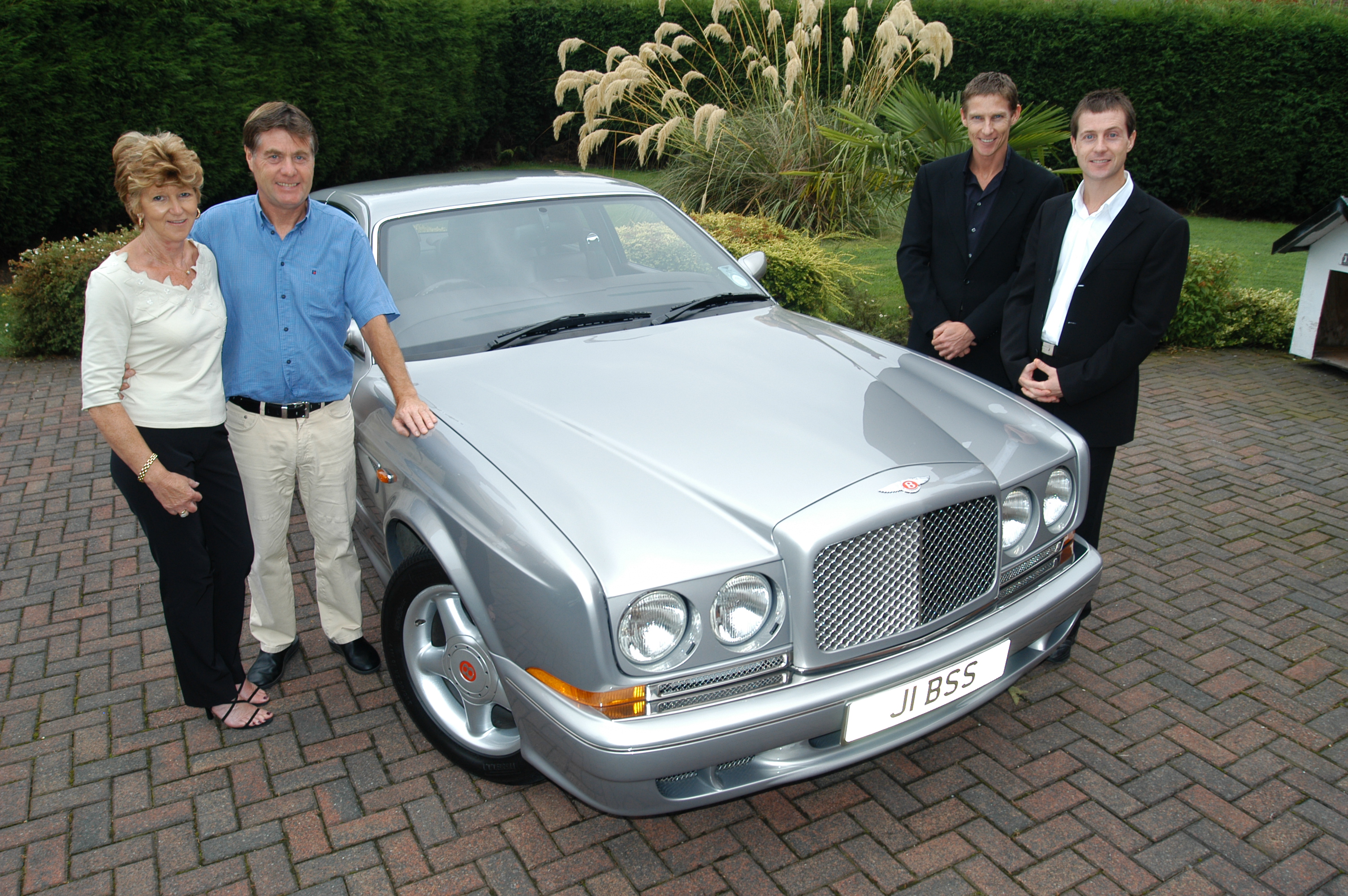 Proud parents (Far left) with Stephen (Left) and Paul Sutherland (Right).

Not wanting to leave Mum out, Paul and I bought her a gold, diamond encrusted necklace. When we told our parents of our plan they were completely caught off guard; I will never forget the looks on their faces and we all became very emotional. It took some time for what I had achieved to really sink in. To have gone from failing at almost every subject in school to being able to provide our parents with the gifts of their dreams felt incredible.
Stock investing and fund investing
As well as my success with stocks, I was also having success with my ISA account, which I'd started back in 1997. I managed to transfer the skills I'd learnt about the market and picking stocks into picking good funds. In 2003 I invested in the AXA Framlington Japan Fund which turned out to be the top performing fund in 2003, returning 91.05%.
I also managed to find and invest in the top performing fund of the 2003-2007 bull market. It was called the Invesco Perpetual Latin America Fund. I also invested in the number three performing fund of the 2003-2007 bull market, the Scottish Widows Latin America Fund. I must say that not all the funds I pick are as successful as these ones I've highlighted. It's very easy for an investor to focus only on their winners and forget to mention their losers – and I've had lots of losers.
It's about your 'overall' performance
My take on this subject is simple: It's not about which funds or stocks you picked – it's about your 'overall' performance. It's important that you measure and manage how you've performed by measuring against a benchmark such as the FTSE 100. If you can 'beat' the FTSE 100 over the long-term, you're doing something right.
Many people want to know how many hours I have put into learning my craft. Since 1999, my best estimate is over 20,000 hours and of course, this number keeps increasing week after week. Since reading Awaken the Giant Within I've read close to 700 books with many of them being books on money, investing and growing and protecting wealth.
Why I love the market
The market is a complex puzzle and I love to try to solve it. What fascinates me about the market is that it is forever showing different sides to its personality. It always keeps you on your toes and is continually teaching you new lessons. Back in 2000, I had found a job I truly loved. I remember that in the first three or four years, I was putting in at least 70-100 hours per week on the market in the form of studying, trading, money management and regular reviews of my portfolio. There is no way I would have done that unless I truly adored my profession. Now my working week as ISACO's Lead Investor and Chief Investment Strategist is more in the region of 60-70 hours and my love for the market seems to strengthen each and every day. Even when on holiday, I can't keep my eyes off the market. Some people might say I'm obsessed with it, and maybe they're right.
Liquid Millionaire: the good, the bad and the ugly
In 2008 I wrote a book called Liquid Millionaire. In the book I provided evidence that suggested that, despite the fact that at the time we were experiencing a global financial crisis, a stock market boom was around the corner. People thought I was crazy.
'An up and coming boom?' they said. 'Are you nuts?'
However, I may have had the last laugh. Shortly after my book was released, the market bottomed and made a serious move to the upside, catching many investors with their trousers around their ankles. Yes, it's true: the 'boom' I spoke about in Liquid Millionaire may have already begun. Have a look at this chart of the Nasdaq Composite, an index we follow very closely: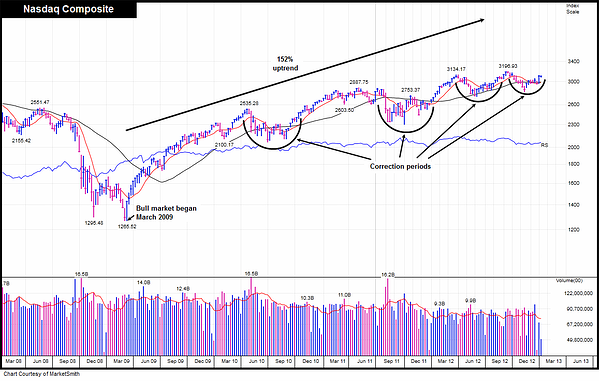 As you can see, since March 2009, even though the market has had correction periods, it has been clearly in an uptrend. By making some good decisions and with a little bit of luck, this uptrend has helped us to make double digit returns over the last four years. From 1st January 2009 to 31st December 2012, our portfolio annualised 12.5% versus the FTSE 100's 7.4%***. In our opinion this 'above 10%' return is probably a clue that the boom I spoke about in Liquid Millionaire has begun. Our take is that we would not have been able to achieve these kinds of returns without the underlying strength of this four year bull market.
Liquid Millionaire has so far received 207 Amazon reviews and attained an average star rating of 4.3 out of 5 – which is the equivalent of an 86% score rating. It was a very humbling experience to receive so many positive reviews, especially from investors who had been 'awakened' by what they had learned. But not everybody loved it; some people really hated it and I have a good idea why. For starters, it was too commercial. What annoyed quite a few of the 'one star' readers was the fact I'd devoted a full chapter to 'selling ISACO's premium investment service' which wasn't one of my brightest ideas.
Liquid Millionaire also had an extremely long introduction and throughout the book many readers said it was too repetitive. The growth expectations I set were also too high which turned some readers off. The timing of the up and coming 'boom' I'd predicted was also slightly premature. When I wrote the book it was prior to the 2008 crash and I, like hundreds of thousands of other investors, had no idea it was coming. We and our clients were caught out by the sharp dramatic falls and in turn had to suffer the consequences of sitting temporarily in some heavy losses. If you are one of these people who read Liquid Millionaire and had a negative experience, I'm so sorry. Hopefully I have learned from my mistakes and I also want to thank you for giving me a second chance.
Please, no more exams!
The Financial Services Authority (FSA), the UK's financial watchdog, approached us in 2009 suggesting that the personal investment service we offered 'might' require regulation. We initially disagreed with the FSA's opinion because we weren't offering personal recommendations or personalised advice, but in the end we realised that regulation would strengthen our company as well as give our clients consumer protection, governance and transparency. After two arduous years, which involved Paul, Steve Todd (ISACO's Global Market Strategist) and I having to sit and pass some tough examinations set by the IFS School of Finance, the FSA gave us the stamp of approval.
Shocked by the lack of information taught
The exams the three of us sat were the same exams investment advisers take. I have to say that the three of us were shocked by the lack of information taught. I know this may be hard to believe, but in the syllabus you are not taught anything about the stock market, nor are you taught anything about how to pick the best funds. You also learn nothing about stock market cycles, nothing about analysing the market and nothing about timing it.
My performance since 1997
I started investing in ISAs (ISAs used to be called Personal Equity Plans (PEPs)) in 1997 and I'm very proud of our track record. We've managed to 'outperform' the FTSE 100 over the last 15 years by 40.8%*, although I have to admit that we have had some rough years. Our worst year was in 2008 when we made a loss of -42.3%. Our best year was 2009 when we returned 56.4%.
I hope my story has shown you that anything is possible. As you've heard, I'm far from being an 'A' student; I was poor at maths and I'm completely self-taught. If I can 'beat' the market' and make a success with my ISA and pension investing, you can too. It just takes time, passion, effort and lots of persistence.
As always, if you have any questions or thoughts on the points I've covered in this post, please leave a comment below or connect with us @ISACO_ on Twitter.
About ISACO
ISACO is a specialist in ISA and SIPP Investment and the pioneer of 'Shadow Investment', a simple way to grow your ISA and SIPP. Together with our clients, we have £57 million actively invested in ISAs and pensions**.

Our personal investment service allows you to look over our shoulder and buy into exactly the same funds as we are buying. These are investment funds that we personally own and so you can be assured that they are good quality. We are proud to say that by 'shadowing' us, our clients have made an annual return of 12.5% per year over the last four years*** versus the FTSE 100's 7.4%.

We currently have close to 400 carefully selected clients. Most of them have over £100,000 actively invested and the majority are DIY investors such as business owners, self-employed professionals and corporate executives. We also have clients from the financial services sector such as IFAs, wealth managers and fund managers. ISACO Ltd is authorised and regulated by the Financial Services Authority (FSA). Our firm reference number is 525147.
* Yahoo Finance: Cumulative return (Dec 31st 1997 – Dec 31st 2012) Stephen Sutherland 55.4%, FTSE 100 14.6%
** 15th November 2012: Internal estimation of total ISA and pension assets owned by ISACO Investment Team and ISACO premium clients.
*** (31st December 2008 - 31st December 2012).
ISACO investment performance verified by Independent Executives Ltd.
To download our free report 'A Golden Opportunity' >>
To download our Shadow Investment brochure >>
To start your 14 day free 'no obligation' trial of Shadow Investment >>