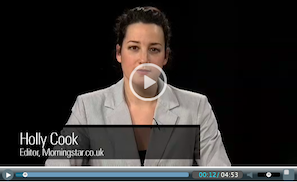 Recently I was interviewed by Holly Cook, Managing Editor of Morningstar. One of the subjects that Holly and I discussed was the importance of fees and performance for ISA investors.
In this second interview, we discussed how fees and performance can have a big impact on an ISA portfolio, and also how we use the Morningstar site when selecting funds.
If you would like to learn more about how we use Morningstar, please just download our free report on the subject, Finding a Good Growth Fund.


Here's a full transcript of the interview:
Holly Cook: It's round about this time of year when you're probably topping up your ISA or even buying into new ISAs. To help us work out how to actually go about running your ISA investments, I'm joined by Stephen Sutherland, Chief Investment Strategist at ISACO.
Stephen, thanks very much for joining me.
Stephen Sutherland: Thank you for having me.
Cook: So when an individual investor is looking to invest within an ISA wrapper, how would they actually go about looking for new ISA investments?
Sutherland: We like to start from a technical point of view. So, we want to know, first of all, is the market healthy. We want to analyze the health of the market. One way that you can actually do that is by looking at the price and volume action of the four main US indexes and the price and volume action of leading stocks. The reason why we do that is because it helps us to track institutional investment activity, and they have the largest influence on future market direction. So, by keeping a close eye on what these 800-pound gorilla investors are doing with their money, it helps us to get in sync with their trading activity.
Cook: So once you've got a grip on what the institutional investors are doing with their money, are there any specific data points that you find crucial in then making your own ISA investment decisions?
Sutherland: Yes. There are two things that we home in on, performance and fees. So when we are looking at performance, we want to find exceptional fund managers, and we always want to make sure that the performance that we are looking at is their's. So, we will always check the manager start date.
We like to look at the short-term performance and the long-term performance of the fund manager. We want to make sure they are outperforming. One way we do that is to check their performance against the NASDAQ Composite because that's a very tough index to beat.
With fees, we don't like to buy funds that have a high TER, a total expense ratio…So we don't like to buy funds with a TER that has more than 2%.
Cook: So, really you are picking a strong index and that manager has got to have beaten it, even if they are not investing in US equity and you are looking for them to be offering their expertise at low cost as well.
Sutherland: That's correct. Yes.
Cook: So what specific tools would you actually use for researching your investments and running your ISA portfolio?
Sutherland: Well we go on to the Morningstar site and we do our searches for funds that are doing well in the long-term and the short-term, we will then home in on the fund, and we will start with the Overview page. That's got a lot of information on it, that's useful. The annual performance of the fund, the Morningstar rating, the fund size, its total expense ratio, also the fund manager and the manager's start date.
We also like to look at the top five holdings of the fund to make sure that they are holding leading equities, that's also very useful. On the left hand side, there's tabs where you can go into deeper into your fund research. And one of the ones that we really like is the chart feature that can help you to time your buys.
Cook: That's great to have you recommending our site for us! So, an individual investor probably wouldn't be reviewing their investments on a daily basis, but how often should they be looking at it and what do you do with your own ISA investment portfolio?
Sutherland: We like to monitor our investments every day. We like to monitor the market every day. If the market has been moving higher, like it has over the last three months, now would be a good time to do a scan for which funds had been performing really well over the last three months. You can also check how your investments have been performing versus the market. If your funds have been outperforming, then it tells you that it might be probably a good idea to keep hold of them. If they've been underperforming for any reason, then, especially if it's over a significant amount of time, you could then look for something with greater growth potential.
Cook: And if you bite the bullet, you take that decision to sell that fund because it's not meeting your high expectations, you will incur a transaction cost there, so how do you go about sort of taking that into consideration when you're looking at your broader investment costs?
Sutherland: Well we like to do only a couple of trades per year, roughly about two trades and we use a fund supermarket to make our transactions. Fund supermarkets generally [charge] about 0.25% per trade, so two trades in a year that would be 0.5%. If you shop around, then you may get a much better deal than that. So, really the lesson there is make sure that you always try and get the best deal possible.
Cook: So do your homework and you'll keep your costs down?
Sutherland: Yes.
Cook: Well, thanks very much for those tips, Stephen, and thanks for joining me.
Sutherland: You're very welcome.
Cook: For Morningstar, I'm Holly Cook. Thanks for watching.
I hope you've found this interview useful. As always, if you have any questions or thoughts on the points covered, please leave a comment below or connect with us @ISACO_ on Twitter.
About ISACO
ISACO is a specialist in ISA and SIPP Investment and the pioneer of 'Shadow Investment', a simple way to grow your ISA and SIPP. Together with our clients, we have £57 million actively invested in ISAs and pensions*.

Our personal investment service allows you to look over our shoulder and buy into exactly the same funds as we are buying. These are investment funds that we personally own and so you can be assured that they are good quality. We are proud to say that by 'shadowing' us, our clients have made an annual return of 12.5% per year over the last four years** versus the FTSE 100's 7.4%.

We currently have close to 400 carefully selected clients. Most of them have over £100,000 actively invested and the majority are DIY investors such as business owners, self-employed professionals and corporate executives. We also have clients from the financial services sector such as IFAs, wealth managers and fund managers. ISACO Ltd is authorised and regulated by the Financial Services Authority (FSA). Our firm reference number is 525147.
* 15th November 2012: Internal estimation of total ISA and pension assets owned by ISACO Investment Team and ISACO premium clients.
** (31st December 2008 - 31st December 2012).
ISACO investment performance verified by Independent Executives Ltd.

To download our free report 'A Golden Opportunity' >>
To download our Shadow Investment brochure >>
To start your 14 day free 'no obligation' trial of Shadow Investment >>