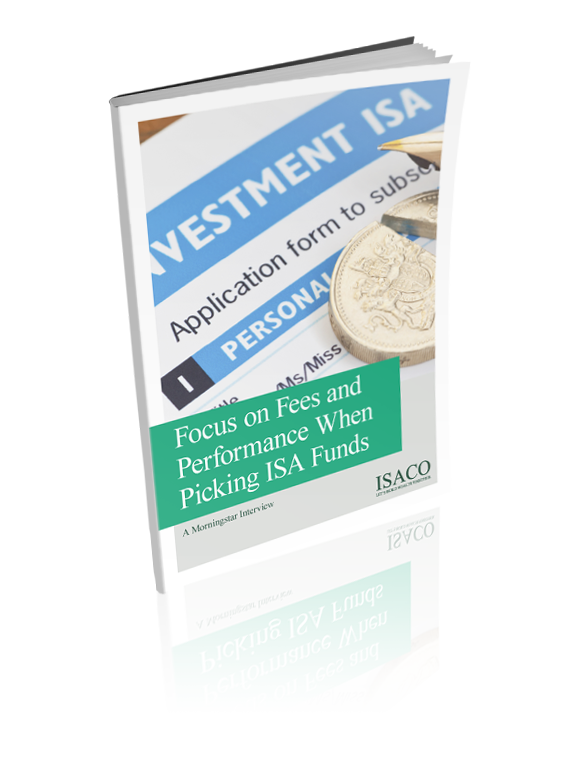 Recently I was interviewed by Holly Cook, Managing Editor of Morningstar. One of the subjects that Holly and I discussed was the outlook for the market.
In this third interview, we discussed how we're expecting the FTSE 100 to make a gain of 30% to 35% over the next two years, as well as attractive returns over the longer term.
If you would like to learn more about how we use Morningstar to select funds, please just download our free report on the subject, Finding a Good Growth Fund.


Here's a full transcript of the interview:
Holly Cook: As you start to home in your own ISA portfolio, I'm joined by Stephen Sutherland, Chief Investment Strategist at ISACO and a professional ISA investor himself.
Stephen, thanks very much for joining me.
Stephen Sutherland: It's a pleasure.
Cook: So, as I mentioned you run your own ISA portfolio, how has it been performing?
Sutherland: Well we're proud to say that over the last 15 years we have managed to outperform the FTSE 100 by 40.8% and over the last four years since this latest bull market's began, we've managed to make an annual return of 12.5% versus the FTSE 100's 7.4%.
The reason why we like to measure against the FTSE 100 is because if we are beating it, it tells us that we are doing something right. This year we started off quite well. At the end of January, we were up 7.5%, which is not typical by the way. But the reason why we had such a strong start is because the market has had such a good beginning to the year.
The FTSE 100 has not had such a strong start in the last 24 years and that is telling you that that's really positive.
Cook: This is indeed a very bullish performance. But do you think it can continue and how do you feel about current opportunities and challenges?
Sutherland: Well, the financial media will continue to tell us that the world is about to end; however, we like to let the market tell us what's going on. We tend to ignore the opinions of others and stick to the facts. The reason that we like to look at the market is we can look at the price and volume activity of institutional investors, and if they are buying, then that's good. If they are selling, it's not so good.
Recently, there has been much more institutional buying than selling and that should be seen as constructive behaviour.
Cook: So that's a sign of confidence in the market?
Sutherland: Yes it is.
Cook: So how do you feel about the market? What's your outlook for 2013 and beyond?
Sutherland: We are expecting good gains over the next two years. We think that we may get gains similar to the ones that we achieved in 2009 and 2010. We made a gain of 56.4% in 2009 and 27.2% in 2010. Now personally, I don't think that we're going to see gains as strong as those, but we are expecting the FTSE 100 to make a gain of 30% to 35% over the next two years, but if we go further forward over the next 5 to 10 years, we believe that an investor who aims high could achieve a gain of between 12% and 15%.
Now aiming that high carries more risk. However, you can help to lower that risk by having a long-term investment horizon. Five years is a minimum, 10 years is much better, 20 years better still.
Cook: So you mentioned risk there. Are there any other risks that you see for an investor on the horizon?
Sutherland: With investing in the market, there's always going to be risk, but we like to let the market tell us exactly what is going on. If the market is behaving well, then we will remain invested. If the market isn't behaving well, then it will force us to become more defensive. If we ever believe that a major downtrend has been triggered like the one back in 2008, it will force us out on to the sidelines. And one way that ISA investors can become more defensive and move into cash is to use an ISA Cash Park. That's a great vehicle, a great way to be able to protect and preserve your ISA wealth in volatile and in falling markets.
Cook: Well, this is very useful information, because I'm sure a lot of ISA investors probably won't be familiar with this concept. And as you say, tuning out the market noise really helps you to focus in on the actual – the data what's really happening in the market.
Sutherland: Certainly it does, yes, and cash parks are great when there is uncertain times.
Cook: Great. Well, thank you very much for your practical tips. Stephen.
Sutherland: You are very welcome.
Cook: For Morningstar, I'm Holly Cook. Thanks for watching.
I hope you've found this interview useful. As always, if you have any questions or thoughts on the points covered, please leave a comment below or connect with us @ISACO_ on Twitter.
About ISACO
ISACO is a specialist in ISA and SIPP Investment and the pioneer of 'Shadow Investment', a simple way to grow your ISA and SIPP. Together with our clients, we have £57 million actively invested in ISAs and pensions*.

Our personal investment service allows you to look over our shoulder and buy into exactly the same funds as we are buying. These are investment funds that we personally own and so you can be assured that they are good quality. We are proud to say that by 'shadowing' us, our clients have made an annual return of 12.5% per year over the last four years** versus the FTSE 100's 7.4%.

We currently have close to 400 carefully selected clients. Most of them have over £100,000 actively invested and the majority are DIY investors such as business owners, self-employed professionals and corporate executives. We also have clients from the financial services sector such as IFAs, wealth managers and fund managers. ISACO Ltd is authorised and regulated by the Financial Services Authority (FSA). Our firm reference number is 525147.
* 15th November 2012: Internal estimation of total ISA and pension assets owned by ISACO Investment Team and ISACO premium clients.
** (31st December 2008 - 31st December 2012).
ISACO investment performance verified by Independent Executives Ltd.

To download our free report 'A Golden Opportunity' >>
To download our Shadow Investment brochure >>
To start your 14 day free 'no obligation' trial of Shadow Investment >>