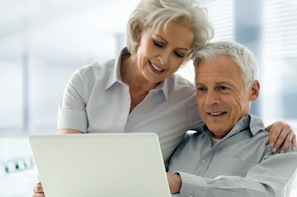 Most of the people we speak to are not looking to retire super rich and have an extravagant standard of living. Instead, they are looking for a more modest, comfortable, secure lifestyle. In this series of posts we're going to look at how you can draw up a retirement savings plan to meet that aim.
Every person we speak to does have one thing in common: they all want to get to the stage where they don't have to worry about money again. They also tell us that on reaching their deadline they want their wealth to stay at the same level or, better still, increase each year. Nobody we talk to wants their wealth to go backwards on reaching retirement because, when that happens, the chances of running out of money during your golden years increases. As you can imagine, nobody seems to find that idea particularly palatable.
Step 1 – Where are you now?
Your first step is to work out where you are starting from. You need to calculate how much you currently have actively invested. When we speak to clients, we ask them how much their ISA and SIPP account is currently valued at.
Your starting amount = £_________________
Are you planning to add capital?
Most of our clients add capital each year. We encourage them to add as much as they can which means, ideally, using up their full ISA and SIPP allowances. For ISAs, the current allowance (2012/13) per adult, per year is £11,280.
This means that if you have a partner, you are allowed to invest £22,560 and in the 2013/14 tax year the allowance per adult is increasing to £11,520. This allowance is set to increase each year in line with inflation by tracking the Retail Price Index. Some of our clients who add to their ISAs also add to their SIPPs.
The annual contribution allowance per adult for a SIPP in 2013/14 is £50,000, but this amount will be reduced from £50,000 a year to £40,000, with effect from 6th April 2014.
The amount you plan to add each year = £_________________
Step 2 – Where are you aiming to be and by when?
Your next step is to try to gain absolute clarity on what it is that you want and by when. Your job is to get crystal clear on the amount you would need to live one year of your financially secure lifestyle. This helps you to calculate the total amount of money you would need to make your future intended lifestyle a reality.
How much will you need?
For some people, living a secure lifestyle would require £100,000 per year, but for others this would be too much and for some not nearly enough. How much would one year of your financially secure lifestyle cost you? The general rule of thumb is to use a figure that is two thirds of your current income. Therefore, if you are currently receiving £100,000 net income per year, you might use a figure of £67,000.
Your future lifestyle = £_________________ per year.
Next, we are going to calculate how much money you would need to accumulate to provide an income that would pay for your future lifestyle. Let's say that you wanted a £50,000 per year lifestyle, I'd suggest that you set a target to make £1,000,000. Why? The reason is that we recommend our clients use a figure of 5% as their drawdown percentage. Therefore, if you accumulated £1,000,000 and you withdrew 5%, it would pay you £50,000.

Why 5%?
The idea behind a 5% withdrawal is that your goal should be to withdraw a smaller percentage than the percentage your money is growing at. For example, if you are able to grow your money at 10% per year, by withdrawing 5% per year your wealth would increase. Let's say that in the future you had the knowledge of how to return 10% each year. If you attained that knowledge, you could then safely draw down 5% to pay for your lifestyle. I can show you what I mean by punching some numbers into a calculator.
Tap in the amount you said you would need to live one year of your future intended lifestyle, divide it by 5 and then multiply it by 100. This is the amount you would need to accumulate to give you the annual cash flow to create and live a comfortable lifestyle.

The amount needed to pay for your lifestyle = £_____________________
Next, when is your deadline?
Most of our clients say something in the region of 5 to 10 years.
Your deadline =_________________
Remember to factor in inflation
Finally, you need to work out your target after inflation has been factored in. We normally use a figure of 3% per year but please feel free to use a larger percentage. If you decide to use our 3% figure as a guide, the way to calculate this is simple.
Have a look at this table below. Depending on what your goal deadline is, use the corresponding figure to factor in inflation. For example, if your deadline was 10 years from now, you'd multiply your current target by 34.4%.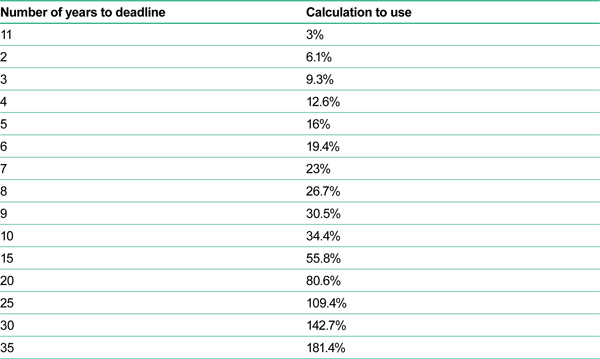 To help, here are three examples:
Example 1
Your goal is to make £5 million and your deadline is 5 years.
The calculation would be:
5000000 + 16% =
The answer you get is £5.8 million.
Example 2
Your goal is to make £3 million in 7 years.

The calculation would be:
3000000 + 23% =
The answer you get is £3.69 million.
Example 3
Your goal is to make £4 million in 25 years.

The calculation would be:
4000000 + 109.4% =
The answer you get is £8.36 million.
Now it's time to do your calculation. All you need is a standard calculator that has a % button.
Your new inflation factored figure = £_______________________
This new target now becomes your main aim. To make sure what we have just done is crystal clear, here's an example of the full process:
To live one year of your lifestyle, you answer £50,000 (after tax).

For a £50,000 annual income, you'd need £1 million.

Because you want to get to your lifestyle in 10 years, you calculate that the amount you really need to accumulate is £1.34 million (with inflation factored in).

If you accumulated £1.34 million over the next 10 years, you would then be able to pay yourself a 5% withdrawal each year. This would mean you could pay yourself £67,000 per year – and that £67,000 would give you the same purchasing power as £50,000 in today's terms.

Your £67,000 per year withdrawal would pay for your lifestyle.

If you made annual 5% withdrawals and aimed to grow your portfolio at a higher rate such as 10%, if you were hitting your projected growth targets and you continued to withdraw 5%, your investment account would increase each and every year.
In our next post we'll look at Step 3 of drawing up a retirement savings plan, namely working out the growth rate you'll need on your investments.
As always, if you have any questions or thoughts on the points covered in this post, please leave a comment below or connect with us @ISACO_ on Twitter.
About ISACO
ISACO is a specialist in ISA and SIPP Investment and the pioneer of 'Shadow Investment', a simple way to grow your ISA and SIPP. Together with our clients, we have £57 million actively invested in ISAs and pensions*.

Our personal investment service allows you to look over our shoulder and buy into exactly the same funds as we are buying. These are investment funds that we personally own and so you can be assured that they are good quality. We are proud to say that by 'shadowing' us, our clients have made an annual return of 12.5% per year over the last four years** versus the FTSE 100's 7.4%.

We currently have close to 400 carefully selected clients. Most of them have over £100,000 actively invested and the majority are DIY investors such as business owners, self-employed professionals and corporate executives. We also have clients from the financial services sector such as IFAs, wealth managers and fund managers. ISACO Ltd is authorised and regulated by the Financial Services Authority (FSA). Our firm reference number is 525147.
* 15th November 2012: Internal estimation of total ISA and pension assets owned by ISACO Investment Team and ISACO premium clients.
** (31st December 2008 - 31st December 2012).
ISACO investment performance verified by Independent Executives Ltd.

To download our free report 'A Golden Opportunity' >>
To download our Shadow Investment brochure >>
To start your 14 day free 'no obligation' trial of Shadow Investment >>