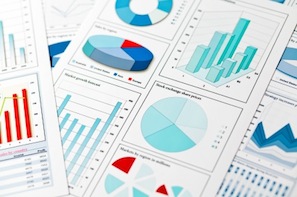 As reported in our clients' Daily Market Updates, two switches were made in our investment portfolio during April.
This information is taken from The Big Picture, to download a sample copy please just click here.
Our first switch involved moving completely out of the Neptune Russia and Greater Russia A Acc. We had purchased this fund on January 24th 2012 at a price of 3.11 and sold it at 3.06 resulting in a loss of 1.6%. With switch number two, we lowered our weighting in Fund A by 38% helping to reduce our exposure to UK equities. We used the proceeds of these two switches to invest in two new funds; Fund D and Fund E.
Fund D
We bought this fund on April 9th 2013 at 166 (Point J). Since then it has been acting well. As you can see, over the last 7 weeks, it has formed a bullish sideways base pattern (Point K). This is good behaviour especially when you take into consideration that the market has recently been in a mini-correction phase. Hopefully soon we'll see a breakout attempt out of this sideways base. We believe this will occur if the general market can continue to keep moving higher.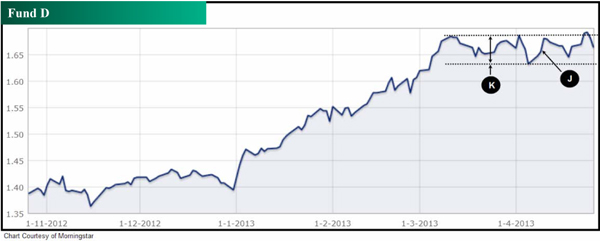 Fund E
We purchased this fund on April 9th 2013 at 67 (Point L). Since then it has been acting even better than Fund D. As you can see, it has already started to move higher and is currently trading at a price of 69 (Point M). When funds buck the trend of the market, which this one is doing, we view it as extremely bullish behaviour.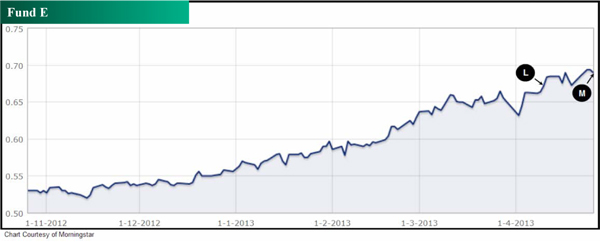 Quick update on our 3 other funds
Fund A was purchased on July 24th 2012 at 131 and is currently trading at 178. This means that so far we are sitting in a 35.9% profit. Fund B was bought on the same day at a price of 341 and is currently trading at 446. This means a current gain of 30.8%. Fund C was purchased March 12th 2013 at 261 and is currently trading at 250. This means we are sitting in a loss of 4.2%.
Our outlook: The next two years and beyond
For 2013–2014, we expect to see the FTSE 100 make a move of between 30-35% and our aim, as always, will be to beat it. Year to date the Footsie is up 9% and we are currently sitting on a gain of 8.7%. Beyond the next two years, we believe we'll continue to experience solid performance from the equity markets. This means that if you are a long-term investor like us, and you stay in the game, the future is looking bright.
To download your sample copy of The Big Picture please just click here.
As always, if you have any questions or thoughts on the points covered in this post, please leave a comment below or connect with us @ISACO_ on Twitter.
About ISACO
ISACO is a specialist in ISA and SIPP Investment and the pioneer of 'Shadow Investment', a simple way to grow your ISA and SIPP. Together with our clients, we have £57 million actively invested in ISAs and pensions*.

Our personal investment service allows you to look over our shoulder and buy into exactly the same funds as we are buying. These are investment funds that we personally own and so you can be assured that they are good quality. We are proud to say that by 'shadowing' us, our clients have made an annual return of 12.5% per year over the last four years** versus the FTSE 100's 7.4%.

We currently have close to 400 carefully selected clients. Most of them have over £100,000 actively invested and the majority are DIY investors such as business owners, self-employed professionals and corporate executives. We also have clients from the financial services sector such as IFAs, wealth managers and fund managers. ISACO Ltd is authorised and regulated by the Financial Conduct Authority (FCA). Our firm reference number is 525147.
* 15th November 2012: Internal estimation of total ISA and pension assets owned by ISACO Investment Team and ISACO premium clients.
** (31st December 2008 - 31st December 2012).
ISACO investment performance verified by Independent Executives Ltd.

To download our free report 'A Golden Opportunity' >>
To download our Shadow Investment brochure >>
To start your 14 day free 'no obligation' trial of Shadow Investment >>