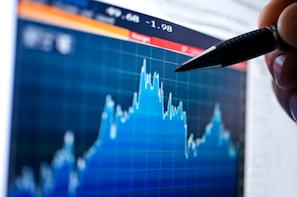 It's easy for some investors to believe that the best approach is a passive buy and hold investment strategy. The mantra goes 'it's time in the market, not market timing'. While buy and hold can be an effective strategy, if the investor starts at the right time and buys when the market is low, it is an approach that comes with flaws.
A buy and hold investment strategy only tends to work in long-term upwards trending markets, such as the super bull market that occurred between 1980 and the year 2000. Unfortunately, the market does not always go up as many investors have experienced over the last twelve years.
If you did decide to take a buy and hold approach, you still have the difficult task of correctly timing your initial buy. A buy and hold strategy may work but only if you buy when the market is low and you buy just before a bull market begins. But what about during bear markets? Adhering to a buy and hold program during significant correction periods could be very painful, particularly if retirement was approaching.
A buy and hold investment strategy has to begin with a timing decision
As I mentioned in our last post, we prefer a strategic timing approach. One reason for this is because every buy and hold program has to start with an initial buy. You have to decide when to get in and if your decision was based on emotions, which it usually is, you may encounter problems. For example, if you would have used a buy and hold strategy and bought at the peak of 2000, just before the 2000–2002 savage bear market, or at the 2007 top, just before the 2007–2009 financial crisis, you may have experienced losses of 50–90%. Dropping 50% requires a 100% gain to get you back to even.
In the 2000–2002 bear market, our ISA account dropped 27.3% which was pretty good when you discover that the FTSE 100 over the same period made a loss of 43.2%. The NASDAQ Composite did even worse imploding 67.2%. However, in the most recent bear market of 2007 to 2009, we weren't so lucky. In 2008 the FTSE 100 fell 31.3%, the NASDAQ tumbled 40.5% and our account sunk 42.3%.
Fortunately our portfolio rebounded strongly – we made 56.4% in 2009 and 27.2% in 2010 which helped to quickly make the loss back.
Some investors sitting in losses for up to a decade
Others who experienced significant losses during 2008 won't have been as lucky. Some investors who took heavy falls will be sitting in those losses for up to a decade. Imagine what it must be like for those investors who took a loss of 90% in either of those two bear markets. For them it would mean their portfolio having to rise 900% to get back to where you started. That could take some time! This table explains how this works.



This is why it is so important for you to try to preserve your capital and get out of the market and into the safety of cash when you can see the first signs that the market's personality has changed from healthy to unhealthy.
As always, if you have any questions or thoughts on the points covered in this post, please leave a comment below or connect with us @ISACO_ on Twitter.
About ISACO
ISACO is a specialist in ISA and SIPP Investment and the pioneer of 'Shadow Investment', a simple way to grow your ISA and SIPP. Together with our clients, we have £57 million actively invested in ISAs and pensions*.

Our personal investment service allows you to look over our shoulder and buy into exactly the same funds as we are buying. These are investment funds that we personally own and so you can be assured that they are good quality. We are proud to say that by 'shadowing' us, our clients have made an annual return of 12.5% per year over the last four years** versus the FTSE 100's 7.4%.

We currently have close to 400 carefully selected clients. Most of them have over £100,000 actively invested and the majority are DIY investors such as business owners, self-employed professionals and corporate executives. We also have clients from the financial services sector such as IFAs, wealth managers and fund managers. ISACO Ltd is authorised and regulated by the Financial Conduct Authority (FCA). Our firm reference number is 525147.
* 15th November 2012: Internal estimation of total ISA and pension assets owned by ISACO Investment Team and ISACO premium clients.
** (31st December 2008 - 31st December 2012).
ISACO investment performance verified by Independent Executives Ltd.

To download our free report 'A Golden Opportunity' >>
To download our Shadow Investment brochure >>
To start your 14 day free 'no obligation' trial of Shadow Investment >>