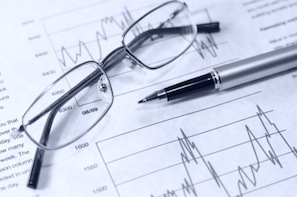 In a recent post, we looked at how it's possible to read the market by using charts.
To recap, a stock chart is a graph that displays the price and volume history of a given security or index over a period of days, months or years. Price and volume charts can help you to see what the professional investors are doing, allowing you the opportunity to follow in the large investors footsteps.
If you would like to know more, why not download our latest free report Gauging Stock Market Direction.
We would suggest that you aim to make a habit of reading the market day in, day out. It's important to read and analyse the market every day because a piece of positive or negative news could change the whole market dynamic in just a single day. How the market responds to the news will ultimately govern how you react. The market's health and direction could alter in the space of 24 hours, which is why you should remain vigilant at all times. If you take your eye off the market, you may miss out on the opportunity of getting in when a new uptrend has been established.
When you get in early, you have the potential to profit from exciting investment opportunities, but when you fail to get in early you could miss out on strong investment returns over relatively short time frames. Another reason to read the market every day is to avoid getting locked into a falling market when a downtrend has been triggered. This could result in unnecessary losses, which could have been avoided by being a more diligent follower of index, stock and sector activity.
Why it pays to watch what the big players are doing
By making it a habit to read the market every day, five days a week, you'll be able to make a good call on its health. By reviewing the behaviour of the market over the previous several weeks and the activity that day, you'll be able to decide if it is in an uptrend and healthy, or in a downtrend and unhealthy. If you class the market as being healthy, it means you'll probably be invested. On the other hand, if you believe the market to be unhealthy, you will be able to temporarily park in cash. The stance you take on the market can be created by daily analysis of the market indexes and leading stocks. Your in-depth intraday look at the market could be followed by a thorough after-market check up. The concluding results could then be reported in your own personal trading diary.
Spotting stock market tops
Historically, market tops occur after the averages move into new high ground and show several days of large and increased volume, with either very poor price progress or actual declines in the averages. A series of distribution days (institutional selling) mark the end of a bull market.

A distribution day occurs when one of the major stock indexes falls on above average volume. When the market piles up four or five distribution days in just a few weeks and the uptrend seems to have stalled, the chances are it's heading into a correction, especially when you notice many top stocks falling heavily in great volume.
Make a switch order instead of a sell
If you believe that the market's major trend has changed from up to down, you can bank some or all of your profits by switching out of your equity based fund investments and moving into cash. When investing in stocks and shares ISAs, be aware that it's not about selling – it's about switching. If you mistakenly place a sell order instead of a switch order, you will then be unable to add capital back into the ISA you sold. The correct thing to do is to make a switch order instead of a sell order, helping to keep your full ISA allowance intact.
Parking your money in cash on a temporary basis means that it will be safe even if the market crashes. In fact, although equity ISAs could be dropping like stones, a Cash Park will actually be rising in value. After moving into cash, you simply sit, wait and remain patient. Many investors don't realise that it is possible to park in cash. Some mistakenly think that once you are invested in a fund, you have to stay in that fund. Some wrongly think that to switch into a Cash Park would adversely affect their annual allowance – it doesn't.
Stock market bottoms
So how do you know when a market correction has hit bottom? We keep our eye on a number of things, such as the behaviour of the US indexes, the activity and personality of leading stocks and we also look for a follow-through day. This is a day that helps to confirm that institutional investors are going all in. The follow-through is a concept coined by William O'Neil and can be summarised as follows: you look for an increase in total market volume from the day before and substantial price progress for the day, up at least 1.7% or more in any index.
We like to see a follow-through occur on either the NASDAQ Composite or S&P 600. The phenomenon of a follow-through day has occurred in every new bull market throughout history, though not all follow-through days result in a new bull market. A follow-through on the fourth day or later of an attempted rally is likely to be an indicator of follow-through buying from institutions with conviction. A first, second, or third-day rally attempt off a market bottom can often be little more than short-covering.
In our next post, we'll explore in more detail how watching the behaviour of leading stocks can give you huge clues on where the market is heading.
As always, if you have any questions or thoughts on the points covered in this post, please leave a comment below or connect with us @ISACO_ on Twitter.
About ISACO
ISACO is a specialist in ISA and SIPP Investment and the pioneer of 'Shadow Investment', a simple way to grow your ISA and SIPP. Together with our clients, we have £57 million actively invested in ISAs and pensions*.

Our personal investment service allows you to look over our shoulder and buy into exactly the same funds as we are buying. These are investment funds that we personally own and so you can be assured that they are good quality. We are proud to say that by 'shadowing' us, our clients have made an annual return of 12.5% per year over the last four years** versus the FTSE 100's 7.4%.

We currently have close to 400 carefully selected clients. Most of them have over £100,000 actively invested and the majority are DIY investors such as business owners, self-employed professionals and corporate executives. We also have clients from the financial services sector such as IFAs, wealth managers and fund managers. ISACO Ltd is authorised and regulated by the Financial Conduct Authority (FCA). Our firm reference number is 525147.
* 15th November 2012: Internal estimation of total ISA and pension assets owned by ISACO Investment Team and ISACO premium clients.
** (31st December 2008 - 31st December 2012).
ISACO investment performance verified by Independent Executives Ltd.

To download our free report 'A Golden Opportunity' >>
To download our Shadow Investment brochure >>
To start your 14 day free 'no obligation' trial of Shadow Investment >>