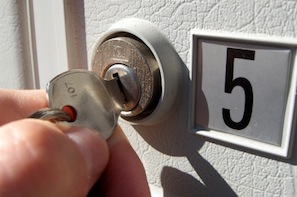 This is the fourth post in our series on managing your portfolio. In our last post we looked at how investors can manage the risk they face by using fixed interest and cash, although equites remain the most important element of their portfolio.
How much risk are you willing to take?
When constructing your portfolio, you could consider one of these five different models: Defensive, Cautious, Balanced, Growth and Aggressive. These are shown just as a guide to give you an idea of how your portfolio could be made up (please just click on the image to enlarge the chart).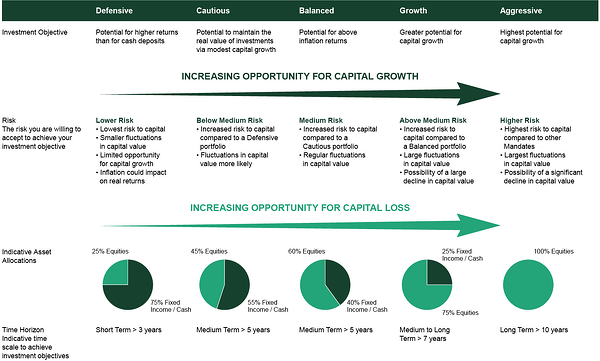 As you can see from the image, the level of risk to your capital increases as you progress through the investment model spectrum. Please note that the Defensive model still maintains some risk to capital; therefore if no loss of capital can be borne, none of the investment models are suitable for investment. In addition, the potential for capital growth over the investment time horizon increases along the investment model spectrum. The selected model will govern your asset allocation and in all instances, we suggest exposure can be achieved by way of collective funds.
Keep it simple when constructing your portfolio
We like to keep things simple. We talk to lots of investors who own too many investment funds. We normally buy just five or six funds and our maximum would probably be no more than eight.
The problem is that if you own too many investments, you can't watch them all closely enough. That means monitoring and managing them becomes a challenge. Sometimes, we find that people over diversify, which can often be a hedge for ignorance. If you over diversify, it will eat into your returns and you'll struggle to beat the market.
As always, if you have any questions or thoughts on the points covered in this post, please leave a comment below or connect with us @ISACO_ on Twitter.
About ISACO
ISACO is a specialist in ISA and SIPP Investment and the pioneer of 'Shadow Investment', a simple way to grow your ISA and SIPP. Together with our clients, we have £57 million actively invested in ISAs and pensions*.

Our personal investment service allows you to look over our shoulder and buy into exactly the same funds as we are buying. These are investment funds that we personally own and so you can be assured that they are good quality. We are proud to say that by 'shadowing' us, our clients have made an annual return of 12.5% per year over the last four years** versus the FTSE 100's 7.4%.

We currently have close to 400 carefully selected clients. Most of them have over £100,000 actively invested and the majority are DIY investors such as business owners, self-employed professionals and corporate executives. We also have clients from the financial services sector such as IFAs, wealth managers and fund managers. ISACO Ltd is authorised and regulated by the Financial Conduct Authority (FCA). Our firm reference number is 525147.
* 15th November 2012: Internal estimation of total ISA and pension assets owned by ISACO Investment Team and ISACO premium clients.
** (31st December 2008 - 31st December 2012).
ISACO investment performance verified by Independent Executives Ltd.

To download our free report 'A Golden Opportunity' >>
To download our Shadow Investment brochure >>
To start your 14 day free 'no obligation' trial of Shadow Investment >>