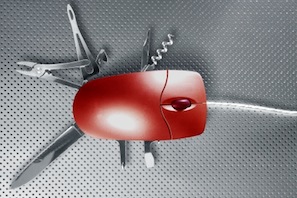 In this final post in our series on managing your portfolio, we'll look at ten investment tools and resources that smart investors can use to make better informed decisions.
10 investment tools and resources
Investors.com
We like investors.com a lot. There is lots of free stuff but some of their better content is subscription only. In the subscription only section, they run a daily column called 'The Big Picture' which gives you their take on the market. They do put their neck on the line by telling you whether they believe the market is in a confirmed rally (green light to invest) or whether the market is in a correction phase (park in cash). The column is useful just to get a second opinion on what you are thinking after you've conducted your market daily analysis.
Investors.com is part of Investor's Business Daily (IBD), a national newspaper in the United States, published Monday through Friday that covers international business, finance, and the global economy. Founded in 1984 by William O'Neil, its headquarters are in Los Angeles, California. IBD provides detailed information about US stocks, mutual funds, commodities, and other financial instruments aimed at individual investors. The Investors.com website provides detailed, concise statistics using earnings, stock price performance and other criteria to help investors find quality stocks. The information is designed to be used along with William O'Neil's book How to Make Money in Stocks. Our investment philosophy syncs up with IBD's perfectly.
MarketSmith
MarketSmith is a wholly owned company of William O'Neil + Company and an affiliate of Investor's Business Daily. It is a US based service and the stocks in its database trade mainly on the US markets rather the UK markets. It's our personal investment research package and we love it. It provides institutional-quality data and the package allows you gain access to the same high-quality data that fuels products used by professional portfolio managers. You could say it's your one-stop destination for superior investment research. You can search for the best performing stocks and quickly analyse the market indexes. The site allows you to access stock charts with a great blend of technical and fundamental data. The package comes at a cost ($999 US per year) but you can opt for a trial before you buy.
Morningstar.co.uk
What a wonderful site this is. We've been using Morningstar since it started and we couldn't have outperformed the market without their help. We use the site to search for funds throughout the year and we also use it to help us time our buys. It's easy to set up multiple portfolios (for free) and get daily alerts sent directly to your inbox telling you how your portfolio is performing.
Morningstar UK opened in London in 2000 and launched its individual investor website in 2001. In 2013 Morningstar was voted a 'Top Website to Save You Money' by The Times. The website offers access to and objective information on more than 9,000 funds available to individual investors in the UK and 42,000 stocks worldwide. The site offers educational guidance and independent editorial content produced by Morningstar analysts and journalists based in London and around the world. Holly Cook, Managing Editor of Morningstar.co.uk is a friend of mine.
Fideilty
We've been a client of Fidelity since 1997 and a user of their FundsNetwork investment platform since it began its operation back in 2000. We not only use it to track our ISA and SIPP investment portfolio, We also use the site for gathering information relating to investing and they also have some really good free guides and reports.
MoneyWeek
Moneyweek is a great free resource to tap into. We have read many articles on their site and all of them have been interesting, informative and extremely well written. Many of our high net worth clients love MoneyWeek and we're yet to hear a bad word about them. Their aim is to give you intelligent and enjoyable commentary on the most important financial stories, and tell you how to profit from them.
Jim Paulsen
Jim Paulsen is an optimist, a long-term bull (like us) and always seems to offer great market insights. Jim's the chief investment strategist at Wells Capital Management. You can sign up for free to his monthly 'Economic and Market Perspective' newsletter which we always feel is great value. An investment management industry professional since 1983, Jim develops investment strategies that assist in the management of separate institutional account assets as well as mutual and collective investment funds. Jim is nationally recognised for his views on the economy. He frequently appears on several CNBC and Bloomberg Television programs, including regular appearances as a guest host on CNBC. BusinessWeek named him Top Economic Forecaster and BondWeek twice named him Interest Rate Forecaster of the Year. His newsletter 'Economic and Market Perspective, was named one of '101 Things Every Investor Should Know' by Money magazine.
Bob Doll
Bob Doll is Nuveen Asset Management's Chief Equity Strategist and Senior Portfolio Manager. Bob provides a superb 'Weekly Investment Commentary' that we also highly recommend. It's free and packed full of great thoughts and key information to help you in making better investment decisions. Bob serves as a leading member of Nuveen Asset Management's Equities investing team. Immediately prior to joining Nuveen Asset Management, Doll served as a senior advisor to BlackRock, where he recently held the role of Chief Equity Strategist and Senior Portfolio Manager of the U.S. Large Cap Series equity team and had primary portfolio management responsibilities for these products. Bob appears regularly in the national financial press discussing economic developments and markets.
Jeremy Siegel
Jeremy Siegel is just one of those guys that you find it hard not to like and he always seems to be smiling. Like Jim Paulson, he's a long-term bull and an eternal optimist. Jeremy is the Professor of Finance at the Wharton School of the University of Pennsylvania in Philadelphia, Pennsylvania.
Siegel comments extensively on the economy and financial markets: he appears regularly on networks such CNN, CNBC and NPR, and writes regular columns for Kiplinger's Personal Finance and Yahoo! Finance. Jeremy has written two books, Stocks for the Long Run and The Future for Investors.
CNBC (TV and App)
CNBC is great to watch on TV and does have some great guests on the show. I also have the App on my iPad and iPhone. The app is free and it's awesome. It allows you to set up a portfolio of stocks that you can track and keep an eye on and one thing I like to do is keep a close eye on some of the stocks that the funds that we own have in their portfolio.
Yahoo! Finance
We use Yahoo! Finance for keeping an eye on the various exchanges around the world. If we ever buy funds that invest in UK companies, because MarketSmith does not cover UK stocks, I set up a portfolio for free on Yahoo! Finance that helps me track the top ten holdings of the UK funds we own.

14 books we also recommend
Books are a great resource especially when they are written by real life investors who have proven track records. Here are 14 that we strongly recommend:
How to Make Money in Stocks – William O'Neil.
24 Essential Lessons for Investment Success – William O'Neil.
The Successful Investor – William O'Neil.
My Own Story – Bernard Baruch.
The Battle for Investment Survival – Gerald Loeb.
How to Trade in Stocks – Jesse Livermore.
How I Made $2,000,000 in the Stock Market – Nicolas Darvas.
One Up On Wall Street – Peter Lynch.
Market Wizards – Jack Schwager.
The New Market Wizards – Jack Schwager.
Reminiscences of a Stock Operator – Edwin Lefevre.
Big Money Little Effort – Mark Shipman.
The Next Big Investment Boom – Mark Shipman.
Trader Vic – Victor Sperandeo.
As always, if you have any questions or thoughts on the points covered in this post, please leave a comment below or connect with us @ISACO_ on Twitter.
About ISACO
ISACO is a specialist in ISA and SIPP Investment and the pioneer of 'Shadow Investment', a simple way to grow your ISA and SIPP. Together with our clients, we have £57 million actively invested in ISAs and pensions*.

Our personal investment service allows you to look over our shoulder and buy into exactly the same funds as we are buying. These are investment funds that we personally own and so you can be assured that they are good quality. We are proud to say that by 'shadowing' us, our clients have made an annual return of 12.5% per year over the last four years** versus the FTSE 100's 7.4%.

We currently have close to 400 carefully selected clients. Most of them have over £100,000 actively invested and the majority are DIY investors such as business owners, self-employed professionals and corporate executives. We also have clients from the financial services sector such as IFAs, wealth managers and fund managers. ISACO Ltd is authorised and regulated by the Financial Conduct Authority (FCA). Our firm reference number is 525147.
* 15th November 2012: Internal estimation of total ISA and pension assets owned by ISACO Investment Team and ISACO premium clients.
** (31st December 2008 - 31st December 2012).
ISACO investment performance verified by Independent Executives Ltd.

To download our free report 'A Golden Opportunity' >>
To download our Shadow Investment brochure >>
To start your 14 day free 'no obligation' trial of Shadow Investment >>