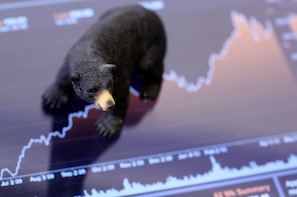 In our last post, we looked at the S&P 500 strategy and how it could help you leave a legacy. The strategy involves a five year buy program, so you are likely to experience at least one bear market during that time and you may feel like cashing in and aborting the whole program. However, in this post we'll look at how you could take advantage of the opportunities a bear market presents.
A bear market could surface as soon as your program starts and that means your first buy falling as much as 20% or even much more. How would you feel about that? How would you feel about adding the same amount you added in year one when you are already down 20% or more? These are questions that need careful thought before proceeding.
Smart tactics for boosting your returns: Bear market strategy
As an additional strategy, if you are willing to be more aggressive and want to capitalise on buying the market when it is cheap, you could adopt a bear market strategy to supplement your long-term pound cost averaging strategy. With this approach, you aim to buy when the market is low by purchasing three equal amounts in the trough of the bear market. The first buy is when the S&P 500 is 20% off its recent high, the second buy is three months later and the final buy three months after that.
How does the S&P 500 bear market strategy work?
The strategy consists of 5 simple steps:
Step 1 – You decide on an amount you want to invest

Step 2 – You divide that amount by three

Step 3 – Purchase number one occurs when the S&P 500 is 20% off its high

Step 4 – Purchase number two is scheduled for three months later

Step 5 – Purchase number three occurs three months after purchase number two
Further opportunities to buy when the market is low
Every three months after the third purchase, if the market is trading lower than the third buy price, you have the opportunity to add a further amount if you have the cash available. This amount ideally needs to be equal to the payments you have previously put in. For example, if you had bought using three amounts valued at £50,000, and the market presented the opportunity to add, you would add another £50,000.

There could be as many as 10 further opportunities to add, depending on the depth and duration of the bear market. One thing to remember with this strategy is that even though income is accessible, our recommendation would be to not touch the money for at least 10 years. After a decade had passed, you could then start an income withdrawal program.

Final thoughts on the S&P 500 Strategy
The S&P 500 Strategy is extremely time friendly, perfect for leaving a legacy and an excellent way to achieve a decent return on capital outside your ISA and SIPP. It's a strategy that could net you an annual return of 7–10% over the long term. It's very simple and straightforward and the rules we've suggested are not set in stone. The key thing here is that you understand the principle, which is to end up making a return almost equal to the return of the S&P 500, using capital outside your ISA and SIPP investments.

This is an investment that should be grown over 50 to 100 years, and even longer. And if you are going to take an income from it, try not to touch the account for at least 5 years and when you eventually do start to take an income from it, aim to keep your withdrawals to a minimum, maybe 1–3% per year.

As always, if you have any questions or thoughts on the points covered in this post, please leave a comment below or connect with us @ISACO_ on Twitter.
About ISACO
ISACO is a specialist in ISA and SIPP Investment and the pioneer of 'Shadow Investment', a simple way to grow your ISA and SIPP. Together with our clients, we have £57 million actively invested in ISAs and pensions*.

Our personal investment service allows you to look over our shoulder and buy into exactly the same funds as we are buying. These are investment funds that we personally own and so you can be assured that they are good quality. We are proud to say that by 'shadowing' us, our clients have made an annual return of 12.5% per year over the last four years** versus the FTSE 100's 7.4%.

We currently have close to 400 carefully selected clients. Most of them have over £100,000 actively invested and the majority are DIY investors such as business owners, self-employed professionals and corporate executives. We also have clients from the financial services sector such as IFAs, wealth managers and fund managers. ISACO Ltd is authorised and regulated by the Financial Conduct Authority (FCA). Our firm reference number is 525147.
* 15th November 2012: Internal estimation of total ISA and pension assets owned by ISACO Investment Team and ISACO premium clients.
** 31st December 2008 - 31st December 2012.
ISACO investment performance verified by Independent Executives Ltd.

To download our free report 'A Golden Opportunity' >>
To download our Shadow Investment brochure >>
To start your 14 day free 'no obligation' trial of Shadow Investment >>