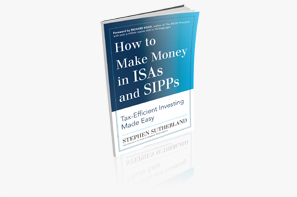 The countdown begins! Since writing my first book, Liquid Millionaire (published March 2009), I have been busy working on my second. I am pleased to announce that How to Make Money in ISAs and SIPPs will be available to buy from March 1st 2014.
To answer any questions you may have about my new book, I have created an easy to read FAQ:

Can you tell me about the book please?

Yes, How to Make Money in ISAs and SIPPs is the first book of its kind to focus on how to secure a richer retirement using the UK's two top tax shelters; ISAs and SIPPs.
It's the ultimate guide for 'affluent' DIY investors approaching retirement or in retirement looking to beat the market and achieve better returns.

My brother and I decided that we wanted to donate all the book royalties to The Christie; a specialised cancer centre with a long standing reputation (since 1901) for high quality diagnosis, treatment and care for cancer patients.

Why did you decide to give all the book royalties to The Christie?

The Christie is a charity close to our hearts. Our Mum was diagnosed with lung cancer in the 2000's and The Christie played a big part in helping her to 'beat it.' Our mum is currently in remission and is currently in great health.

Who this book is aimed at?

How to Make Money in ISAs and SIPPs is aimed at ISA and SIPP investors – or those thinking of investing in ISAs or SIPPs – who are unhappy with their investment performance and want to boost their returns. It's for UK residents either approaching retirement or in retirement.

It's perfect for business owners, self-employed professionals, corporate executives, wealthy retirees and financial professionals such as independent financial advisers (IFAs), wealth managers and pension trustees. It's ideal for individuals who class themselves as either DIY investors, sophisticated investors or financial professionals. It's also essential reading for investors who have at least £250,000 actively invested.

What will I learn by reading your book?

Inside, you discover how ISAs and SIPPs can boost your returns, create a tax-free income for life and help to reduce the risk of running out of money during retirement.

You will also learn:
How to create a 'tax-free' lifetime income stream

A fast, easy way to find funds 'in the money flow'

When to buy and exit at the optimum time

How to protect your wealth when downtrends are triggered

Insider secrets for saving thousands in fees and charges

And much more!

Without giving too much away, can you let me know what the chapter headings are please?

Yes, of course! Here they are:

Chapter 1: My Story
Chapter 2: ISAs – Aiming to become an ISA Millionaire
Chapter 3: SIPPs – the Smarter Way to Manage Your Pension
Chapter 4: Charges, Fees and Fund Supermarkets
Chapter 5: A Quick Guide to Investment Funds
Chapter 6: How to Pick a Good Fund
Chapter 7: Fund Timing – When to Buy and When to Exit
Chapter 8: Gauging Stock Market Direction
Chapter 9: Beyond Greed and Fear
Chapter 10: How to Manage Your Portfolio
Chapter 11: Creating an Income for Life
Chapter 12: A Golden Opportunity

Why did you write the book?

It was to share with you the key information you may be missing in order to achieve better returns on your investment portfolio. My aim is that the information I pass on to you – when put into action – will increase the probability of you outperforming the market over the coming years.

Will How to Make Money in ISAs and SIPPs be available before the March 1st 2014 publishing deadline?

Yes! My book will be available in a PDF ebook format as from November 1st 2013. This will be a 'review copy' for anybody who wishes to look at How to Make Money in ISAs and SIPPs – for free – prior to its publication. If you would like to be included on this carefully selected list, please click here to register your interest.

Is anybody famous writing the foreword?

Yes! Sunday Times rich list member and bestselling author Richard Koch has kindly agreed to write the foreword. In a future blog post I will give you a sneak peak of what he wrote.

Who has agreed to reviewing the book?

Over 100 of ISACO's 'Shadow Investment' clients have kindly agreed to reviewing How to Make Money in ISAs and SIPPs as well as many high profile journalists, bestselling authors and industry thought leaders.

How much will it cost and where can I buy it from?

The recommended retail prices have yet to be finalised, however the likely prices will be £14.95 for the hardcover version, £9.95 for the paperback and £4.95 for the ebook/kindle version. It will be available online and in all good book stores.

How can I find out more?

As I mentioned before, How to Make Money in ISAs and SIPPs will be available in a review copy format (PDF ebook) as from November 1st 2013. Please click here to register your interest. Alternatively, please contact me directly Stephen@ISACO.co.uk or call 0800 170 7750.
Also as we move through time, through this blog I will keep you informed of any news or developments that I feel will be of interest. I am so excited about my latest book and if you are an ISA and/or SIPP investor with £250,000 currently actively invested, this book is for you.
As always, if you have any questions or thoughts on the points covered in this post, please leave a comment below or connect with us @ISACO_ on Twitter.
About ISACO
ISACO is a specialist in ISA and SIPP Investment and the pioneer of 'Shadow Investment', a simple way to grow your ISA and SIPP. Together with our clients, we have £57 million actively invested in ISAs and pensions*.

Our personal investment service allows you to look over our shoulder and buy into exactly the same funds as we are buying. These are investment funds that we personally own and so you can be assured that they are good quality. We are proud to say that by 'shadowing' us, our clients have made an annual return of 12.5% per year over the last four years** versus the FTSE 100's 7.4%.

We currently have close to 400 carefully selected clients. Most of them have over £100,000 actively invested and the majority are DIY investors such as business owners, self-employed professionals and corporate executives. We also have clients from the financial services sector such as IFAs, wealth managers and fund managers. ISACO Ltd is authorised and regulated by the Financial Conduct Authority (FCA). Our firm reference number is 525147.
* 15th November 2012: Internal estimation of total ISA and pension assets owned by ISACO Investment Team and ISACO premium clients.
** 31st December 2008 - 31st December 2012.
ISACO investment performance verified by Independent Executives Ltd.

To download our free report 'A Golden Opportunity' >>
To download our Shadow Investment brochure >>
To start your 14 day free 'no obligation' trial of Shadow Investment >>