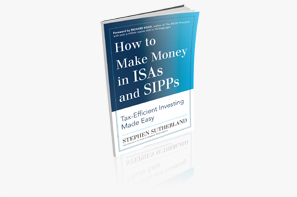 In a recent post I told you a little more about my new book How to Make Money in ISAs and SIPPs. We recently discovered that the new official publishing date for it is April 28th 2014, however you'll be able to purchase it exclusively from the ISACO website from March 1st.
If you're an ISA and/or SIPP investor with £250,000 currently actively invested, then this book is for you.
Download the Introduction today
We're giving our blog subscribers the opportunity to read the Introduction of the book for free now, along with the Foreword by Richard Koch (member of the Sunday Times Rich List and author of the 80/20 Principle).
To download your copy, please just follow this link.
Read the full book prior to publication
Also, don't forget that How to Make Money in ISAs and SIPPs will be available in a review copy format (PDF ebook) from November 1st 2013. Please click here to register your interest. Alternatively, please contact me directly Stephen@ISACO.co.uk or call 0800 170 7750.
As always, if you have any questions or thoughts on the points covered in this post, please leave a comment below or connect with us @ISACO_ on Twitter.
About ISACO
ISACO is a specialist in ISA and SIPP Investment and the pioneer of 'Shadow Investment', a simple way to grow your ISA and SIPP. Together with our clients, we have £57 million actively invested in ISAs and pensions*.

Our personal investment service allows you to look over our shoulder and buy into exactly the same funds as we are buying. These are investment funds that we personally own and so you can be assured that they are good quality. We are proud to say that by 'shadowing' us, our clients have made an annual return of 12.5% per year over the last four years** versus the FTSE 100's 7.4%.

We currently have close to 400 carefully selected clients. Most of them have over £100,000 actively invested and the majority are DIY investors such as business owners, self-employed professionals and corporate executives. We also have clients from the financial services sector such as IFAs, wealth managers and fund managers. ISACO Ltd is authorised and regulated by the Financial Conduct Authority (FCA). Our firm reference number is 525147.
* 15th November 2012: Internal estimation of total ISA and pension assets owned by ISACO Investment Team and ISACO premium clients.
** 31st December 2008 - 31st December 2012.
ISACO investment performance verified by Independent Executives Ltd.

To download our free report 'A Golden Opportunity' >>
To download our Shadow Investment brochure >>
To start your 14 day free 'no obligation' trial of Shadow Investment >>