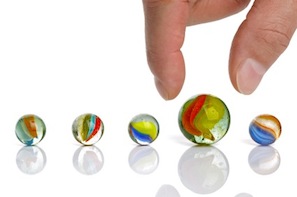 This is the second post in our new series on choosing a good investment fund, where we're taking you through the process we use. In the first post of this tutorial we discussed the market's current trend and took a look at Morningstar and an example fund.
In this post we'll continue by looking at the importance of a fund's manager, as well as its risk profile and portfolio.
When did the current manager start managing this fund?
Managers of funds can get sacked or they might leave on their own accord. Fund managers therefore move around and that's why you have to get the direct connection between the fund's performance and the manager who is currently managing the fund. With this in mind, let's look at who is currently managing our example fund, the Cazenove UK Smaller Companies A Acc fund, by clicking on the 'Management' tab located in the left hand column.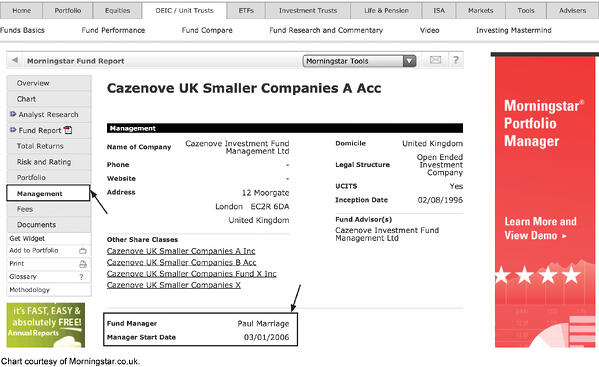 Management
On this page we discover that the fund manager, Paul Marriage started managing this fund on January 3rd 2006. Therefore, the performance we looked at before is his. This also means that we are now safe to continue with our analysis. Next, we'll look at the fund's risk rating by clicking on the 'Risk and Rating' tab located in the left hand column.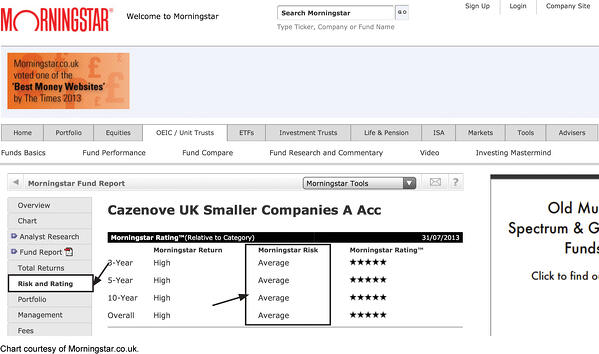 Risk and Rating
What we find here is that this fund's risk profile is average. Almost all the funds we buy are classed average or above average risk. If you are aiming for growth, the fund you'll need to choose is likely to be in a higher risk category and we see this as perfectly normal. Next, we'll look at the fund's portfolio to get a breakdown of its current holdings.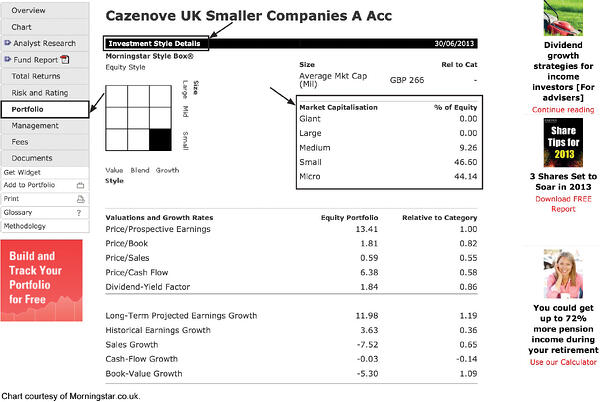 At the top of this page, you get to see the manager's investment style. This fund invests in small companies but generally we prefer to see the manager investing in giant, large cap or medium cap stocks. This is because in our opinion larger companies carry less risk and have less chance of going bust in the future.
Portfolio
If we stay on the Portfolio tab, underneath the 'Investment Style Details' you can see the fund's 'Asset Allocation' and 'World Regions'.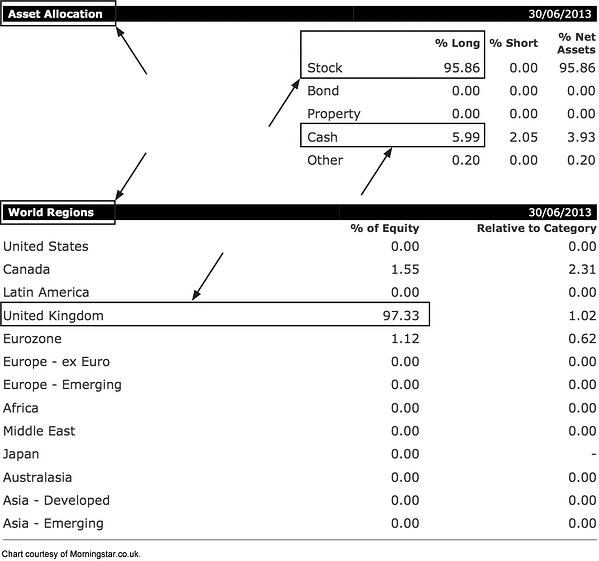 In the funds that we buy, their asset allocation is usually 95 to 100% invested 'Long' in stock. Sometimes they hold a bit of cash and we're fine with that. With the 'World Region' details, it simply tells you what part of the world the fund is investing in and with this fund you can see that it's the United Kingdom.
Asset Allocation
Scroll down the Portfolio page a little further and you'll see the sector weightings.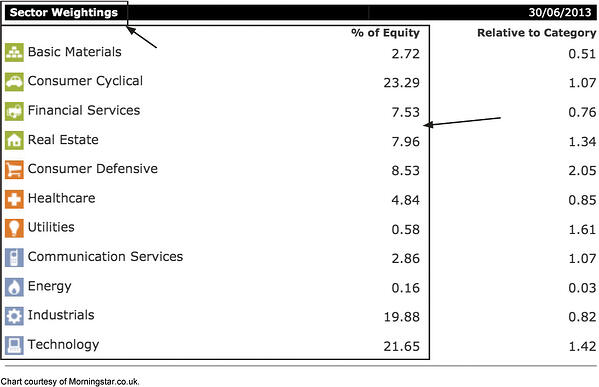 We like to see that the fund is diversified into many different sectors, which means this one passes the criteria. If the fund was too heavily weighted in one sector, it may cause us to reject it. Scroll down to the bottom of the Portfolio tab and you'll see the number of stocks in the fund, the percentage of assets in the top 10 holdings and also the names of the stocks that make up the fund's top 10 holdings.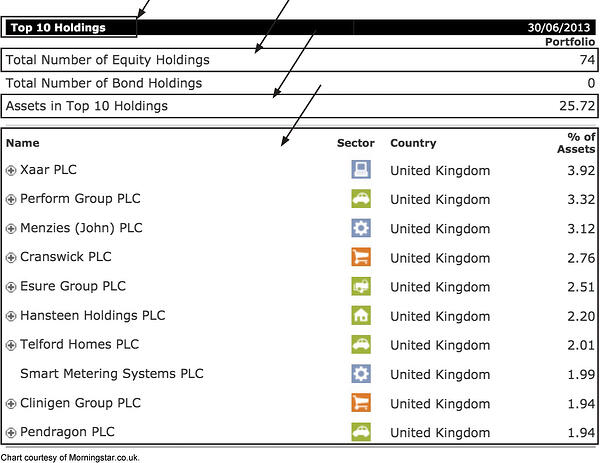 By knowing what stocks the fund holds, it allows us to carry out further due diligence and check if the stocks the fund holds are classed as leaders. We do this by using an equity research package called MarketSmith.
In our next post in this tutorial we'll go on to look at the fund's performance, as well as its fees.
As always, if you have any questions or thoughts on the points covered in this post, please leave a comment below or connect with us @ISACO_ on Twitter.
About ISACO
ISACO is a specialist in ISA and SIPP Investment and the pioneer of 'Shadow Investment', a simple way to grow your ISA and SIPP. Together with our clients, we have £57 million actively invested in ISAs and pensions*.

Our personal investment service allows you to look over our shoulder and buy into exactly the same funds as we are buying. These are investment funds that we personally own and so you can be assured that they are good quality. We are proud to say that by 'shadowing' us, our clients have made an annual return of 12.5% per year over the last four years** versus the FTSE 100's 7.4%.

We currently have close to 400 carefully selected clients. Most of them have over £100,000 actively invested and the majority are DIY investors such as business owners, self-employed professionals and corporate executives. We also have clients from the financial services sector such as IFAs, wealth managers and fund managers. ISACO Ltd is authorised and regulated by the Financial Conduct Authority (FCA). Our firm reference number is 525147.
* 15th November 2012: Internal estimation of total ISA and pension assets owned by ISACO Investment Team and ISACO premium clients.
** 31st December 2008 - 31st December 2012.
ISACO investment performance verified by Independent Executives Ltd.

To download our free report 'A Golden Opportunity' >>
To download our Shadow Investment brochure >>
To start your 14 day free 'no obligation' trial of Shadow Investment >>