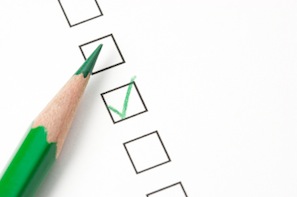 This is the final post in our series on choosing a good investment fund, where we're taking you through the process we use. In this post we'll look at fund fees and charges.
To recap, in the first post of this tutorial we discussed the market's current trend and took a look at Morningstar and an example fund, we then examined the importance of a fund's manager as well as its risk profile and portfolio, while last time we looked at charts.
Fund fees and expenses
When you look on Morningstar, the 'Fees and Expenses' section is split into two areas: Sales Charges (Maximum) and Annual Charges.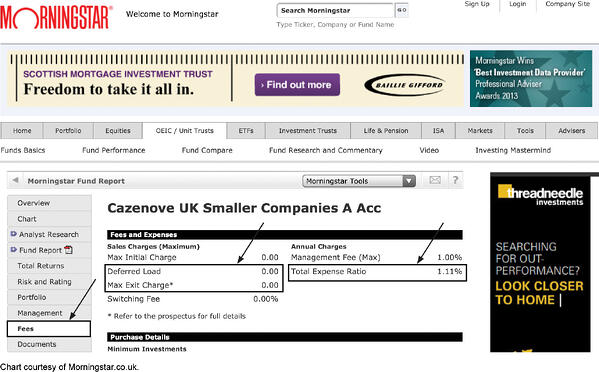 The Deferred Load (a charge taken when you sell) shows a 0 and so does the Max Exit Charge which is ideally what we like to see. The total expense ratio (TER) is 1.11% which is fairly low and this is because this fund has a clean share class. It's always good practice to double check this figure versus what it says on the fund's Key Investor Information Document (KIID). You can find the KIID and other associated documents in the 'Documents' section. We'll look at the Documents tab next.

Documents
The one we always look at first is the Key Investor Information Document (KIID). To view the KIID, you click on the small PDF icon in the KIID row.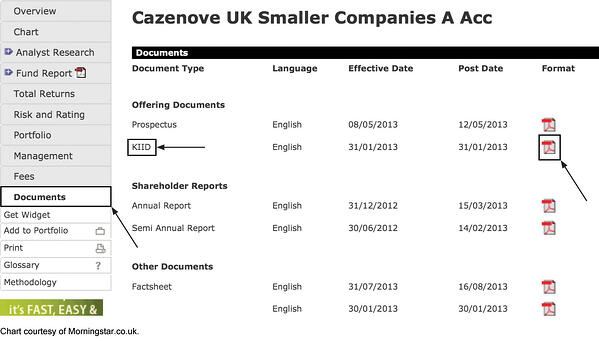 This is a two page document, which means you can quickly get to the information that's important. On page one you can check the risk profile of the fund. The ones we purchase usually score 6 or 7 on a scale of 1 to 7. As you can see, this one scores a 6.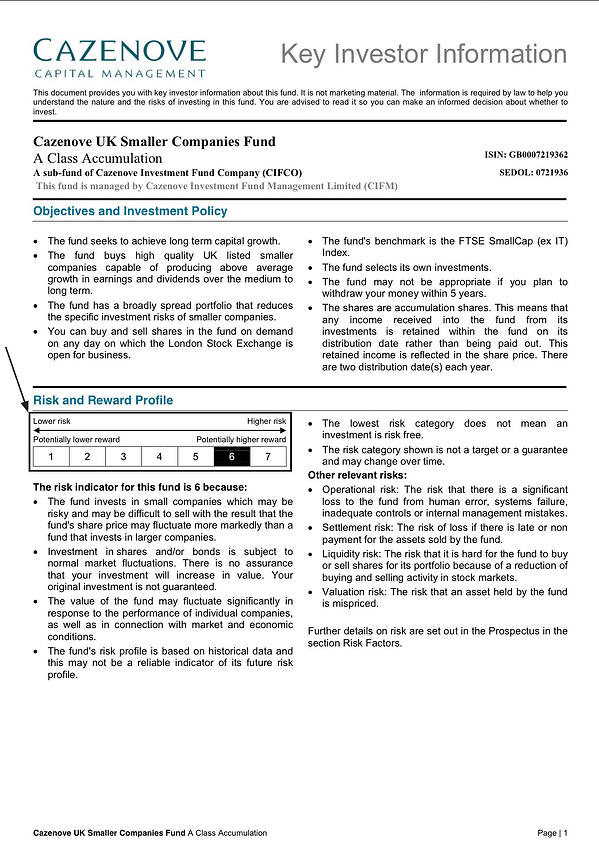 Next we are going to look at page two of the KIID and cross-check its TER or 'ongoing charges' with the TER you saw on the 'Fees and Expenses' page. It should be the same and as you can see on this image, we have a match.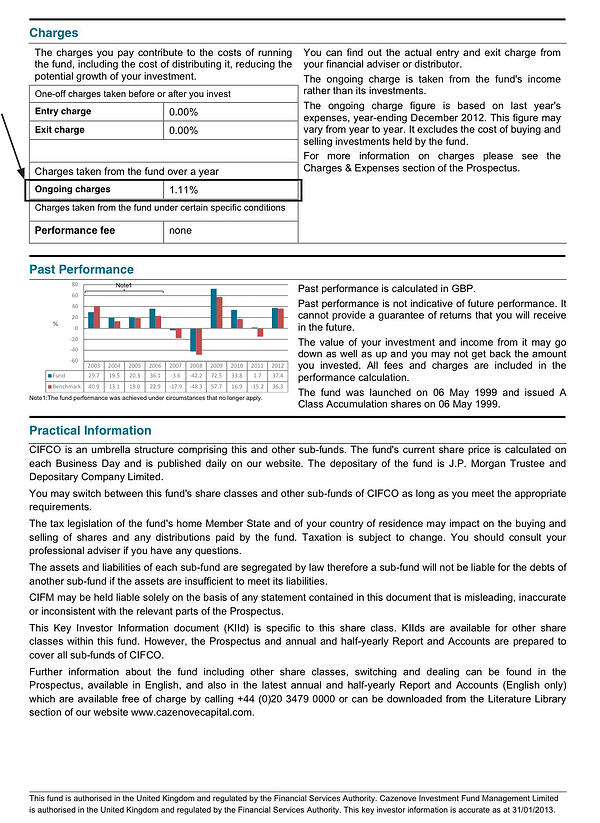 You can find other key documents relating to funds on the trading platform or fund supermarket that you decide to use. As well as looking at the Key Investor Information Document (KIID), we pay close attention to the Fund FactSheet, the Associated Charges Document, Client Terms, plus other associated documents such as the Shareholders' documents, which include the Interim Short Report and the Annual Short Report.
This tutorial was designed to show you what we look for when seeking a good fund and carried out for illustrative purposes only. Hopefully, by taking you through it step by step, it will have helped you understand more about our strategy and investment philosophy when selecting funds to buy.
As always, if you have any questions or thoughts on the points covered in this post, please leave a comment below or connect with us @ISACO_ on Twitter.
About ISACO
ISACO is a specialist in ISA and SIPP Investment and the pioneer of 'Shadow Investment', a simple way to grow your ISA and SIPP. Together with our clients, we have £57 million actively invested in ISAs and pensions*.

Our personal investment service allows you to look over our shoulder and buy into exactly the same funds as we are buying. These are investment funds that we personally own and so you can be assured that they are good quality. We are proud to say that by 'shadowing' us, our clients have made an annual return of 12.5% per year over the last four years** versus the FTSE 100's 7.4%.

We currently have close to 400 carefully selected clients. Most of them have over £100,000 actively invested and the majority are DIY investors such as business owners, self-employed professionals and corporate executives. We also have clients from the financial services sector such as IFAs, wealth managers and fund managers. ISACO Ltd is authorised and regulated by the Financial Conduct Authority (FCA). Our firm reference number is 525147.
* 15th November 2012: Internal estimation of total ISA and pension assets owned by ISACO Investment Team and ISACO premium clients.
** 31st December 2008 - 31st December 2012.
ISACO investment performance verified by Independent Executives Ltd.

To download our free report 'A Golden Opportunity' >>
To download our Shadow Investment brochure >>
To start your 14 day free 'no obligation' trial of Shadow Investment >>