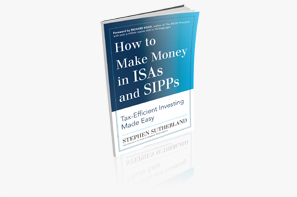 In my post on October 2nd, I announced that my new book How to Make Money in ISAs and SIPPs will be available to buy from March 1st 2014. It's aimed at ISA and SIPP investors – or those thinking of investing in ISAs or SIPPs – who are unhappy with their investment performance and want to boost their returns.
Since then a lot of people, including many of our clients, have kindly reviewed my book and I wanted to share their views with you.
The views of our clients
Here's what some of our clients had to say:

"An excellent book that offers a very straightforward explanation about self-directed ISA and SIPP investment. It avoids unnecessary financial jargon or complexity, yet provides a structure and method which support a logical approach to personal investment decisions. In particular, the guidance and illustrations about fund selection, basic interpretation of charts and market timing, are all very welcome and serve to unravel what can otherwise become an overwhelming challenge. It is a great addition which will get regular use for both quick reference and further development."
Paul Kirby, Private Investor.


"Stephen's latest book provides the tools and techniques that when used with discipline and combined with modest capital can ensure you accumulate vast amounts of wealth over time. I only wish he had written and I had acted upon it years ago. Essential reading like Rich Dad Poor Dad – for those focused individuals with years on their side and a desire to rise above the crowd."
Richard Hetherington, Business Consultant.


"I really liked the fact that this is an easy read that outlines in simple language everything you need to know about pensions and ISA's. Each subject is covered in detail that will leave any reader more confident about taking hold of their own financial destiny. The bit that works for me is that it looks at targets that are achievable."
Martin Lloyd, Private Investor



"I greatly enjoyed it. It flows well and gives a very succinct account of how to invest properly. I will be both buying copies for clients and recommending it when it is available for general release."

Iain Cahill, founder of Art of Wealth


"Dear Stephen, firstly I would like to complain as I could not stop reading your new book! My plan was to have a quick look at it then read it on a long flight later this week! I will need to buy a book now! Seriously though I think the new book is excellent, I found it's written in a simple way to understand so that non financial professional people like me can grasp the points.

I have lots of books about investing and mostly they are complicated and to be honest boring. I enjoyed reading your new book and could not put it down – it just makes so much sense. I guess the part of the book I most enjoyed was Chapter 9 Beyond Greed and Fear – I found myself saying 'that's me' and I can fully recognise this behavioural finance which is a very interesting subject. I would rate the book with 5 stars.
It's now been four years since I became a client of yours, I fully believe in your concept and have made good returns, it's a great system. I also love the fact that you have very kindly donated your royalties from the new book to the Christie Charity. Very well done to you and your team and keep up the good work. Kind Regards David."
David Mountain, Engineer


"A fabulous and insightful read. I particularly liked the chapters on picking a good fund and when to buy and when to exit where there are so many really useful pieces of information that have been written in such a way that the average private investor can understand. Stephen Sutherland has made serious money in ISA's and SIPPs and he shares his knowledge quite openly and shows you how he actually manages his portfolio by sharing with you all the tools he uses on a day-to-day basis. The chapter on fund charges and fees was a real eye-opener for me."
Pete Davidson, Estate Manager



"Dear Stephen, Wow.........I really loved reading your latest book! I thoroughly enjoyed reading it – from cover to cover – every word stated in it is absolutely priceless, and has the potential to make the reader very rich indeed. The knowledge you have gained through your own hard work and determination is crammed into every page, and as the reader I felt like I was being taught by the Jedi Master! It really was wonderful to read and I can't thank you enough for allowing me to review it.
Comments on the content
It is very well written, in an easy-to-read format, friendly language and very easy to understand.
Lovely concise and easy to absorb titles and sub-headings – good for referring to at a later date once the book is read. I will be reading it many times as the information it contains is solid gold.
Packed with educational information on fees and charges that I found to be eye-opening and very educational. I wish I had read this earlier in my investing career.
"When to buy" and "when to sell" information is potentially worth millions of pounds.
Wonderful advice on adopting a long term view to investing, coping with drops in your portfolio, advice on funding your retirement……outstanding information that is life-changing for the reader.
The only slight criticism I may have is that some parts of the book are in your first book "Liquid Millionaire"
Out of ten I am tempted to give it eleven!! ;)
Thanks so much for writing this book Stephen, I will do my very best to learn every single fact in it…..and one day I may be Skywalker to your Yoda ;)"
Simon Webb, Bridge Engineer


"This is an excellent book that is written in clear and concise terms that would be helpful to anyone who has an interest in investing for their future.The information contained therein summarises thousands of hours work by the author and I can confirm that I have used his methodology to source funds for my own investments.
This book would be suitable for a novice as well as a more experienced investor and offers an insight into the workings of the stock market and the way fund managers influence prices. For me personally I have found this book very helpful and would have no hesitation in giving it a five star rating."
Alan Johnson, Sales Director


The first thing to say is what a great improvement it is on Stephen's previous work, "Liquid Millionaire". Don't get me wrong. "Liquid Millionaire" was full of really good information that seemed to make sense. It was good enough to convince me that Stephen had something and to become an ISACO client, and shadow invest with at least part of my assets. The problem was that it read far too much like an advertisement for ISACO, and originally that almost put me off.
This is an entirely different work. It reads far more as it should, which is to say, it reads like a populist teaching tool (as opposed to an academic one designed for an examination course). The ISACO "advert", such as it is, is tucked away as an appendix at the end, and is suitably low key. I feel sure that if I had read this work instead of "Liquid Millionaire" a few years ago, I would have had no doubt about following Stephen Sutherland.
There is a great deal of important information and ideas in the work, too much for a detailed analysis. Some of it is quite complicated, and several of the chapters probably need to be read, digested for a couple of days, and then reread, particularly if the reader is new to investing.
But I would like to pick out two parts for particular comment. Firstly, the detailed instructions for using the "Morningstar" website are very useful. Getting to know the ins and outs of this website is a must for those hoping to pick the best funds for investing, and Stephen's explanation is as good as you are likely to get.
Secondly, the information on investment timing should help to take some of the guesswork out of it. In particular, his examples of the "cup and Handle" signal are particularly clear, and since reading this work, I have been able to spot them in historical charts quite easily. Having previously read the works of William J O'Neil (who Stephen holds in high regard, I believe), with all his historical charts with examples of cup and handle signals, I had great difficulty in actually seeing what he was talking about.
So, overall, I approve strongly of Stephen's efforts here. But I need to make one small criticism. For a couple to put more than £20 000 a year into ISAs, they would either need to be earning far above average, or have already accumulated a fair amount of assets. That's OK for the likes of me, retired, mortgage paid off, with a combination of accumulated savings, an occupational pension, plus something inherited from deceased parents.
But for the likes of most people (like my son and daughter), working on average or below average earnings, and with a mortgage, this is all pie in the sky. But the basic message for them is the same. They may not be able to put away enough to retire on a million pounds, but even the one or two hundred put away each month will accumulate over the long term.
I think Stephen should have included examples for people for whom putting anywhere near the maximum into an ISA or SIPP is simply not an option. In fact if the book has not yet gone to print, I suggest he does this before it goes to print, and if it already has gone to print, I would suggest this as something for a second edition!
Alan Bridewell, Retired School Teacher


How to Make Money in ISAs and SIPPs is a fantastic book that's easy to read, easy to understand and it's broken down into easy to digest chapters. I thoroughly enjoyed reading this book. I found it so easy to digest and understand the charts, unlike lots of other so called experts who make it very complicated to follow.
This book contains very good advice on how to invest and it's all explained in very simple language. Everyone who wants to save for their own and their family's future should own and read a copy (I am sure we are all guilty of owning books that we will eventually get round to reading or finishing). On a separate note, I'm one of Stephen's clients and through 'shadowing' him I have seen a healthy improvement in my investments over the last 3 years.
Tony Diamond, Private Investor
Would you like to review How to Make Money in ISAs and SIPPs
Would you like a 'review copy' of How to Make Money in ISAs and SIPPs – for free – prior to its publication. If so, please click here to register your interest. Alternatively, please contact me directly Stephen@ISACO.co.uk or call 0800 170 7750.
As always, if you have any questions or thoughts on the points covered in this post, please leave a comment below or connect with us @ISACO_ on Twitter.
About ISACO
ISACO is a specialist in ISA and SIPP Investment and the pioneer of 'Shadow Investment', a simple way to grow your ISA and SIPP. Together with our clients, we have £57 million actively invested in ISAs and pensions*.

Our personal investment service allows you to look over our shoulder and buy into exactly the same funds as we are buying. These are investment funds that we personally own and so you can be assured that they are good quality. We are proud to say that by 'shadowing' us, our clients have made an annual return of 12.5% per year over the last four years** versus the FTSE 100's 7.4%.

We currently have close to 400 carefully selected clients. Most of them have over £100,000 actively invested and the majority are DIY investors such as business owners, self-employed professionals and corporate executives. We also have clients from the financial services sector such as IFAs, wealth managers and fund managers. ISACO Ltd is authorised and regulated by the Financial Conduct Authority (FCA). Our firm reference number is 525147.
* 15th November 2012: Internal estimation of total ISA and pension assets owned by ISACO Investment Team and ISACO premium clients.
** 31st December 2008 - 31st December 2012.
ISACO investment performance verified by Independent Executives Ltd.

To download our free report 'A Golden Opportunity' >>
To download our Shadow Investment brochure >>
To start your 14 day free 'no obligation' trial of Shadow Investment >>