We don't always outperform the market but we are proud that since the start of this year* we have beaten the FTSE 100 by a touch over 8%. The bar chart shows you that the FTSE 100 has so far gained 12.8% and we have returned 21.1%.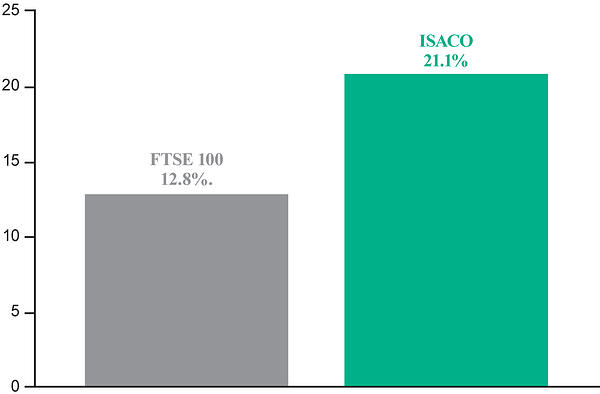 * January 1st 2013 - November 30th 2013.
ISACO investment performance verified by Independent Executives Ltd.
This information is taken from The Big Picture, to download a sample copy please just click here.

Which of our funds are in the money flow?
In our opinion, the short-term performance of a fund is very important. It's vital because we've noticed that strong funds tend to get stronger and weak funds tend to get weaker. By keeping a close eye on short-term periods, it can help you act quickly should you notice that your fund is behaving poorly. The periods of time that we like to measure are weekly, monthly and three monthly. We simply compare the returns of the funds we own versus the NASDAQ Composite and the FTSE 100. On November 28th 2013, we took a good look at how the six funds we own had been performing and this is what we discovered: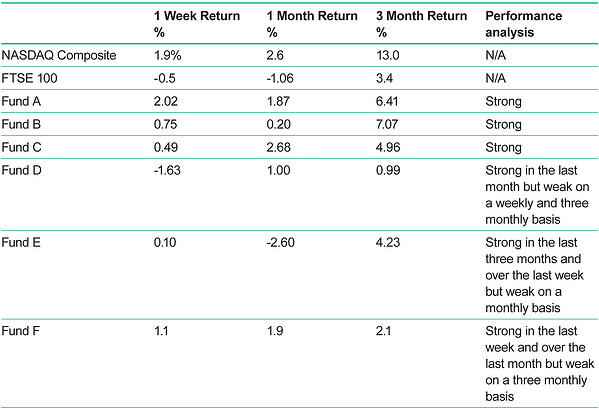 Performance data collected 28th November 2013

Fund D remains on our radar
Last month the two funds that were causing us a little discomfort were Fund F and Fund D. The good news is that, over the last four weeks, they have both beaten the FTSE 100's performance. That's good, however Fund D may have beaten the FTSE 100 but we've noticed that it has been significantly underperforming the Nikkei 225 (main Japanese index) and many other Japanese equity funds over the same period, which is not so good. We plan to monitor it very closely because of this.
Our thoughts on Japan going forward
During November, the Nikkei 225 successfully broke above 15000 (Point H), a key price level that we had reported on in last month's edition of The Big Picture. The Nikkei's next 'big challenge' is to get back above (and stay above) 15,943 (Point I), which is the highest high it has made this year. With the Nikkei is acting well, we remain bullish on Japanese equities and that means we want to be invested in them.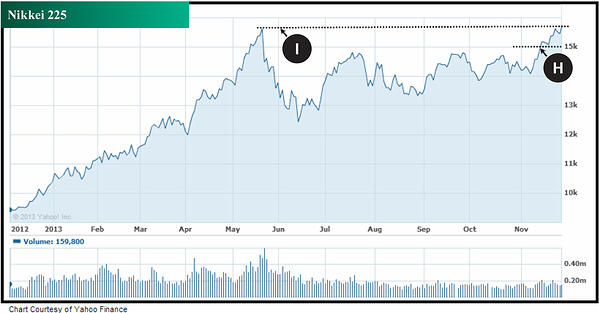 What's more, we are also happy with our current weighting in Japan but we are not 'jumping through hoops' about Fund D's performance. For now we will give it some more time to hopefully redeem itself, but on the back of its lacklustre performance since purchase we have already started to create a list of possible 'switch' candidates should it not buck up.
Our outlook: 2013-2014 and beyond
At the beginning of this year, we said that we expect over the next two years to see the FTSE 100 make a positive return of approximately 30-35%. We also said that we expect to beat the FTSE 100 and we still stand behind that statement. So far we feel that we and the market are on track for this two year goal. We are proud that right now we are sitting on a fairly respectable year to date gain of 21.1%** and right now we are just about to enter December and January, which historically have both been strong market months. Beyond the next two years, we believe we'll continue to experience solid performance from the equity markets, which means that if you are a long-term investor like us, and you stay in the game, the future is looking bright.
** ISACO performance reading taken Saturday 30th November 2013.
ISACO investment performance verified by Independent Executives Ltd.

This information is taken from The Big Picture, to download a sample copy please just click here.
As always, if you have any questions or thoughts on the points covered in this post, please leave a comment below or connect with us @ISACO_ on Twitter.
About ISACO
ISACO is a specialist in ISA and SIPP Investment and the pioneer of 'Shadow Investment', a simple way to grow your ISA and SIPP. Together with our clients, we have £57 million actively invested in ISAs and pensions***.

Our personal investment service allows you to look over our shoulder and buy into exactly the same funds as we are buying. These are investment funds that we personally own and so you can be assured that they are good quality. We are proud to say that by 'shadowing' us, our clients have made an annual return of 12.5% per year over the last four years**** versus the FTSE 100's 7.4%.

We currently have close to 400 carefully selected clients. Most of them have over £100,000 actively invested and the majority are DIY investors such as business owners, self-employed professionals and corporate executives. We also have clients from the financial services sector such as IFAs, wealth managers and fund managers. ISACO Ltd is authorised and regulated by the Financial Conduct Authority (FCA). Our firm reference number is 525147.
*** 15th November 2012: Internal estimation of total ISA and pension assets owned by ISACO Investment Team and ISACO premium clients.
**** 31st December 2008 - 31st December 2012.
ISACO investment performance verified by Independent Executives Ltd.

To download our free report 'A Golden Opportunity' >>
To download our Shadow Investment brochure >>
To start your 14 day free 'no obligation' trial of Shadow Investment >>