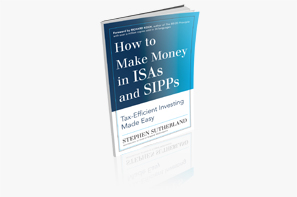 Recently we shared some reviews of my new book, How to Make Money in ISAs and SIPPs. I'm happy to say that we've received many more reviews in recent weeks and a few are below.
How to Make Money in ISAs and SIPPs will be available to buy from March 1st 2014. It's aimed at ISA and SIPP investors – or those thinking of investing in ISAs or SIPPs – who are unhappy with their investment performance and want to boost their returns.
Would you like a 'review copy' of How to Make Money in ISAs and SIPPs – for free – prior to its publication. If so, please click here to register your interest. Alternatively, please contact me directly using Stephen@ISACO.co.uk or call 0800 170 7750.
Latest reviews of How to Make Money in ISAs and SIPPs

"How to Make Money in ISAs and SIPPs is an essential, enjoyable and stimulating read for all personal investors looking to create wealth in a way that is straightforward and easy to follow.
The author writes with a clarity that is open, transparent and honest in its approach; and overall provides an invaluable lesson in understanding Trend Investing and why it is so important and financially rewarding to follow investment principles, not the herd!"
Neil Sutherland, Independent Financial Adviser and Director of Sutherland IFA Limited


"I became a client of Stephen's after reading his first book 'Liquid Millionaire' in 2010. I read a lot of the financial press and get confused by most of it. Stephen's very clear and straightforward approach seemed to me to have real integrity. I have not regretted my decision. I just wish I had found Stephen, and his brother Paul, ten years earlier!!

Practice makes perfect, and 'How to Make Money in ISAs and SIPPs' is an even better and clearer read than the first book. His style is engagingly free of jargon and is very easy to read. The book is very well structured. He explains what ISAs and SIPPS are and why they are so important. Importantly he goes into the all too often grey area of fees and how to minimise them. But most importantly he clearly explains the critical importance of when to invest in which funds AND when to exit from them.

There is no doubt that this book will greatly help a novice investor, and even experienced ones, to pick funds and time them accurately. Personally I leave all of that to Stephen and Paul and so far their track record is very impressive indeed. But whether you let them take the strain or do it yourself, read this book - it can only help. I would unequivocally give it a 5 star rating!!"
John W Cornwell, Consultant Chartered Town Planner


"I wish that I had read this book 20 years ago. It would have radically changed my saving and investing strategies and would have dramatically improved my financial position today. Stephen Sutherland's book How to Make Money in ISAs and SIPPs has opened my eyes to the major benefits of investing in ISAs and SIPPs, and in his sections on myths dispelled a number of erroneous ideas I had.
I particularly liked his informal writing style; it is almost like having a friend by your side giving you their advice. The book is packed with useful information and guides the reader how to choose suitable funds to invest and how to minimise their charges and costs. My favourite chapters were Beyond Greed and Fear because most of the content was new to me; How to Manage Your Portfolio because it identifies resources that I never knew existed and Creating an Income for Life because it has provoked me into thinking about my timescales for investment.

I also liked the fact that Stephen describes his results in both his good and bad years and how his investment approach has significantly developed and improved over the period that he has studied ISAs and SIPPs. This book is a must buy for anyone that is serious about building up wealth for their retirement, or for helping their children invest for their future."
Jeff Hall, Business Owner


"I found this book extremely informative for investors, particularly those investing in ISAs and SIPPS and for others who are trying to optimise their investment returns. It explains simply and in sufficient detail for the less knowledgeable how to take advantage of these tax efficient schemes, how to ensure you're invested in the best funds and manage your portfolio effectively and how to determine whether we're heading for a bull or bear market i.e. when to get in, stay in or get out. It also suggests how to create regular income from your investments but is not for those wanting to earn a quick buck; it takes a long term view.
Before becoming an ISACO client I read Stephen's previous book 'Liquid Millionaire' that led me to believe that 'shadow investing' for our ISAs was the way to go. I feel much better informed now particularly on selecting the best funds, how to read the markets and the different charging rates levied by financial advisors. How to use Morningstar for fund information, Investors.com for what the market is doing and various other references will improve my knowledge and get me more interested in reviewing my investments regularly.
The book has been well researched by the author and follows a logical sequence making it easy to put down and pick up again or to use as a reference point when looking for investment information. It stresses that portfolios need to be managed on a full time basis, which most private individuals can't do and so they need professional help.
I give the book a 5 star rating and recommend it to all ISACO clients and prospects, anyone that wants to improve the performance of their portfolios and financial advisors."
John Wallace, Ex-CIO of One of the World's Leading International Banks.


"Stephen Sutherland takes the lid off fund investment – offering an insightful appraisal of the opportunities ahead, and how to develop a winning formula. If you seriously want to protect and grow your wealth in a tax efficient way then this book is essential reading!. It's very well structured, and contains some really practical information – I will give it 5 stars!
Roger Allison, Sales Executive


"Stephen, thanks for producing such an excellent book. You should be rightly proud of it. It was a pleasure to read it (3 times). "How to Make Money in ISAs and SIPPs" is a MUST READ for anyone who invests money in funds. The book takes you from the basics of understanding the ISA and SIPP wrapper through to the all important aspect of how to pick good funds and manage your portfolio. It is written in an easy to follow, logical order which covers the subject in a very comprehensive way, catering for anyone less familiar with the subject right through to the more seasoned investor.
The process of picking good funds is covered in detail in chapter 6 and the information in this chapter alone is worth the price of the book. There are many graphical examples included in the book which aids in the understanding of the concepts discussed, including step by step screen shots detailing how to check a fund's performance and characteristics. I was delighted to see that Stephen also covered the psychology of investing within chapter 9. In my opinion, as a more seasoned investor, this is one of the critical aspects that an investor must understand if they are going to be successful in the markets.
Stephen's enthusiasm for the markets and the depth of his knowledge on the subject are clear throughout the book. His positive attitude to life shines through right from the outset and this combination of knowledge and enthusiasm has produced a book that is easy to read and understand whether you are a seasoned participant in the market or completely new to the subject. I'd go as far as to say turning to the next page is compelling. That's not something that can be said for many books on finance. I also think this book should also be compulsory reading for all senior secondary school children as they set out into the world. I certainly wish it had been around when I was at that stage.
The book should at the very least be on everybody's investment bookshelf but it would serve you better being on your desk. It's an excellent book that I will be referring to over and over again. 5 Stars."
Ray Hughes Entrepreneur and Private Investor


"I am not a financial expert and have been using Stephen's shadow investment service for a few years. Having read this book, I am now even more confident that I am following the correct strategy. Stephen's book is easy to read and he uses simple terms to clearly explain concepts that could be overwhelming.
The book follows a logical sequence and I discovered that he answered my questions as I was asking them. I now understand what Stephen bases his investment decisions on, and I also understand where I went wrong in the past and why. Stephen is clearly passionate about his subject, but at the same time grounded enough to give me the confidence that shadowing his decisions will help me achieve my long-term financial objectives."
Elsabe Smit, Seasoned Motivation and Development Professional www.elsabesmit.com


"This is a well written user friendly book. The concepts are explained in plain English so that even people with no financial training, such as me, can understand the concepts and philosophy. It is also very interesting to read Stephen's own success story and how he got into this "business" as a motivation to us all. It is not a get rich quick scheme he describes but what he outlines does appear to work to increase one's wealth given time, diligence and the power of SIPPs and ISAs."
Professor Sanjiv Jari, BSc(Hons), MBChB, FRCS[Eng], FRCS[Tr & Orth]
Consultant Knee, Lower Limb & Orthopaedic Sports Medicine Surgeon
www.thekneedoc.co.uk



"How to Make Money in ISA's & SIPP's by Stephen Sutherland is a book explaining how to do exactly as the title suggests. I agreed to read & review the book as a client of ISACO & I must admit I was not looking forward to it as I always find this sort of book quite boring to read.
I am an avid investor, always have been, but I do find reading about the subject quite dull which is probably why I have never been any good at it! I actually read this book in just three evenings, I found it very easy to read & I didn't want to put it down. I found the chapter for beginners very informative and easy to understand and this ease of reading carried on throughout the rest of the book, where graphs & illustrations helped to explain things in a very straightforward & unstuffy manner.
I also found the sincerity of the author coming through, at one point apologising for not guiding his clients into a cash park prior to the stock market's plummet in 2008. I would thoroughly recommend this book to investors old, new & those considering becoming clients of ISACO. I award the book full marks, five stars out of five."
Paul Parkin, Business Owner


"Right from the start this book delivers straightforward, easy to follow advice for increasing your wealth through ISA and SIPP investments. Written in plain English, Stephen shares vital knowledge for beginners as well as experienced investors and touches on the psychology of market behaviour, an area of investment often ignored by beginners.
I particularly enjoyed the step by step guide on how to go about being a DIY investor showing how to find the right funds for your portfolio, risk assessment, when to buy and when to sell. All in all an invaluable guide to investment success without paying tax, which I can't wait to implement with some hard earned savings."
Clive Andrews, Service Manager
Would you like to review How to Make Money in ISAs and SIPPs
Don't forget, to get a 'review copy' of How to Make Money in ISAs and SIPPs – for free – prior to its publication, please click here to register your interest. Alternatively, please contact me directly using Stephen@ISACO.co.uk or call 0800 170 7750.
As always, if you have any questions or thoughts on the points covered in this post, please leave a comment below or connect with us @ISACO_ on Twitter.
About ISACO
ISACO is a specialist in ISA and SIPP Investment and the pioneer of 'Shadow Investment', a simple way to grow your ISA and SIPP. Together with our clients, we have £57 million actively invested in ISAs and pensions*.

Our personal investment service allows you to look over our shoulder and buy into exactly the same funds as we are buying. These are investment funds that we personally own and so you can be assured that they are good quality. We are proud to say that by 'shadowing' us, our clients have made an annual return of 12.5% per year over the last four years** versus the FTSE 100's 7.4%.

We currently have close to 400 carefully selected clients. Most of them have over £100,000 actively invested and the majority are DIY investors such as business owners, self-employed professionals and corporate executives. We also have clients from the financial services sector such as IFAs, wealth managers and fund managers. ISACO Ltd is authorised and regulated by the Financial Conduct Authority (FCA). Our firm reference number is 525147.
* 15th November 2012: Internal estimation of total ISA and pension assets owned by ISACO Investment Team and ISACO premium clients.
** 31st December 2008 - 31st December 2012.
ISACO investment performance verified by Independent Executives Ltd.

To download our free report 'A Golden Opportunity' >>
To download our Shadow Investment brochure >>
To start your 14 day free 'no obligation' trial of Shadow Investment >>