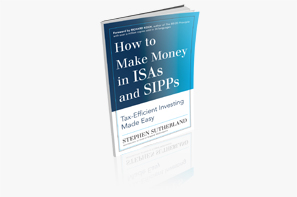 Happy new year from everyone here at ISACO.
The reviews continue to come in for How to Make Money in ISAs and SIPPs and we're happy to share more of these '5 out of 5 star' reviews with you.
How to Make Money in ISAs and SIPPs will be available to buy from March 1st this year. It's aimed at ISA and SIPP investors – or those thinking of investing in ISAs or SIPPs – who are unhappy with their investment performance and want to boost their returns.
Would you like join the early reviewers of the book? To request a 'review copy' of How to Make Money in ISAs and SIPPs – for free – prior to its publication, please click here to register your interest. Alternatively, please contact me directly using Stephen@ISACO.co.uk or call 0800 170 7750.
5 out of 5 star reviews

"I read How to Make Money in ISAs and SIPPs cover to cover and I thought it was absolutely excellent, certainly worth 5 stars. In my view anyone managing their own ISAs and SIPPs should have a copy to hand. Even experienced investors, not only those investing in ISAs and SIPPs, would do well to have a copy as I'm sure they will find in it many useful nuggets of information either new to them or ones they had forgotten about. Stephen must have put an enormous amount of time and effort into it and the result is a really valuable addition to my investment library as I am sure it will be for many others."
John Clark, Business Owner


"The book is absolutely top class and the key things for me are as follows:
The Performance Quadrant and its understanding of what you can control and what you cannot.
The impact of charges, both present and future, upon the profitability of the investment.
Identifying Fund Managers who have outperformed in both the long and short terms.
That investing conservatively is high risk not low risk in the long term.
The depth of knowledge that Morningstar requires to understand the fund choices available and the conclusion that I should let ISACO do the work instead."
Derek Shears, Private Investor


"How to Make Money in ISAs and SIPPs is a basic to an in-depth understanding of how ISAs & SIPPs can allow the average person to accumulate a tax-free fund, which can be used to provide additional income for retirement or the finer things in life. I personally read Stephen Sutherland's book 'Liquid Millionaire' in 2010 and decided to shadow invest with Stephen & Paul and have luckily not looked back since.
Having never thought about share funds before, but having a Cash ISA, it was actually the best thing I could have done. Leaving your money to be managed by a fund manager and receiving a statement once a year to tell you how it has performed is, in all honesty, madness. The books that Stephen has written make it so easy to manage you own funds or if you don't fancy this, simply shadow follow his every move.
Having now a little more understanding of ISAs & SIPPs, it made very easy but interesting reading.
The key points of interest to me personally were:
Hidden charges & fees
How fund supermarkets make it simple, easy and cheap to buy & sell funds
The benefits from investing in funds and spreading the risk.
Morningstar is a must with so much invaluable information at your fingertips
The ability to move your money out of funds and into cash when the market is going south.
Finally, anybody who has money invested in an ISA or SIPP should read this book. It makes easy and excellent reading for the up and coming novice investor. I would rate it 5 Star reading."
Barry Young, Estimating Engineer


"Stephen has written the bible for ISA/SIPP investors - a truly comprehensive guide for those wishing to take control of their financial security. The book is easy to read and contains a wealth of knowledge and expert guidance on all aspects of investment success. There are gems of little understood areas such as the impact of charges on ISA/SIPP performance. This is the sort of stuff that a conventional IFA's won't reveal to you. The book is essential bedtime reading for anyone aiming to maximise returns in their pension".
Dominic Bannister, Physiotherapist


"One day I realised that to secure my future. I would have to learn more about investing some of my hard earned money. I read several books and attended courses but found it difficult to glean much. I didn't learn much from a few financial investment advisors I met and considerably less from some bank advisors. As for most of the graphs they produced whilst advising me, I was more confused than ever.
Then along came Stephen Sutherland and his Company ISACO with his book 'Liquid Millionaire' and then his newer book 'How to Make Money on ISAs and SIPPs' with a sub title of 'Tax Efficient Investment Made Easy'. Stephen's books were a breath of fresh air to me – full of knowledge, detail and his expertise, in fact a work of art in explaining to you how to improve your returns on every pound you invest and also how you can avoid some of the high and hidden charges that can reduce your returns. A huge bonus is how Stephen writes in such an easily understood and interesting style.
The documented proof of his record in helping others to improve their investments made me realise I had found the mentor I needed to help secure my financial goals. Stephen's book allows you to be a 'fly on the wall - look over his shoulder' at exactly how he selects his investments. My advice to you is to read the book (I give it a 5 Star rating) then take action on Stephen's advice. You might also decide to become a personal Client as I did, which allows me to simply follow the decisions he makes, it's so easy. Another really great thing I like, he keeps all his clients informed of everything he is doing investment wise every single day, which takes just 3 to 4 minutes to read.
If you do read the book it could change your life and your financial success – as it has mine and continues to do so."
Bob Sweeney, Private Investor.


"Having read Stephen's earlier book 'Liquid Millionaire', which in itself was a great, informative read, I was expecting much of the same with this new book, just minor updates to be honest.
However, I am greatly surprised and pleased by the new information within this book – particularly on Self Invested Personal Pensions or SIPPs. With all the doom and gloom, negative press about the financial markets of late it is a must read, as it gives hope to those wanting to take charge of their financial future, with the support of real honest, no nonsense people such as Stephen and Paul Sutherland and the whole team at ISACO. I would highly encourage all readers to focus on Chapter 4 - 'Charges, Fees and Fund Supermarkets' - this is a real eye opener!
Most of you reading this review, like me, probably have a company pension and you have to watch it ride the markets in both directions, making very small gains and with worrying future projections based on typical 3% realistic mid level growth. It's disheartening and I certainly felt concerned every year reviewing my pension statement. A huge part of this is due to hidden fees, trail commissions, high fund fees and limited fund choices. My own company pension had a choice of only 12 funds with fees ranging from 2% to as high as 5.5%!
Another aspect of this poor performance is your pension being locked into the market. If we have a global bad spell, such as in 2008 and 2011, so do your investments such as pensions. Having read the book and then armed with the knowledge to ask questions about my own fees etc, I was shocked at how much they were and how much I had lost over the last 14 years due to the compounding effect from the fees. So I decided to take action and contact ISACO directly to learn more and the rest as they say is history.
What most people don't know is that a SIPP not only enables you to choose (as you can with your stocks and shares ISAs) from 1000s of funds with very low fees, you actually have the choice to move your investment to a 'Cash Park' so if the global economy is bearish or going down as in 2008, your investment is safe in cash even earning some small interest! As I am no expert in picking the right fund and a fund with low or no fees, or the actual timing to switch funds, I decided to simply use the premium shadow service of ISACO who have achieved nearly 30% annual growth (independently confirmed).
It really is a no brainer - the money I unknowingly spent on fees with my company pension more than pays for this service - my SIPP pension pot as well my stocks and shares ISAs have gained considerably since joining the service. If you are worried about paperwork and form filling, don't be - this is all taken care of by ISACO. Together with the Daily Market Updates and monthly The Big Picture I receive by email, the simple fund platform that I use to view my investments on my smart phone and the unlimited support from ISACO, I can honestly say I am not worried about my financial future as I feel I am in control. I am more than happy with my experience with ISACO (I consider Stephen and Paul as my friends) and I am happy to personally discuss this with anyone such is my belief in them. The book and service is certainly 5 stars."
Abdul Khan. Electrical Engineer


"UK investors read this book! How to Make Money in ISAs and SIPPs by Stephen Sutherland should be required reading for any new investor in the UK.
It contains a mix of investment philosophy, principles and practical advice that you simply won't get in most other books. Most importantly it comes from a man who "practices what he preaches". He shares his journey with us including the mistakes he has made and the lessons he has learned. This is invaluable as the investor's walk is a difficult one, but Stephen removes the rose tinted glasses from the reader, whilst leaving us with a sense of hope for the future and just as importantly giving clear investment strategies.
His approach of using ISAs and SIPPs is invaluable, potentially saving the reader who applies these strategies thousands of pounds. I particularly enjoyed chapter 9 on investor behaviour, seeing my past self in the descriptions of how we can act irrationally when investing. Chapter 7 on fund timing would be a real revelation to most new investors, guarding against rookie mistakes that derail us before we even get going. I thoroughly recommend this book to anyone in the UK looking for practical, well rounded investment advice."
Andrew Tait, Business Owner


"This excellent book is a must-read for both those new to investing and those more experienced in the subject. I read it from cover to cover and thoroughly enjoyed confirming what I already knew, but also adding so much more to my previous knowledge. The book is well structured and Stephen has a relaxed and easy way of explaining what can be a difficult subject.
I liked the chapters on timing the buys and exits and also managing your portfolio and creating an income for life. Some chapters - the one on charges and fees – I had to read twice in order to take in all the new information that was presented. There were so many golden nuggets I would definitely give it a 5 star rating.
If you want financial security for you and your family then I recommend this book to you. It might just change your life."
Melvyn Rosenthal, Retired Dentist and Property Investor


"This is an excellent book. You wouldn't think a book about investing could be a good read but this actually is! Stephen has an easy style of writing that makes understanding potentially complex issues easy.
He covers difficult subjects like which funds to choose and importantly when to buy and sell in a way that is uncomplicated. If you have wondered how a logically minded person should invest then you must read this book – I thoroughly recommend it and give it five stars!"
Colin Bennett, Safety Consultant

Would you like to review How to Make Money in ISAs and SIPPs
Don't forget, to get a 'review copy' of How to Make Money in ISAs and SIPPs – for free – prior to its publication, please click here to register your interest. Alternatively, please contact me directly using Stephen@ISACO.co.uk or call 0800 170 7750.
As always, if you have any questions or thoughts on the points covered in this post, please leave a comment below or connect with us @ISACO_ on Twitter.
About ISACO
ISACO is a specialist in ISA and SIPP Investment and the pioneer of 'Shadow Investment', a simple way to grow your ISA and SIPP. Together with our clients, we have £57 million actively invested in ISAs and pensions*.

Our personal investment service allows you to look over our shoulder and buy into exactly the same funds as we are buying. These are investment funds that we personally own and so you can be assured that they are good quality. We are proud to say that by 'shadowing' us, our clients have made an annual return of 12.5% per year over the last four years** versus the FTSE 100's 7.4%.

We currently have close to 400 carefully selected clients. Most of them have over £100,000 actively invested and the majority are DIY investors such as business owners, self-employed professionals and corporate executives. We also have clients from the financial services sector such as IFAs, wealth managers and fund managers. ISACO Ltd is authorised and regulated by the Financial Conduct Authority (FCA). Our firm reference number is 525147.
* 15th November 2012: Internal estimation of total ISA and pension assets owned by ISACO Investment Team and ISACO premium clients.
** 31st December 2008 - 31st December 2012.
ISACO investment performance verified by Independent Executives Ltd.

To download our free report 'A Golden Opportunity' >>
To download our Shadow Investment brochure >>
To start your 14 day free 'no obligation' trial of Shadow Investment >>