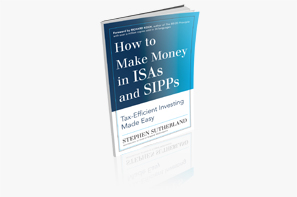 Last week, we shared more reviews of How to Make Money in ISAs and SIPPs. Since then the book has received even more postive reviews and kind comments.
Would you like join these early reviewers of the book? To request a 'review copy' of How to Make Money in ISAs and SIPPs – for free – prior to its publication, please click here to register your interest. Alternatively, please contact me directly using Stephen@ISACO.co.uk or call 0800 170 7750.
How to Make Money in ISAs and SIPPs will be available to buy from March 1st 2014. It's aimed at ISA and SIPP investors – or those thinking of investing in ISAs or SIPPs – who are unhappy with their investment performance and want to boost their returns.
What early reviewers have had to say

"One of the great maxims of success in any field is 'If you want to be successful in a particular field, find other people who have a track record of success in that field and follow their methods'. This is the concept that Stephen Sutherland has not only used himself to establish a fifteen-year track record of successful financial investing, but it is also the basis of his book. He invites the reader to follow this success maxim by presenting the methods that have ensured his own financial success. He does this by laying out, in detail and in sequence, the facets that an investor would need to construct and manage a financial portfolio. This, when coupled with the tax-efficient vehicles of ISAs and SIPPs, give the reader an unparalleled opportunity to take maximum advantage of the generosity of the taxman and the stock market.
The book is basically in two halves: the first half aimed at the relative newcomer to investing who is given a thorough grounding in basic concepts. The second half is aimed at those who have mastered the fundamentals and are ready to reap the rewards of following a disciplined approach to investing.
Yes, the book requires assiduous reading (probably several times) and attention to detail, but the end result will be well worth the effort. I only wish this book had been written twenty years ago! I will certainly be buying copies for my (adult) children. Star Rating: *****"
David Parsons, Private Investor


"Having been a client and 'shadow investor' of Stephen Sutherland's company, I can state that to the best of my knowledge, the principles outlined in this book are those he adheres to in his daily market analysis. Anyone who is in the fortunate situation of being able to start investing in a SIPP and/or ISAs before they retire could not find better advice than this book offers.

Unfortunately, I chanced upon his 'Liquid Millionaire' book late in life, but having 'shadowed' his personal investments, I am pleased to see constant double-digit figures in my ISA's Annual Percentage Profit column.

This latest book is, in most part, easy to follow and understand, is well illustrated with screenshots etc and assuming you had the 10,000 hours to commit to studying the subject (as recommended for learning most new skills) would result in the required outcome of financial benefits. Failing that, you could do a lot worse than taking up the author's offer to 'shadow' him.
Hoping that the book achieves the success it deserves and that the royalties donated to Christies accrue accordingly. I give this book a 5* rating."

Jim Law, Private Investor


"I give How to Make Money in ISAs and SIPPs five stars! It is a great addition to Stephen's previous book, Liquid Millionaire. I like Stephen's simple yet detailed approach to selecting funds through an ISA and SIPP, the book is a must read if you are looking to gain smarter returns.
Stephen's strategy and the (HIRE CAR) formula that ISACO use will help you build a quality balanced investment portfolio for life! Not many people are aware of such advantages when investing through ISAs and SIPPs, yet this book helps separate the wheat from the chaff.
Shadowing 800 lb gorilla investors is something I've always wanted to learn more about and Stephen explains exactly how you can follow their lead. I personally was not aware of the wide investment streams SIPPs have to offer and also the fact that SIPPs allow you to gain a tax free lump sum when you retire.
The Performance Quadrant explained in the book was amazing! The material within this book is easy to understand and Stephen will take you through it step by step. If you're looking to build tax free wealth then this book is for you."
Matthew Dorrington, Private Investor


"How to Make Money in ISAs and SIPPs is an extensive tableau of the ISA and SIPP investment world. Of course as an ISACO 'shadow' investor, it's all pretty easy for me in practice, in that I just do what you do and try to maximise my annual ISA and SIPP contributions - easy really! This book is a welcome and timely refresh of Stephen's comprehensive guide to the workings, tactics and potential pitfalls for investors who are active in the ISA and SIPP market.

The book is well structured in a thoughtful and logical way, with the workings of the various market functions and dynamics explained in clear terms that are easily absorbed by a non-professional, as jargon is avoided or unpicked. How to Make Money in ISAs and SIPPs highlights the impact that fund charges can have on portfolio returns over an extended period, which I found was particularly valuable and something that is now very much on my radar as I consider the investment options and market player offerings available.

Credible and relevant personal insights woven throughout the book ensure that it has a relaxed narrative feel, avoiding any feeling of dry, academic text book material. I'm happy to give it a 5 star rating in terms of delivering the intended business outcome – an easy to access, compete guide to helping individuals taking control of their financial futures by systematically exploiting the growth and income potential offered by investing in ISAs and SIPPS."
Simon Rollason, Management Consultant


"I read Stephen Sutherland's previous book, 'Liquid Millionaire' about 4 years ago and found it to be excellent. This book is an updated version of 'Liquid Millionaire', suitable for up to 2013.
I have found this book useful as a refresher to relearn about ISAs and SIPPs. On a personal note I can find these subjects very tedious as not coming from a financial background, but Stephen Sutherland explains the subject in a way I find very easy to understand and makes the subjects very interesting.
I would recommend this book as a reference to anyone who wants to find out how ISAs work and anyone who wants to manage their own SIPP. This book would be my first point of reference. If I do have any criticisms about the book, the only thing I would find useful to have is an appendix for all the abbreviations at the back of the book, which I can refer to whilst reading the book. Well recommended."
Simon Berman, Biomedical Scientist


"I enjoyed the book immensely and found it a mine of important information, which will be invaluable to self investors whatever their experience.
I have recently retired and if the information contained in the book had been available to me some 30 odd years ago I'm sure that my ISA and SIPP would be larger in value than at present, having for many years relied on the usual savings schemes offered by banks and societies.
As mentioned in the book, there is a lot of questions that should be asked of IFAs and other establishments offerings products before choices are made. The uninformed I believe trust the industry too much and to their detriment. There is a lot of information which Stephen uncovers that most of us would never have known about, which is of great importance when adding up the costs of saving.
I first heard of Stephen on the internet and read his first book 'Liquid Millionaire'. I became a client of ISACO shortly after and have no regrets. This book is written in no nonsense plain English, which is refreshing, easy to read and understand. Stephen is certainly passionate about his favourite subject and being self taught has left no stone unturned. You find yourself caught up in his enthusiasm.
This book also contains all the information you need to educate yourself and make the correct decisions for your saving plans present and future. In my honest opinion it is the reference bible for the self investor and I highly recommend it to you all. Top score on a scale of 1 to 5 a definite 5 star. Buy it, you won't regret your decision."
Andy Jackson, Private Investor


"I bought Stephen's first book 'Liquid Millionaire' in early 2010. By the summer I was a client, I loved it so much. This book pretty much follows on and expands on the ideas in the first book.
I particularly liked the section on fees and charges, as this is a complex, difficult to understand area and it is explained in a clear and concise way for the non-financial person. Stephen shows how much of our own money is being quietly eaten up by them and how the financial industry is changing to become more transparent.
I would recommend buying both books and reading them together. I used to invest in ISAs each year just from newspaper tips on best funds. I had no strategy, I didn't know what, or when to buy or sell. This book will give you a strategy and many tips on other places to find financial help. I'm so glad I discovered ISACO and Stephen's books. They have changed my financial life!"
Ian C. Oakley, Locum Community Pharmacist


"Another motivational and educational read from Stephen Sutherland. He has used the information included in his previous book 'Liquid Millionaire' but expanded on this greatly.
Even experienced investors should read the whole book. I want to pick out 2 chapters that I found very enlightening. Chapter 4 "Charges, Fees and Fund Supermarkets" is an eye opener and has information all investors should be aware of (don't assume financial institutions are on your side!). I also found chapter 10 "How to Manage Your Portfolio" to be very useful and worth reading over. The stress is on actively managing your portfolio.
Even though I have read 'Liquid Millionaire' more than once, the new book includes Stephen's latest research and ideas and has expanded my knowledge about successful investment strategy. Every investor should read this book."
Ian Dyson, IT Analyst

Would you like to review How to Make Money in ISAs and SIPPs
Don't forget, to get a 'review copy' of How to Make Money in ISAs and SIPPs – for free – prior to its publication, please click here to register your interest. Alternatively, please contact me directly using Stephen@ISACO.co.uk or call 0800 170 7750.
As always, if you have any questions or thoughts on the points covered in this post, please leave a comment below or connect with us @ISACO_ on Twitter.
Finally, we'd like to thank you for reading our blog over the last year. From everyone here at ISACO, have a very merry Christmas.

About ISACO
ISACO is a specialist in ISA and SIPP Investment and the pioneer of 'Shadow Investment', a simple way to grow your ISA and SIPP. Together with our clients, we have £57 million actively invested in ISAs and pensions*.

Our personal investment service allows you to look over our shoulder and buy into exactly the same funds as we are buying. These are investment funds that we personally own and so you can be assured that they are good quality. We are proud to say that by 'shadowing' us, our clients have made an annual return of 12.5% per year over the last four years** versus the FTSE 100's 7.4%.

We currently have close to 400 carefully selected clients. Most of them have over £100,000 actively invested and the majority are DIY investors such as business owners, self-employed professionals and corporate executives. We also have clients from the financial services sector such as IFAs, wealth managers and fund managers. ISACO Ltd is authorised and regulated by the Financial Conduct Authority (FCA). Our firm reference number is 525147.
* 15th November 2012: Internal estimation of total ISA and pension assets owned by ISACO Investment Team and ISACO premium clients.
** 31st December 2008 - 31st December 2012.
ISACO investment performance verified by Independent Executives Ltd.

To download our free report 'A Golden Opportunity' >>
To download our Shadow Investment brochure >>
To start your 14 day free 'no obligation' trial of Shadow Investment >>