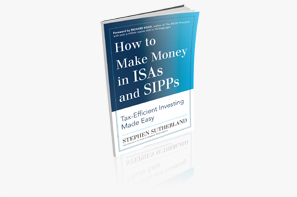 My new book How to Make Money in ISAs and SIPPs will be available to buy from March 1st. Over the last few weeks we've shared some of the reviews the book has received and in this post we'll add the thoughts of three of our Premium Clients.
How to Make Money in ISAs and SIPPs is aimed at ISA and SIPP investors – or those thinking of investing in ISAs or SIPPs – who are unhappy with their investment performance and want to boost their returns.
Would you like join these early reviewers of the book? To request a 'review copy' – for free – prior to its publication, please click here to register your interest. Alternatively, please contact me directly using Stephen@ISACO.co.uk or call 0800 170 7750.
What our clients are saying

"This is a book that is invaluable and should be available in senior schools from the Ministry of Education. It should certainly be read by teachers of sixth form pupils and recommended beyond for those entering the world of employment.

To quote Richard Koch: 'Few people take objectives really seriously….those who achieve the most are selective as well as determined'. The full understanding of money and appreciation of the best way to put it to work for us to provide a better life that we all seek can be found in this book.

It states that SIPPs and ISAs are 'two of the UK's best kept secrets' – but actually they aren't secrets at all. Despite being available for years the majority of people, including myself, have criminally failed to recognise the opportunity they provide and it shows we have been too complacent.

The majority of investors have always followed the well worn path of seeking the advice of professional advisors but in recent years we have been shown that many professionals fail to beat market indices. Furthermore, we have learned that much of our investments are swallowed up by fees that have left our pensions bereft of expected profits.

Now all that can be changed by this book.

Tax-efficient investing is for everybody – with no exceptions – and this book will show you the 'What, How and When' in the simplest of terms without any jargon. Put simply, it is a must-read for anyone who desires to improve their own financial lot in this life.

Had I read and acted on this book as a young man it would have made my life very much richer and fulfilling today. I urge you to read this book and, most important of all, act on its advice."

Tim Spring, Private Investor


"For me, an investor using ISACO's shadow investment strategy, this book is the A-Z of how Stephen selects the best funds to invest in. They outline their financial goals and explain in detail how best to achieve them; the book considers the most efficient way to invest in the market; using ISA and SIPP wrappers, and minimising fees.

Stephen also explains that timing is key, when to buy, when to switch or when to sit it out on the side lines in cash; all critical decisions to help you hold on to your gains. Market direction and getting in sync with the big players are two major market indicators that Stephen reviews ever day using analytical data to make investment decisions. The best part of this book for me is it's a simple read that explains a complex financial environment. I would recommend this book to anyone thinking about investing over the long term to secure their financial future."

John Forrest, Operations Manager


"Stephen Sutherland's book How to Make Money in ISAs and SIPPs does exactly what it says on the tin. Stephen cuts through the jargon to make investment understandable. With a demanding full-time job, I don't have time to make detailed market assessments and need a fast-track approach like Stephen's. It works for me. Rating: *****"
Neal McCrea, IT Sales Professional and Successful ISA/SIPP investor

Would you like to review How to Make Money in ISAs and SIPPs
Don't forget, to get a 'review copy' of How to Make Money in ISAs and SIPPs – for free – prior to its publication, please click here to register your interest. Alternatively, please contact me directly using Stephen@ISACO.co.uk or call 0800 170 7750.
As always, if you have any questions or thoughts on the points covered in this post, please leave a comment below or connect with us @ISACO_ on Twitter.
About ISACO
ISACO specialises in ISA and SIPP Investment and is the pioneer of 'Shadow Investment'; an easy way to grow your ISA and SIPP at low cost. Together with our clients, we have an estimated £57 million actively invested in ISAs and pensions*. Clients like us because we have a great track record of 'beating' the FTSE 100**. Over the last 16 years, we've outperformed the Footsie by 60.2% and over the last 5 years, we've averaged 14.5% each year versus the FTSE 100's 8.8%. You can find us at www.ISACO.co.uk.
What is Shadow Investment?
Picking the right fund for your ISA and SIPP is not exactly the easiest job in the world. And knowing 'when' to buy and 'when' to exit is even more difficult! Our 'Shadow Investment' Service is here to help. Our service allows you to look over our shoulder and buy the same funds that we are buying.
When we are thinking of buying a fund, we alert you so that you have the opportunity to buy it on the same day that we buy it. We also tell you about when we are planning to exit the fund. You control your investment account, not us. You can start small and invest as little or as much money as you like.
By knowing what we are buying, when we are buying and when we are exiting, throughout the year you can mirror our movements and in effect replicate our trades. This means you have the opportunity to benefit from exactly the same investment returns that we get. Our investment aims are 10–12% per year.
We are totally independent, fully transparent and FCA compliant. We're warm, friendly and highly responsive and it's a very personal service that gives you direct access to the Sutherland brothers; ISACO's two founders.
Who are ISACO's clients?
Clients who benefit most from our service have over £250,000 actively invested and the majority of them are wealthy retirees, business owners, self-employed professionals and corporate executives. We also have clients from the financial services sector, such as IFAs and wealth managers.
Do you have questions?
To have all your questions answered, call 0800 170 7750 or email us at: info@ISACO.co.uk.
*November 15th 2012: Internal estimation of total ISA and pension assets owned by ISACO Investment Team and ISACO premium clients.
**Long-term performance: December 31st 1997 - December 31st 2013 ISACO 91.3%, FTSE 100 31.1%. 5 year performance: December 31st 2008 - December 31st 2013. ISACO Investment performance verified by Independent Executives Ltd.

To download our free report 'A Golden Opportunity' >>
To download our Shadow Investment brochure >>
To start your 14 day free 'no obligation' trial of Shadow Investment >>