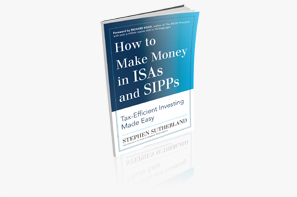 My new book How to Make Money in ISAs and SIPPs will be available to buy in just over 3 weeks time. Many people have kindly reviewed the book over recent weeks and in this post we'll look at the thoughts of experts from across the financial sector.
How to Make Money in ISAs and SIPPs is aimed at ISA and SIPP investors – or those thinking of investing in ISAs or SIPPs – who are unhappy with their investment performance and want to boost their returns.
Would you like to join these early reviewers of the book? To download a 'review copy' – for free – prior to its publication, please just click here.
Financial experts' views
"What a wonderful book. The arguments regarding investing via ISAs and SIPPs are well argued and fascinating."

Alan Miller, SCM Private Chief Investment Officer


"A very readable book dispelling a lot of myths that stand between investors and financial security. This book is particularly suitable for beginners, the people who know little about investing but who stand to gain most. It is set out logically so that you progress seamlessly from one topic to the next, learning all the way.

Rodney Hobson, bestselling author, Shares Made Simple, The Dividend Investor, How to Build a Share Portfolio, Understanding Company News and Small Companies, Big Profits


"With his newest book, Stephen Sutherland is ready to spread the wealth! Having realized the power of the stock market in his own portfolio as well as his clients', Sutherland takes the time to reveal some of his 'secrets' for choosing the market's best funds.

I found this book incredibly easy to read and understand. Sutherland spends time on the concepts that matter. For anyone looking to take a more active role in their investing, How to Make Money in ISAs and SIPPs is a great resource - and an easy read. It walks you through the benefits of the UK's two tax-efficient accounts before revealing some actionable strategies you can use to unlock the power of the market.

Your brain is often the enemy of your returns, and I'm glad Sutherland spent time identifying some of the behavioural shortcomings investors face. Make no mistake: Buy-and-hold investing is not dead! Even though Sutherland's approach is more technical than what we preach at The Motley Fool, he values consistency, performance, and tenure in management teams - and we Fools can't argue with that!"

Jill Ralph, Managing Director, The Motley Fool UK


"At last a common-sense easy to understand book that proves you don't need to have an MBA or be a financial whizz kid to build a healthy retirement pot. And you can do it all using legitimate tax breaks in the form of SIPPs and ISAs that the government and HMRC fully approve of. Stephen estimates he has spent over 20,000 hours perfecting his investment technique, but his book allows you to learn many of his simple skills in the space of a few hours.

This book is a worthwhile read for the new or fairly experienced private investor – and maybe even a few so-called professional investors. You don't have to want or believe you can be a millionaire from reading it, but it will help you take control of your own savings and make better investment decisions. This book could be the best investment you've ever made."
Lawrence Gosling, founding editor of Investment Week.

"How to Make Money in ISAs and SIPPs is exactly what every modern individual needs to know about investing!
As a successful businessman in my own field of dentistry and having sold two companies in the past eighteen months for 7 figures each, you would think that I would have a firm grasp on the best way to invest my hard earned money. Unfortunately, you would be wrong! When it came to ISAs and SIPPs it literally seemed like a different world, where everyone talked in code and I would often feel more confused after a session with my previous financial advisor than when I had started.

How to Make Money in ISAs and SIPPs has given me a truly detailed insight into this mythical world and has explained everything in a common sense way. It details every aspect I could possibly have wanted, explaining in layman's terms. It was so concise and simple to understand that everyone from a novice investor to a sophisticated one would read it with ease.

Stephen's way of breaking down the financial world's barriers is refreshing and insightful, and being an avid reader of investment/lifestyle books I feel this is a MUST READ!

The table explaining the investment amounts/returns to a couple who had invested in ISA's from the beginning was a lightbulb moment for me, and convinced me that this style of investment was for me. Coupled with the fact that as a busy individual I could not put aside the time to research the markets/funds, the ability to have someone knowledgeable, trustworthy and helpful to contact is fantastic!

This book should be on the essential reading list of every adult, whether interested in investing or not. Once they had read the book, they will have the essential tools needed to understand ISAs and SIPPs and will have a new found enthusiasm to apply this knowledge to improve their lives! It takes the power away from the financial advisors and puts it back into the hands of the individual.

My only negative comment on the book would be how each chapter tries to "hook" you into the next chapter. It almost reads like a series of articles in a monthly magazine. These are not needed. The book is giving you so much easily digested knowledge that you cannot put it down! No one will read a chapter and put it down for a few weeks. Once you start reading you want to read on, and on, and on!

This book gets 5 out of 5 and goes alongside Rich Dad, Poor Dad in being one of the only books to instantaneously change the way I view a topic! Well done Stephen for all your hard work!"
Dr Lance Knight BDS, Founder of Ultimate Smile Spa and Instore Dental

"I'm not sure what's controversial about this. Make as much money as you can in the market, and pay as little of it as possible to the tax man. If you blow the last part, you might as well have blown the first part. So, wrap your high-performing portfolio in tax protection with the ideas in this book."
Jason Kelly, bestselling author of The Neatest Little Guide to Stock Market Investing

"A thorough and very useful guide to investing in ISAs and SIPPs, and well timed. There are now a huge number of 'orphan investors' without an IFA as a direct result of RDR, and the information provided in this book gives them much needed support. Easy to read and follow, and put into context throughout. The information on charges is particularly useful."
Josh Ausden, Editor, FE Trustnet

Would you like to review How to Make Money in ISAs and SIPPs
Don't forget, to get a 'review copy' of How to Make Money in ISAs and SIPPs – for free – prior to its publication, please click here.
As always, if you have any questions or thoughts on the points covered in this post, please leave a comment below or connect with us @ISACO_ on Twitter.
About ISACO
ISACO specialises in ISA and SIPP Investment and is the pioneer of 'Shadow Investment'; an easy way to grow your ISA and SIPP at low cost. Together with our clients, we have an estimated £57 million actively invested in ISAs and pensions*. Clients like us because we have a great track record of 'beating' the FTSE 100**. Over the last 16 years, we've outperformed the Footsie by 60.2% and over the last 5 years, we've averaged 14.5% each year versus the FTSE 100's 8.8%. You can find us at www.ISACO.co.uk.
What is Shadow Investment?
Picking the right fund for your ISA and SIPP is not exactly the easiest job in the world. And knowing 'when' to buy and 'when' to exit is even more difficult! Our 'Shadow Investment' Service is here to help. Our service allows you to look over our shoulder and buy the same funds that we are buying.
When we are thinking of buying a fund, we alert you so that you have the opportunity to buy it on the same day that we buy it. We also tell you about when we are planning to exit the fund. You control your investment account, not us. You can start small and invest as little or as much money as you like.
By knowing what we are buying, when we are buying and when we are exiting, throughout the year you can mirror our movements and in effect replicate our trades. This means you have the opportunity to benefit from exactly the same investment returns that we get. Our investment aims are 10–12% per year.
We are totally independent, fully transparent and FCA compliant. We're warm, friendly and highly responsive and it's a very personal service that gives you direct access to the Sutherland brothers; ISACO's two founders.
Who are ISACO's clients?
Clients who benefit most from our service have over £250,000 actively invested and the majority of them are wealthy retirees, business owners, self-employed professionals and corporate executives. We also have clients from the financial services sector, such as IFAs and wealth managers.
Do you have questions?
To have all your questions answered, call 0800 170 7750 or email us at: info@ISACO.co.uk.
*November 15th 2012: Internal estimation of total ISA and pension assets owned by ISACO Investment Team and ISACO premium clients.
**Long-term performance: December 31st 1997 - December 31st 2013 ISACO 91.3%, FTSE 100 31.1%. 5 year performance: December 31st 2008 - December 31st 2013. ISACO Investment performance verified by Independent Executives Ltd.

To download our free report 'A Golden Opportunity' >>
To download our Shadow Investment brochure >>
To start your 14 day free 'no obligation' trial of Shadow Investment >>