Each month we like to make sure that the funds we own are acting right. In our opinion, as well as long-term performance being an important factor in fund selection, the short-term performance of a fund is very important once you own it. It's vital because we've noticed that strong funds tend to get stronger and weak funds tend to get weaker.
On January 30th 2014, we took a good look at the performance of the five funds that we own, our 'total' portfolio's performance, the performance of the FTSE 100 and performance of the NASDAQ Composite. This is what we discovered: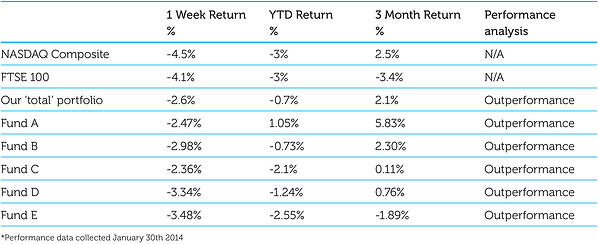 As you can see from the table above, we have not disclosed the names of the funds we own because this is paid for content only available to our premium clients. To sample our Shadow Investment Service for free over a 14 day period, click here to register your interest.
We like to remind ourselves that by keeping a close eye on short-term periods, it can help you act quickly should you notice that one or more of your funds are behaving poorly. The time periods that we like to measure in the short term are weekly, monthly and three monthly. To know how well a fund has recently been performing, we simply compare their returns to the NASDAQ Composite and the FTSE 100. Ideally we like to see each fund we own outperforming the FTSE 100 in all three time frames and if it outperforms the NASDAQ, we see it as a bonus.
Our chief aim – beating the market
Even though we do try to beat the NASDAQ, our real goal is to outperform the FTSE 100. This means that the most important question that we need an answer on a daily basis is: how have we been performing versus the FTSE 100?
As you saw in the table, the good news is that our 'total' portfolio has outperformed the FTSE 100 over weekly, monthly and 3-monthly time frames. This means all the funds we currently own have recently been demonstrating outperformance.
An exit out of Japan: Our reasons
On Saturday February 1st 2014, we placed a switch order. We moved out of the Jupiter Japan Income Acc fund (ISIN: GB00B0HZTZ55) into cash using an ISA Cash Park for our ISA holdings and a SIPP Bank Account for our SIPP. We switched out of the fund for three reasons:
Performance since purchase: From the point at which we bought it (April 9th 2013) to the day we decided to exit, it had made a negative return of 3.9%.
Underperforming its benchmarks:

Over the same 10-month period, the FTSE 100 returned 4.2%, the NASDAQ Composite 28.0% and the Nikkei 225 13.7% which means our fund clearly underperformed.

Key support broken: The Nikkei 225 just recently broke through and closed below key support at 15,000.
Why did we switch into cash and not equities?
At the point we exited the Japan fund, we couldn't see any buying opportunities that excited us and we still don't see anything of interest so for now we are happy to remain in cash until something turns up.
Jupiter Japan Income Acc fund (ISIN: GB00B0HZTZ55): Short-term expectations
The majority of funds move in the same direction as the general market and because we are currently still in a bull phase that began March 2009, the Japanese fund is likely to get pulled upwards with the rest of the averages. This is something we see as normal and natural. However we also expect that even though it will probably get pulled up as the market rises, in our opinion it is more likely to underperform which means we see it as a potential laggard fund rather than a leader.

Even though there are no guarantees that this fund will underperform the market over the long-term, our belief is that it will. Of course, only time will tell.
Our thoughts for the year of 2014

After experiencing robust gains in 2013, the market and our portfolio are due some kind of pullback and it looks like that retracement has already begun. If the market does continue to go up from here, we'd see it as a bonus. Some clients say, if you are expecting the market to pullback, why not move into cash? The reason is timing the market in the short term is virtually impossible. Also during bull markets (like we are in right now) smart investors sit tight and remain fully invested. And as I'm sure you are aware, our rule is to never exit a bull market even when we believe a correction is imminent. We only exit when we believe the bull market has finally run its course.
As always, if you have any questions or thoughts on the points covered in this post, please leave a comment below or connect with us @ISACO_ on Twitter.
About ISACO
ISACO specialises in ISA and SIPP Investment and is the pioneer of 'Shadow Investment'; an easy way to grow your ISA and SIPP at low cost. Together with our clients, we have an estimated £57 million actively invested in ISAs and pensions*. Clients like us because we have a great track record of 'beating' the FTSE 100**. Over the last 16 years, we've outperformed the Footsie by 60.2% and over the last 5 years, we've averaged 14.5% each year versus the FTSE 100's 8.8%. You can find us at www.ISACO.co.uk.
What is Shadow Investment?
Picking the right fund for your ISA and SIPP is not exactly the easiest job in the world. And knowing 'when' to buy and 'when' to exit is even more difficult! Our 'Shadow Investment' Service is here to help. Our service allows you to look over our shoulder and buy the same funds that we are buying.
When we are thinking of buying a fund, we alert you so that you have the opportunity to buy it on the same day that we buy it. We also tell you about when we are planning to exit the fund. You control your investment account, not us. You can start small and invest as little or as much money as you like.
By knowing what we are buying, when we are buying and when we are exiting, throughout the year you can mirror our movements and in effect replicate our trades. This means you have the opportunity to benefit from exactly the same investment returns that we get. Our investment aims are 10–12% per year.
We are totally independent, fully transparent and FCA compliant. We're warm, friendly and highly responsive and it's a very personal service that gives you direct access to the Sutherland brothers; ISACO's two founders.
Who are ISACO's clients?
Clients who benefit most from our service have over £250,000 actively invested and the majority of them are wealthy retirees, business owners, self-employed professionals and corporate executives. We also have clients from the financial services sector, such as IFAs and wealth managers.
Do you have questions?
To have all your questions answered, call 0800 170 7750 or email us at: info@ISACO.co.uk.
*November 15th 2012: Internal estimation of total ISA and pension assets owned by ISACO Investment Team and ISACO premium clients.
**Long-term performance: December 31st 1997 - December 31st 2013 ISACO 91.3%, FTSE 100 31.1%. 5 year performance: December 31st 2008 - December 31st 2013. ISACO Investment performance verified by Independent Executives Ltd.

To download our free report 'A Golden Opportunity' >>
To download our Shadow Investment brochure >>
To start your 14 day free 'no obligation' trial of Shadow Investment >>