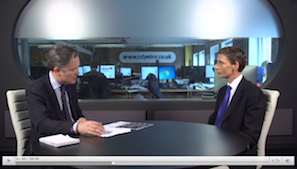 Recently my brother Stephen, our Chief Investment Strategist, was interviewed by Gavin Lumsden, Editor in Chief of Citywire.
This video interview focuses on technical analysis and using charts when timing a fund purchase. Stephen introduces the 'cup with handle' pattern and shows how it works in reference to three specific funds.
To see the interview, just click on the image. It's also available in full below. For more on fund selection, why not download our free guide Finding a Good Growth Fund.

Citywire interview
Gavin: Hello, at Citywire we spend a lot of time looking at the best funds run by the best fund managers but we don't always look at when to buy and when to sell a fund.
With me today is Stephen Sutherland, co-founder of an investment adviser in Manchester called ISACO and he is also the author of a new book called 'How to make money in ISAs and Sipps'.
Stephen, thanks very much for joining us. I really enjoyed the book, particularly the chapters on how to use charts and technical analysis on when to buy and sell funds. Now I've come across a bit of technical analysis in my time but it's always been in reference to shares. I was really interested to see it being applied to funds.
Now you're going to tell us about one particular signal, chart pattern, that you can see and how it can apply to some funds. Take it away.
Stephen: One of the things I wanted to show you today was a very specific bullish pattern that often occurs before a fund is about to take off on a big run.
Gavin: Which is a good time to buy obviously.
Stephen: Yes.
Gavin: I think we have a chart for this. What's it called?
Stephen: it's called the 'cup with handle' and it's one of the easiest patterns to spot. On a chart it resembles a tea cup as seen from a side view. And the key bit is to look at the fund's price breaking out of the pattern which, in our opinion, is the best time to buy.
Gavin: I see, so it's spiked up on the left hand side, then it's drifted sideways a little bit – that's the cup – and then before, it's creating a base isn't it? But before it rises on again there is a little bit of a correction, a little bit of a dip, and it's that dip that you're using to buy?
Stephen: Yes that's it. We're waiting for it to emerge out of the base and break out into a new price high. So we could look at three examples?
Gavin: Let's do that. The first fund we've got is a well-known fund, Old Mutual UK Mid Cap run by Richard Watts, who's actually got a Citywire triple A rating so we know the fund well. What's this chart showing us?
Stephen: It's showing first of all a strong uptrend that started in late 2008 until mid 2011, that's where the uptrend ended. Then we see the cup with handle pattern and the optimal buy point for this fund occurred in the third quarter of 2012.
So now we can, if you like, look at the second one: the Neptune US Opportunities.
Gavin: Also a well-known fund. So what happened here?
Stephen: Look for the strong uptrend for the first three months of 2013.
Gavin: That's the first half of the chart.
Stephen: Yes, then the cup-with-handle pattern and the buy point occurring in early May 2013.
Gavin: Now the cup is a bit less obvious to see there so you've obviously got to do a bit of interpretation.
Stephen: Yes, one of the things you can do, there's lots of good books on technical analysis but one book that I do recommend that people take a look at is 'How to make money in stocks' by William O'Neil. That's got lots of examples of this cup-with-handle pattern.
Gavin: Right, good tip, thanks for that. And our last example: Invesco Perpetual Global Smaller Companies.
Stephen: Yes again you see the strong uptrend. This pattern always starts with a strong uptrend then you get the consolidation which …
Gavin: It would have been good to have been invested in that uptrend, that beginning bit wouldn't it?
Stephen: If you would have been in there, that's the time we would have been watching the fund to first of all pick it up on the radar.
Gavin: I see. You're identifying funds you like and then you're waiting for the right conditions, the right pattern to emerge?
Stephen: Exactly, so these cup-with-handle patterns, the actual cup shape is formed usually when the market is going into a correction. And we're watching it carefully, waiting to see if it can prove itself by building the right side of its base.
Gavin: Well that gets you into the fund. We've not got time to talk about what signals to look for when to sell but it's all in your book, so I do recommend people going having a look at it. In the meantime Stephen thanks very much for taking us through the cup with handle.
Stephen: You are very welcome, thank you.
As always, if you have any questions or thoughts on the points covered in this post, please leave a comment below or connect with us @ISACO_ on Twitter.
About ISACO
ISACO specialises in ISA and SIPP Investment and is the pioneer of 'Shadow Investment'; an easy way to grow your ISA and SIPP at low cost. Together with our clients, we have an estimated £57 million actively invested in ISAs and pensions*. Clients like us because we have a great track record of 'beating' the FTSE 100**. Over the last 16 years, we've outperformed the Footsie by 60.2% and over the last 5 years, we've averaged 14.5% each year versus the FTSE 100's 8.8%. You can find us at www.ISACO.co.uk.
What is Shadow Investment?
Picking the right fund for your ISA and SIPP is not exactly the easiest job in the world. And knowing 'when' to buy and 'when' to exit is even more difficult! Our 'Shadow Investment' Service is here to help. Our service allows you to look over our shoulder and buy the same funds that we are buying.
When we are thinking of buying a fund, we alert you so that you have the opportunity to buy it on the same day that we buy it. We also tell you about when we are planning to exit the fund. You control your investment account, not us. You can start small and invest as little or as much money as you like.
By knowing what we are buying, when we are buying and when we are exiting, throughout the year you can mirror our movements and in effect replicate our trades. This means you have the opportunity to benefit from exactly the same investment returns that we get. Our investment aims are 10–12% per year.
We are totally independent, fully transparent and FCA compliant. We're warm, friendly and highly responsive and it's a very personal service that gives you direct access to the Sutherland brothers; ISACO's two founders.
Who are ISACO's clients?
Clients who benefit most from our service have over £250,000 actively invested and the majority of them are wealthy retirees, business owners, self-employed professionals and corporate executives. We also have clients from the financial services sector, such as IFAs and wealth managers.
Do you have questions?
To have all your questions answered, call 0800 170 7750 or email us at: info@ISACO.co.uk.
*November 15th 2012: Internal estimation of total ISA and pension assets owned by ISACO Investment Team and ISACO premium clients.
**Long-term performance: December 31st 1997 - December 31st 2013 ISACO 91.3%, FTSE 100 31.1%. 5 year performance: December 31st 2008 - December 31st 2013. ISACO Investment performance verified by Independent Executives Ltd.

> " target="_self"> To download our free report 'A Golden Opportunity' >>
>" target="_self"> To download our Shadow Investment brochure >>
> " target="_self"> To start your 14 day free 'no obligation' trial of Shadow Investment >>