Each month we like to make sure that the funds we own are acting right. In our opinion, as well as long-term performance being a key factor in fund selection, the short-term performance of a fund is very important once you own it. It's vital because we've noticed that strong funds tend to get stronger and weak funds tend to get weaker.
On April 24th 2014, we took a good look at the returns of the seven funds that we own, our 'total' portfolios returns, the returns of the FTSE 100 and returns of the NASDAQ Composite. This is what we discovered: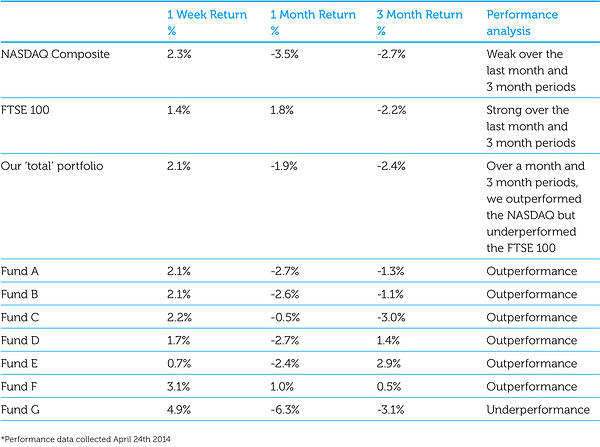 We like to remind ourselves that by keeping a close eye on short-term periods, it can help you act quickly should you notice that one or more of your funds are behaving poorly. The time periods that we like to measure in the short term are weekly, monthly and three monthly. To know how well a fund has recently been performing, we simply compare their returns to the NASDAQ Composite and the FTSE 100. Ideally we like to see each fund we own outperforming the FTSE 100 in all three time frames and if it outperforms the NASDAQ, we see it as a bonus.
Our outlook for 2014 and beyond
The indexes and our portfolio were long overdue a rest. That does not necessarily mean the market and our funds can't go higher from here however at some point we will experience a fairly substantial correction. The one we are in right now has so far been easy to stomach but of course the correction could deepen resulting in investor's portfolios being dragged down further.
We know and constantly remind ourselves that if not soon, at some point in the future the market and our portfolio will have a decent sized correction and we are ready for it. If we can handle the technology crash of 2000 to 2002 and the sub-prime implosion between 2007 and 2009, we can handle anything!
When the market does pull back, even though investment account values will take a temporary dip, we like correction periods because it helps remove the excess that gets built up. A fairly large retracement at some stage this year would be positive in our opinion because it would help flush out all the weak hands and assist the indexes in resetting.
One thing to expect this year is increased volatility. Beyond 2014, we believe we'll continue to experience solid performance from the equity markets and this means that if you are a long-term investor like us, and have the courage to stay in the game, the future is looking bright.
Exceeding performance expectations
Our aim is to outperform the FTSE 100 and we are proud of our 23.1% 2013 return which some would say is impressive and even more so when compared to the FTSE 100's 2013 return of 14.4%. As you can see on this bar chart, we've also delivered solid returns over the last 5 years and managed to make an average annual gain of 14.5% versus the FTSE's 8.8%.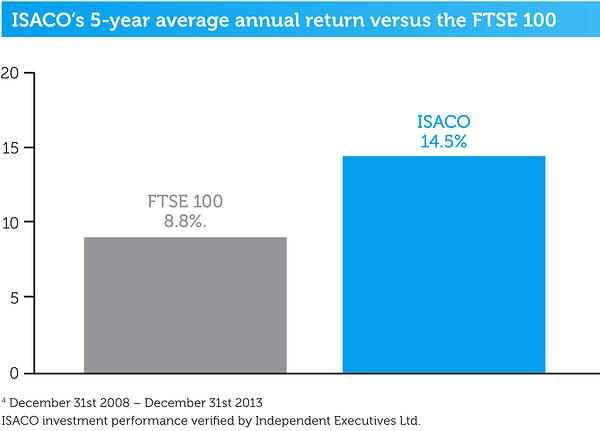 Long-term performance
If we go back even further, since beginning investing back in 1997, we've outperformed the FTSE 100 by 60.2% which means we've beaten the main UK stock index on average by 2.4% per year.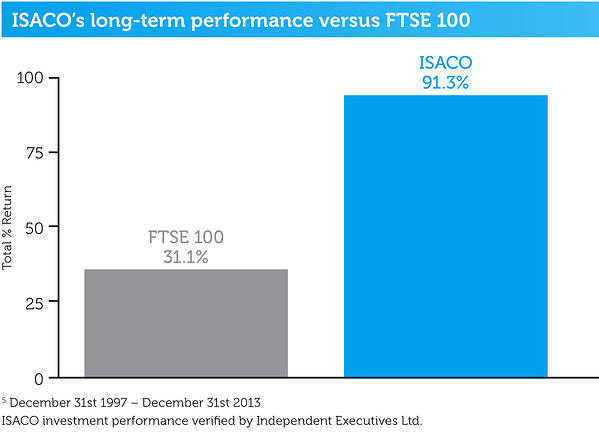 This information is taken from The Big Picture, to download a sample copy please just click here.
As always, if you have any questions or thoughts on the points covered in this post, please leave a comment below or connect with us @ISACO_ on Twitter.

About ISACO
ISACO specialises in ISA and SIPP Investment and is the pioneer of 'Shadow Investment'; an easy way to grow your ISA and SIPP at low cost. Together with our clients, we have an estimated £57 million actively invested in ISAs and pensions*. Clients like us because we have a great track record of 'beating' the FTSE 100**. Over the last 16 years, we've outperformed the Footsie by 60.2% and over the last 5 years, we've averaged 14.5% each year versus the FTSE 100's 8.8%. You can find us at www.ISACO.co.uk.
What is Shadow Investment?
Picking the right fund for your ISA and SIPP is not exactly the easiest job in the world. And knowing 'when' to buy and 'when' to exit is even more difficult! Our 'Shadow Investment' Service is here to help. Our service allows you to look over our shoulder and buy the same funds that we are buying.
When we are thinking of buying a fund, we alert you so that you have the opportunity to buy it on the same day that we buy it. We also tell you about when we are planning to exit the fund. You control your investment account, not us. You can start small and invest as little or as much money as you like.
By knowing what we are buying, when we are buying and when we are exiting, throughout the year you can mirror our movements and in effect replicate our trades. This means you have the opportunity to benefit from exactly the same investment returns that we get. Our investment aims are 10–12% per year.
We are totally independent, fully transparent and FCA compliant. We're warm, friendly and highly responsive and it's a very personal service that gives you direct access to the Sutherland brothers; ISACO's two founders.
Who are ISACO's clients?
Clients who benefit most from our service have over £250,000 actively invested and the majority of them are wealthy retirees, business owners, self-employed professionals and corporate executives. We also have clients from the financial services sector, such as IFAs and wealth managers.
Do you have questions?
To have all your questions answered, call 0800 170 7750 or email us at: info@ISACO.co.uk.
*November 15th 2012: Internal estimation of total ISA and pension assets owned by ISACO Investment Team and ISACO premium clients.
**Long-term performance: December 31st 1997 - December 31st 2013 ISACO 91.3%, FTSE 100 31.1%. 5 year performance: December 31st 2008 - December 31st 2013. ISACO Investment performance verified by Independent Executives Ltd.

> " target="_self"> To download our free report 'A Golden Opportunity' >>
>" target="_self"> To download our Shadow Investment brochure >>
> " target="_self"> To start your 14 day free 'no obligation' trial of Shadow Investment >>