This is the second in a new series of posts, where we're looking in detail at timing your fund investments. In our last post we discussed the importance of recognising chart patterns when timing buys and covered the cup-with-handle pattern in partcular. In this post we'll go onto look at the flat base pattern.
If you would like to know more, please just download our free report Fund Timing: When to Buy and When to Exit.
Flat base pattern
Though the cup-with-handle base is the most common pattern, there is another type of base to be on the lookout for, which is known as a flat base. Flat base patterns often form quietly, but the gains they launch can be explosive. These chart patterns frequently take shape when the broader market isn't making much upward progress.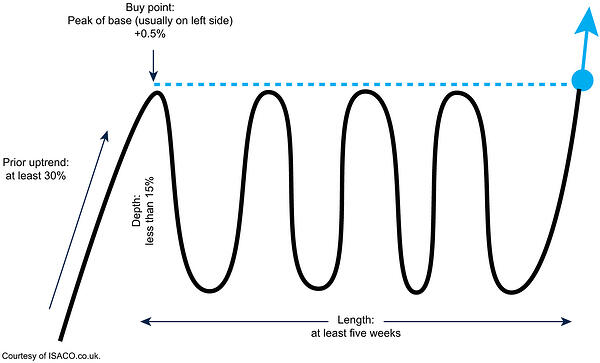 Flat bases tend to be shallow – no deeper than 15% from top to bottom. And they can form in as little as five weeks, rather than the usual seven weeks required for cup-with-handle bases. Flat bases sometimes occur after a fund rushes up from a previous base, then stalls. As its price moves in a narrow sideways range, its base looks rather flat on a chart. In many cases, the fund is simply taking a break as it consolidates its gains and prepares to head higher.
Think of it as a time when the fund is building up steam to propel its future take-off. To calculate the buy point of a flat base, add 0.5% to the peak, which is usually on the base's left side. That 0.5% is just added assurance that the fund has enough emerging strength to get above its earlier price high.
Three flat base examples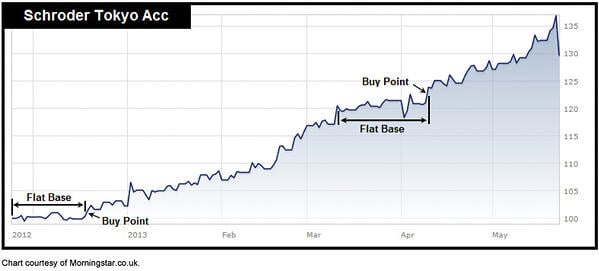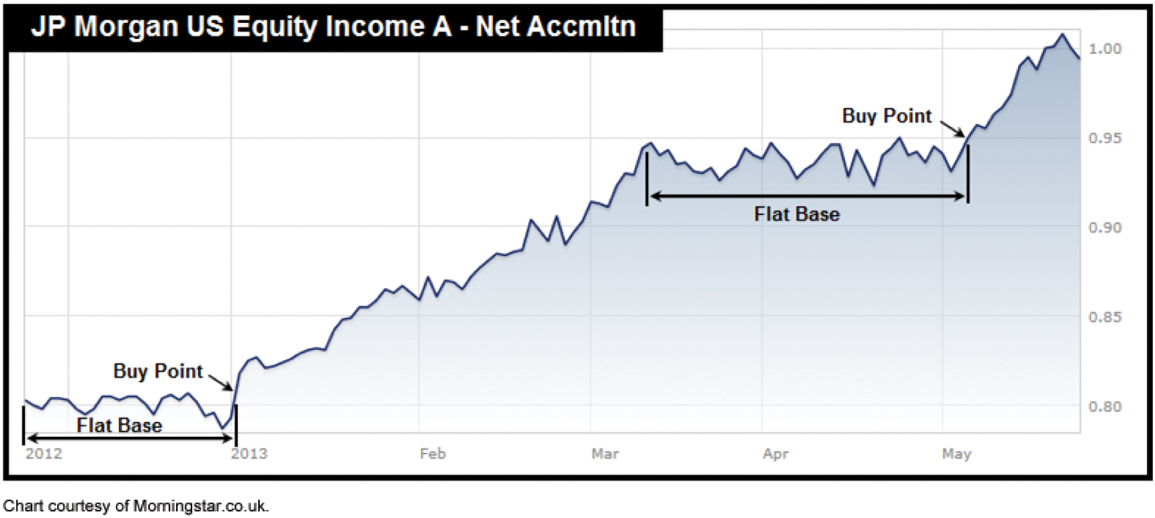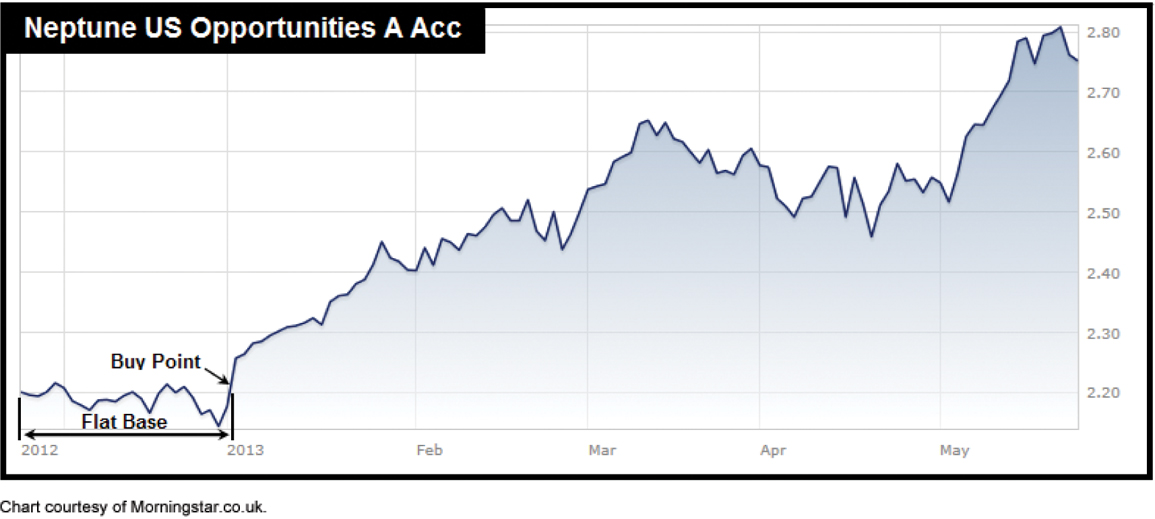 In our next post in this series we'll look at our take on stop losses. Remember, if you would like to know more, please just download our free report Fund Timing: When to Buy and When to Exit.
As always, if you have any questions or thoughts on the points covered in this post, please leave a comment below or connect with us @ISACO_ on Twitter.

About ISACO
ISACO specialises in ISA and SIPP Investment and is the pioneer of 'Shadow Investment'; an easy way to grow your ISA and SIPP at low cost. Together with our clients, we have an estimated £57 million actively invested in ISAs and pensions*. Clients like us because we have a great track record of 'beating' the FTSE 100**. Over the last 16 years, we've outperformed the Footsie by 60.2% and over the last 5 years, we've averaged 14.5% each year versus the FTSE 100's 8.8%. You can find us at www.ISACO.co.uk.
What is Shadow Investment?
Picking the right fund for your ISA and SIPP is not exactly the easiest job in the world. And knowing 'when' to buy and 'when' to exit is even more difficult! Our 'Shadow Investment' Service is here to help. Our service allows you to look over our shoulder and buy the same funds that we are buying.
When we are thinking of buying a fund, we alert you so that you have the opportunity to buy it on the same day that we buy it. We also tell you about when we are planning to exit the fund. You control your investment account, not us. You can start small and invest as little or as much money as you like.
By knowing what we are buying, when we are buying and when we are exiting, throughout the year you can mirror our movements and in effect replicate our trades. This means you have the opportunity to benefit from exactly the same investment returns that we get. Our investment aims are 10–12% per year.
We are totally independent, fully transparent and FCA compliant. We're warm, friendly and highly responsive and it's a very personal service that gives you direct access to the Sutherland brothers; ISACO's two founders.
Who are ISACO's clients?
Clients who benefit most from our service have over £250,000 actively invested and the majority of them are wealthy retirees, business owners, self-employed professionals and corporate executives. We also have clients from the financial services sector, such as IFAs and wealth managers.
Do you have questions?
To have all your questions answered, call 0800 170 7750 or email us at: info@ISACO.co.uk.
*November 15th 2012: Internal estimation of total ISA and pension assets owned by ISACO Investment Team and ISACO premium clients.
**Long-term performance: December 31st 1997 - December 31st 2013 ISACO 91.3%, FTSE 100 31.1%. 5 year performance: December 31st 2008 - December 31st 2013. ISACO Investment performance verified by Independent Executives Ltd.

> " target="_self"> To download our free report 'A Golden Opportunity' >>
>" target="_self"> To download our Shadow Investment brochure >>
> " target="_self"> To start your 14 day free 'no obligation' trial of Shadow Investment >>